The role of sentinel node biopsy in melanoma is an ongoing discussion. Recent revisions to the AJCC Criteria have shifted the landscape. This article explores melanoma guidelines and recent revisions.
---
5 Key Points
1. What is a sentinel node?
The sentinel node is defined as the first node receiving lymphatic drainage from an area and is representative of that nodal basin.
2. What is the role of a sentinel node biopsy?
The role of sentinel node biopsies is centered on prognosis, staging, and individualising management plans
3. What are the indications of sentinel node biopsy?
Current indications for sentinel node biopsy include primary cutaneous melanoma pT2a or more and those pT1b with high risk features (lymphovascular invasion, mitosis), after discussion at a multi-disciplinary meeting.
4. What are management options for a positive sentinel node?
Current management options for positive sentinel node include observation, adjuvant therapy, and completion lymph node dissection. This article discusses current evidence for each of those options.
5. What are the major melanoma guidelines?
Current evidence is centered on the AJCC Cancer Stage 8th Edition, oncological adjuvant therapy studies, and node dissection trials. Other guidelines, such as NICE guidelines, do exist.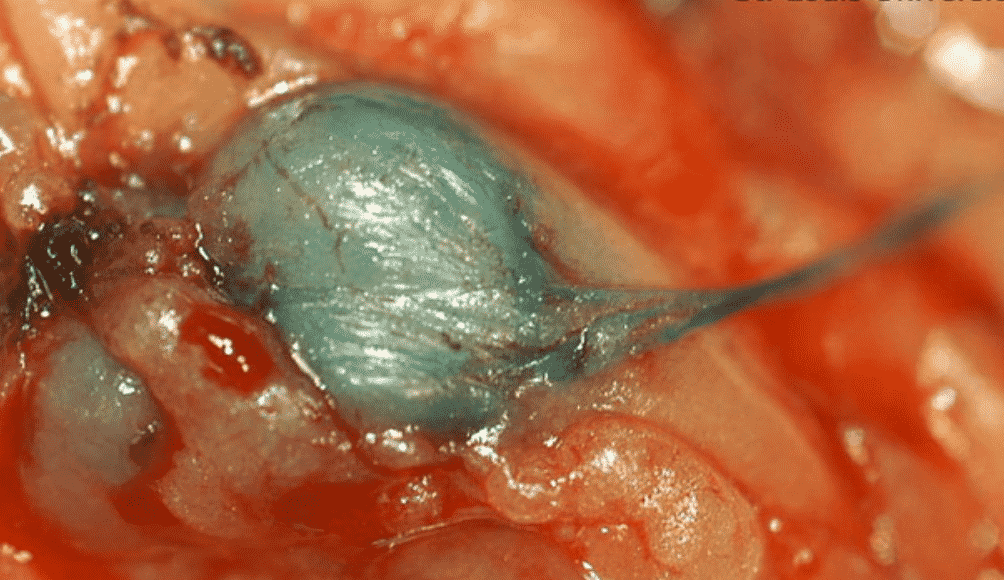 ---
Definition of Sentinel Node Biopsy
A sentinel node is the first lymph node receiving lymphatic drainage from a specific area (i.e site of lesion) and and is representative of that nodal basin.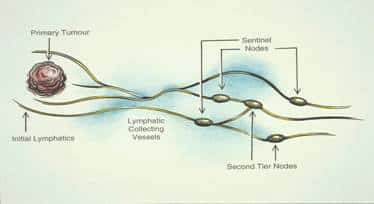 This definition has evolved since Morton et al's initial publication on the role of lymphoscintigraphy for melanoma in 1992​​1​​.
---
Role of Sentinel Node Biopsy in Melanoma
The recent adjustments to the 8th Edition of AJCC Melanoma Guidelines have shifted the landscape in relation to the role of sentinel node biopsy in melanoma. There is clear evidence for its role in prognosis, treatment pathways and staging. This impacts both patient and doctor.
Prognosis
Sentinel Node Biopsy provides prognostic data on all depths of melanoma​2​.
For example, a patient with pT1b melanoma has 2 options:
Option 1 – No SLNBx: This patient's melanoma is now classified as clinical Stage 1B. This patient has a 5-year and 10-year survival of 97% and 93% respectively​3​.
Option 2 – SLNBx: This patient's melanoma is now classified as a pathological Stage 1A. This patient has a 5-year and 10-year survival of 99% and 96% respectively​3​.
These prognostic implications are also relevant to thin melanomas (BT<1mm)​4,5​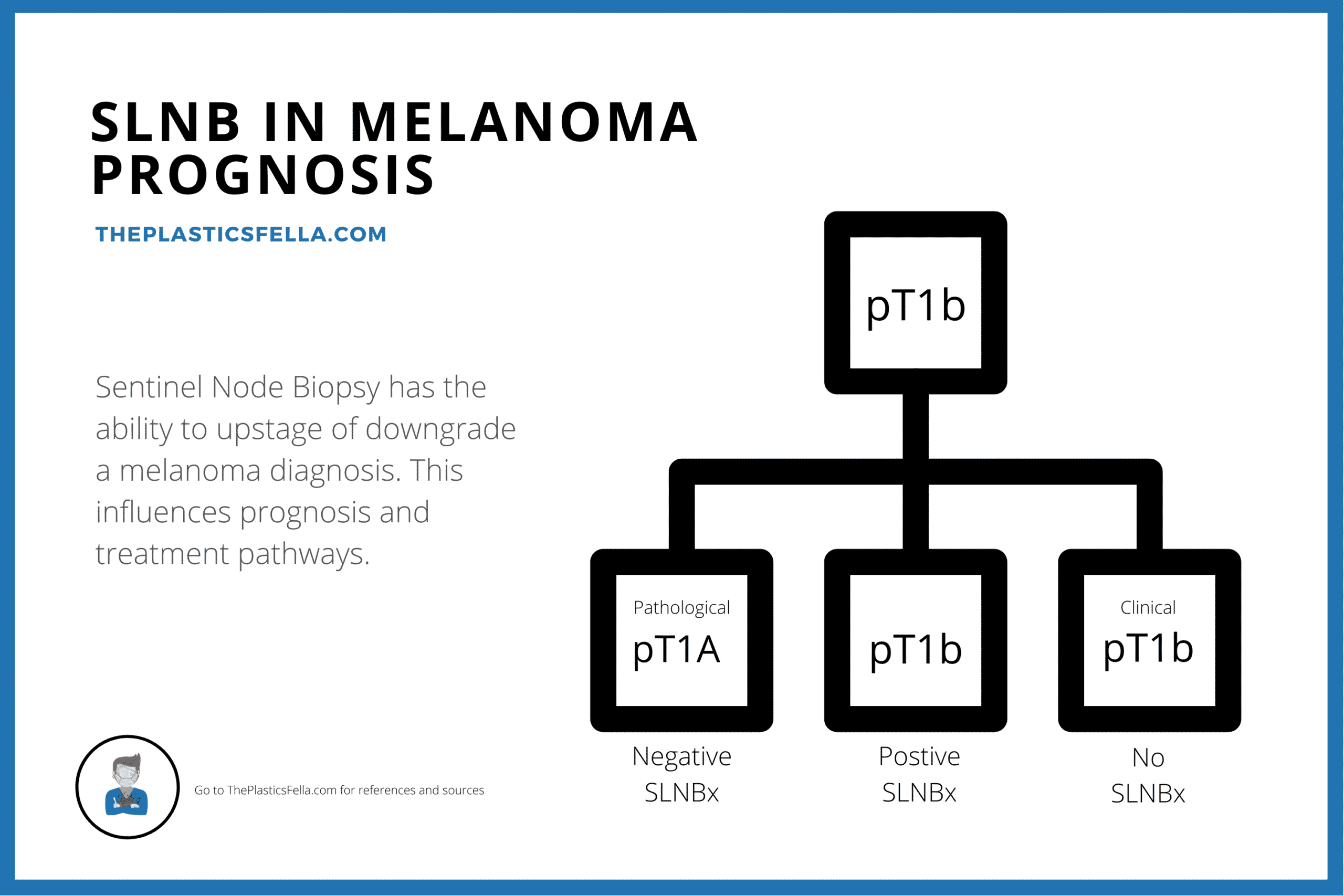 Treatment Pathways
The primary role of sentinel node biopsy is changing from that of a prognostic indicator to one that now influences access to adjuvant therapy​6​.
For those that have a positive sentinel node, upstaging the disease allows earlier identification for adjuvant therapies. It also allows them to be categorized in a "high-risk follow-up group"​7​.
---
Performing Sentinel Node Biopsy in Melanoma
Indications
Primary Cutaneous Melanoma pT2a and above
Primary Cutaneous Melanoma pT1b should be considered, especially if:
Lymphovascular Invasion
Mitotic rate ≥ 2/mm
The mitotic rate has been removed in version 8 of the AJCC guidelines. Nonetheless, an increase in mitotic rate decreases melanoma-specific survival​3​.
---
Risk of Positive Sentinel Node
| Melanoma Stage | Positive Sentinel Node |
| --- | --- |
| pT1a | ≤ 10%​8,9​ |
| pT1b | 5%−12%​6​ |
| BT > 4mm | 30%​8,10​ |
Risk of Positive Sentinel Nodes
In addition to a node being positive, other factors to consider are:
Nodal Tumour Burden: microscopic deposits >2–4 mm, >4–15 mm, 15 mm have a respective 5-year survival of 86%, 72% and 66%​3​
Non-sentinel node: the presence of an involved non-sentinel node (false negative SNB or an involved node on CLND) is a significantly poor prognostic factor for melanoma-specific survival​3​. It is also linked to tumour nodal burn​11​and anatomical site of the melanoma deposit within the SLN​12​
---
Positive Sentinel Node Biopsy in Melanoma
Following a positive sentinel node, patients and doctors have three options: complete lymph node dissection, observation, adjuvant therapies.
Completion Lymph Node Dissection in Melanoma
Complete lymph node dissection should not be routinely recommended for patients who have a positive sentinel node biopsy​6​. Consider this treatment option in patients who are high risk of regional relapse based on their sentinel node results:
Extra-capsular spread
3 or more sentinel nodes
Dewar Criteria​12​ (multifocal and extensive).
Node-only recurrence having failed first-line systemic treatment.
The MSLT-2​13​ and DeCOG​14​ Trials reported on the outcome of patients with a positive sentinel node randomised into observation and surgery. Key results include:
No survival advantage of completion lymph node dissection over radiological observation
Increase risk of nodal recurrence in those patients with observation
Patients undergoing immediate lymph node dissection have
Increased rate of regional disease control​13​
Prognostic information​13​
No increase in melanoma-specific survival​13​
An increased risk of morbidity in nodal dissection patients​15​
In relation to head and neck melanomas, adjuvant therapy is preferred to neck dissection​3​.
---
Adjuvant Therapy in Melanoma
Discussed in more detail: Oncological Adjuvant Therapies in Melanoma
Current guidelines state adjuvant therapy should be available to Stage 3 patients.
Generally speaking, patients deemed at high risk with a positive sentinel node should be considered for melanoma adjuvant therapy. A lymph node dissection could be considered if they have a node-only recurrence post-adjuvant treatment.
---
Radiological Observation in Melanoma
There is currently no general consensus with for ideal imaging in melanoma​7​
Current options include:
Ultrasound: Used in MLST and DeCOG Trials but does have operator dependability​5​
CT/PET: more sensitive to picking up recurrences​5​
MRI is used in some UK centres​6​
Imaging surveillance will differ for those on adjuvant systemic therapy.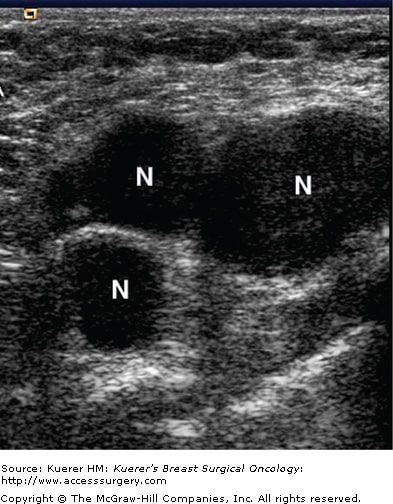 ---
AJCC Version 8 Updates
This article is written with the most recent version of AJCC and other publications, as referenced below. The following is a list of V8 updates​3​
Tumor thickness: record to the nearest 0.1 mm, not 0.01 mm
New pT1a <0.8 mm without ulceration
New pT1b 0.8‐1.0 mm with or without ulceration or <0.8 mm with ulceration
Mitotic rate no longer a T category criterion
Pathological (but not clinical) stage IA is revised to include T1b N0 M0 (formerly pathologic stage IB);
The N category descriptors "microscopic" and "macroscopic" for regional node metastasis are redefined as "clinically occult" and "clinically apparent and subcategories are revised, with the presence of microsatellites, satellites, or in‐transit metastases now categorized as N1c, N2c, or N3c based on the number of tumor‐involved regional lymph node
Descriptors are added to each M1 subcategory designation for lactate dehydrogenase (LDH) level (LDH elevation no longer upstages to M1c)
A new M1d designation is added for central nervous system metastases.
---
References