Squamous Cell Carcinoma (SCC) is managed as per NCNN, AJCC, BWH Guidelines. This article overviews diagnosis, risk factors, treatment of this skin cancer.
---
5 Key Points – SCC
Definition
Cutaneous SCC arise from keratinising cells of the epidermis. They causes local invasion and the potential for local invasion and metastasis.
Epidemiology
SCC is the second most common skin malignancy and has a lifetime incidence risk of 10%. This risk increases in those with fair skin, sun exposure and specific co-morbidities.
Diagnosis and Workup
Suspicious lesions should undergo a triple assessment: clinical examination, histological diagnosis +/- radiology. This will allow risk stratification and appropriate management pathway.
Management
The majority of patients can undergo standard surgical excision with 4-6mm margin. Further options exist for regional node involvement, distant metastasis, recurrence and positive margins.
Follow-up
Follow-up is tailored to high-risk and low-risk lesions. The majority of recurrences develop within 2 years of initial treatment.
---
Definition of Squamous Cell Carcinoma
Primary cutaneous squamous cell carcinoma (cSCC) is a malignant tumour arising from the keratinising cells of the epidermis or its appendages. It is locally invasive and has the potential to metastasize to other organs of the body​1​.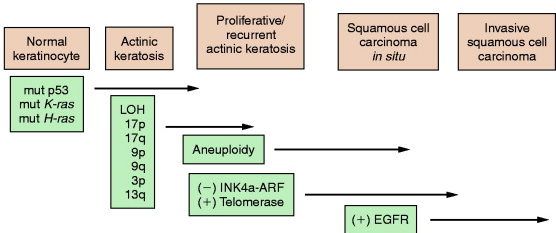 ---
Epidemiology of SCC
In the past decade, there as been an 154% increase in non-melanoma skin cancers​2​.
Current Incidence of Squamous Cell Carcinoma
SCC is the second most common skin malignancy (behind BCC)
In USA, the lifetime risk for developing a SCC is at 9%-14% for men and 4%-9% for women​3​.
---
Risk Factors
Sun Exposure
Chronic sun exposure, total site-specific exposure, and number of site-specific sunburns are strongly correlated with development of squamous cell carcinoma​4–7​. The risk of SCC increases with age from natural cumulative sun exposure.
Any exposure to indoor tanning increases the risk of cSCC by 67%​8​.
Fitzpatrick Type I + II
Individuals with fair skin, hair, and eye color who have received too much sun exposure are at the greatest risk for cSCC due to susceptibility to oncogenic UV damage in genes associated with pigmentation​9​
Co-Morbidities
Previous Skin Cancers – up to 50% of another skin cancer in 5 years​2​
Chronic ulcers – for example, Marjolin's Ulcer​10​ or Burn Scars​11​.
Organ transplantation/immunosuppresion​12​
Pre-existing lesions – for example, Actinic Keratosis​13​ or Bowen's Disease​14,15​.
Genetic syndromes – for example, Ablinism​16​ or Xeroderma Pigmentosum​17​
This cohort with known co-morbidities are classified as high-risk patients at increased risk of developing high-risk lesions.
---
Diagnosis and Workup
A thorough history, physical examination with palpation of draining lymph node basins and tissue biopsy is the standard of care for diagnosing squamous cell skin cancers.
Clinical Assessment of Lesion
Focused history focusing on changes to lesion and risk factors.
Examination of lesion, potential involvement of deep structures and regional nodes.
Total body skin examination to out-rule concurrent cancers or pre-cancers.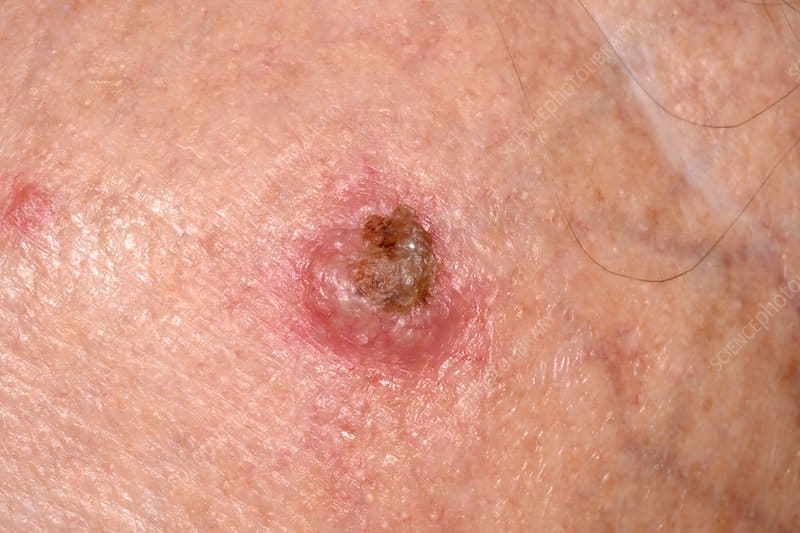 Biopsy of SCC
A skin biopsy is performed on any suspicious lesion.
Biopsy should include deep reticular dermis because infiltration may only be present at deeper margins.
Sampling errors and under-assessment of aggressive histology subtypes can occur with shave or punch biopsies in 11-19% of cases​18,19​.
Aggressive histologic subtypes for squamous cell carcinoma include adenoid (acantholytic), adenosquamous, desmoplastic or metaplastic.
Radiology
Radiological workup for cutaneous SCC is not indicated for all patients. It should be considered if:
Depth of invasion into underlying structures. If perineural or deep soft tissue, consider MRI. If bone involvement, CT with contrast is preference if no contraindications​20–22​.
Palpable nodes on physical examination is an indication for ultrasound-guided fine-needle aspiration or core biopsy of suspicious nodes. Contrast-enhanced CT scan or PET/CT should be considered to assess extent of regional disease and for distant metastases​23​.
---
Risk Stratification of SCC
In-depth articles are available on NCCN SCC Risk Stratification, AJCC Criteria, and Brighams and Womens' Staging. This section is an overview.
A risk assessment of the primary tumour guides treatment plan and follow-up for patients. NCCN, AJCC and Brigham and Women's Guidelines are commonly used​24​.
NCCN Risk Stratification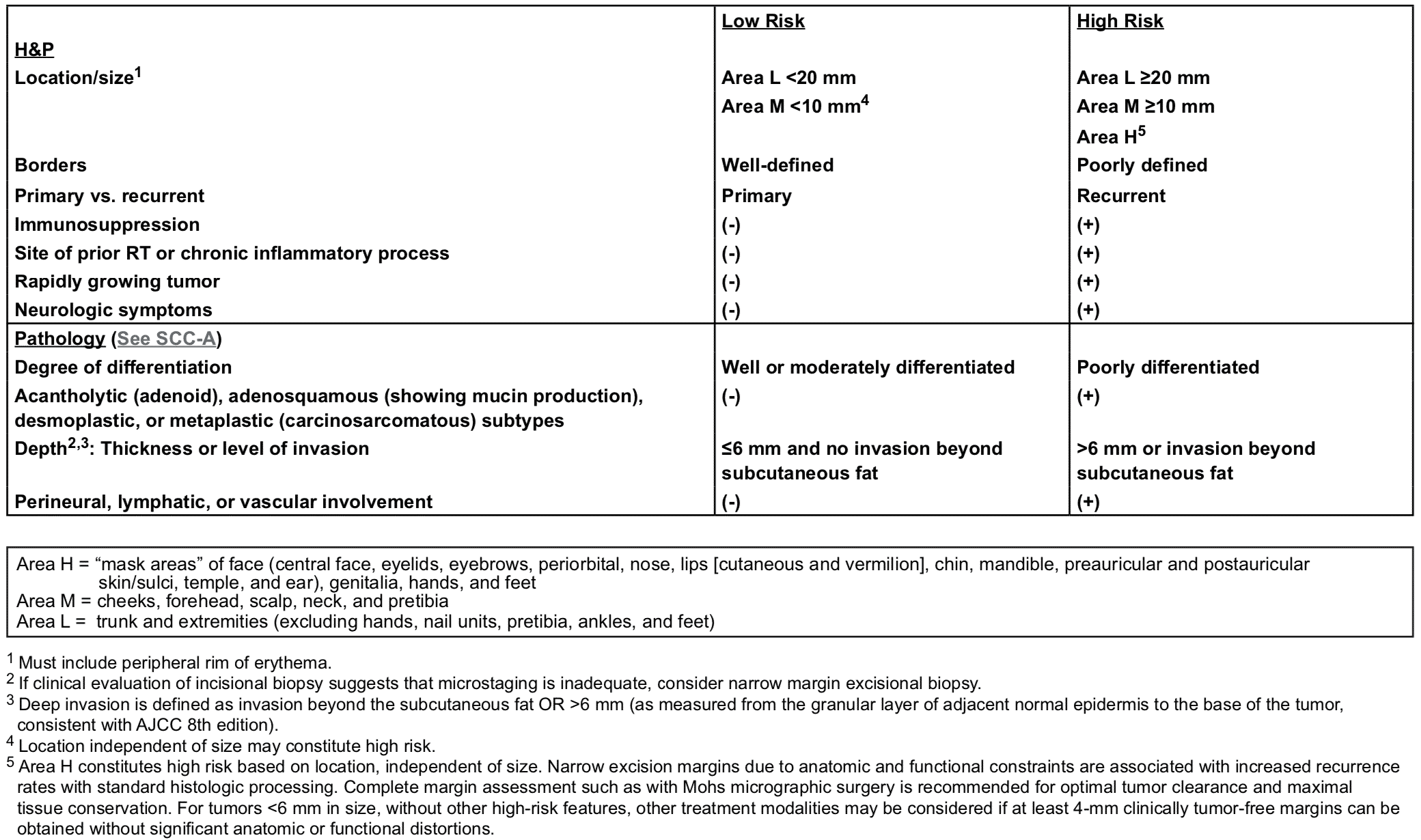 If any high-risk feature is present, the patient should be managed according to the high-risk treatment pathway for local cSCC.
Other Staging Systems for Squamous Cell Carcinoma
The American Joint Committee on Cancer and Brigham and Women's Hospital reflect many, but not all, high-risk features denoted by the National Comprehensive Cancer Network panel​20​.

Management of SCC
The primary treatment goals of squamous cell skin cancer are oncological clearance with preservation of function and cosmesis.
Local Disease
Primary treatment options for local squamous cell carcinoma include:
Standard surgical excision with 4- to 6-mm clinical margins. This achieves 5-year disease-free rates >91%​25,26​. Large, high-risk lesions can be excised with a wider margin​23​.
Moh's Microgrpahic Surgery (MMS) to be considered for high-risk lesions, or resection with CCPDMA with frozen or permanent section. Retrospective analyses report cure rates of 96% for patients with primary cSCCs and 77% for recurrent cSCCs treated with MMS​27​.
Curettage and electrodesiccation (C&E) to be considered for low-risklesions in areas without hair growth, provided that the treatment be changed to excision if the adipose tissue is reached. Lower-quality data shows cure rates ~95% at 5 years​28,29​. This does not allow for margin assessment.
Radiotherapy can be considered for non-surgical candidates or as adjuvant therapy for completely excised large lesions with nerve or perineural invasion. This improves local control and disease-free survival, but there is likely no survival benefit​30,31​.
Positive Margins
If margins are positive after excision, patients should receive additional therapy. Options include:
Wider excision is feasible.
MMS
Resection with CCPDMA with frozen or permanent section
Radiotherapy
Regional Lymph Node Involvement
The criteria for selecting patients and survival benefit for Sentinel lymph node biopsy (SLNB) is unclear. SLNB has been used to try to identify patients with cSCC who may be candidates for completion lymph node dissection or adjuvant RT. For those with clinically or radiologically confirmed regional disease, consider the following:
If operable, excision of the primary tumour, regional lymph node dissection +/- adjuvant radiotherapy (especially if multiple nodes are involved or if ECE is present)
If inoperable, neoadjuvant radiotherapy followed by re-assessment for surgery on course completion.
Distant Metatases
The NCCN panel encourages participation in a clinical trial for patients with metastatic cSCC. Unfortunately such trials are scarce. Possible agents include for systemic therapyinclude cisplatin monotherapy, cisplatin plus 5-FU, EGFR inhibitors such as cetuximab, or immune checkpoint inhibitors. Currently there are insufficient published data to support recommending any specific immunotherapies for treatment of cSCC.
---
Follow-Up
Routine Clinical Assessment
Routine clinical assessment for squamous cell carcinoma is key. 30%-50% of these patients will develop another SCC within 5 years and 70% of SCC recurrences occur within 2 years. ​32,33​. During the consultation, patient education is key.
For local SCC, NCCN guidelines suggest:
every 3-12 months for first 2 years
every 6-12 months for another 3 years
and then annually.
For regional SCC:
every 1-3 months for first year
every 2-4 months for second year
every 4-6months for third year
and then every 6-12 months for life.
Prevention
Prophylactic treatment may be needed for patients who have a history of multiple lesions and/or extensive diffuse actinic keratosis or field cancerization. Oral retinol and synthetic retinoids (eg, acitretin, isotretinoin, etretinate) have been tested in prospective studies​34–36​. Outside of these very-high-risk groups the effectiveness of retinol/retinoid therapy for prophylaxis is less clear.
Prognosis for Squamous Cell Carcinoma
cSCCs generally have a good prognosis, with 5-year survival ≥90%​37,38​.
---
References