Curated evidence-based Plastic Surgery, every week. It can be hard to find time to keep up-to-date with all the reading. thePlasticsPaper sends you 1 email per week - just the highlights!
In this Week's Edition
---
✍️
A Letter from P'Fella
One of the hardest aspects of Plastic Surgery? Keep up-to-date with all the new and evolving evidence-based information and skills. But, don't fear, there are some really good resources available to you (for free!)
This resource is 🔥. P'Fella enjoys it because the information comes to you, rather than you searching for the information. Input a few of your interests, and then every week you will get the relevant updates. (p.s this isn't a paid sponsor).
On their website, key features stated are
Keep up with the latest new research that will impact your practice
One tap access to full text
Search millions of articles from PubMed and our database of outstanding topic reviews
Get more info at their website.
If you're not on Twitter - you really are missing out. It is so much better than Instagram. It allows discussion amongst people who are genuinely experts in their field. It's full of thread that are quite educational.
Here are few accounts to follow on Twitter
12 accounts teaching #PlasticSurgery

1.@PLASTAUK🆓
2.@Canniesburn 🆓
3.@Pulvertafthands🆓
4.@DrJamesKKChan 🆓
5.@JakeMarksMD🎙
6.@JPRASOpen📔
7.@drchrysopoulo🕺🏼
8.@prsjournal📔
9.@plasticstrainee🆓
10.@jjanismd🕺🏼
11.@DrRodRohrich🕺🏼
12.@AbraShen🕺🏼

(in no order)
Anyone to add?

— thePlasticsFella (@PlasticsFella) April 21, 2021
Obviously, there is a bias here!
But every Sunday, thePlasticsFella hopes to provide you with high quality information. It's a relatively new venture - see the archives here.
P'Fella would love some feedback! Will take about 15 seconds of your time!
---
📚
Article of the Week
Let's go back in time to 1977.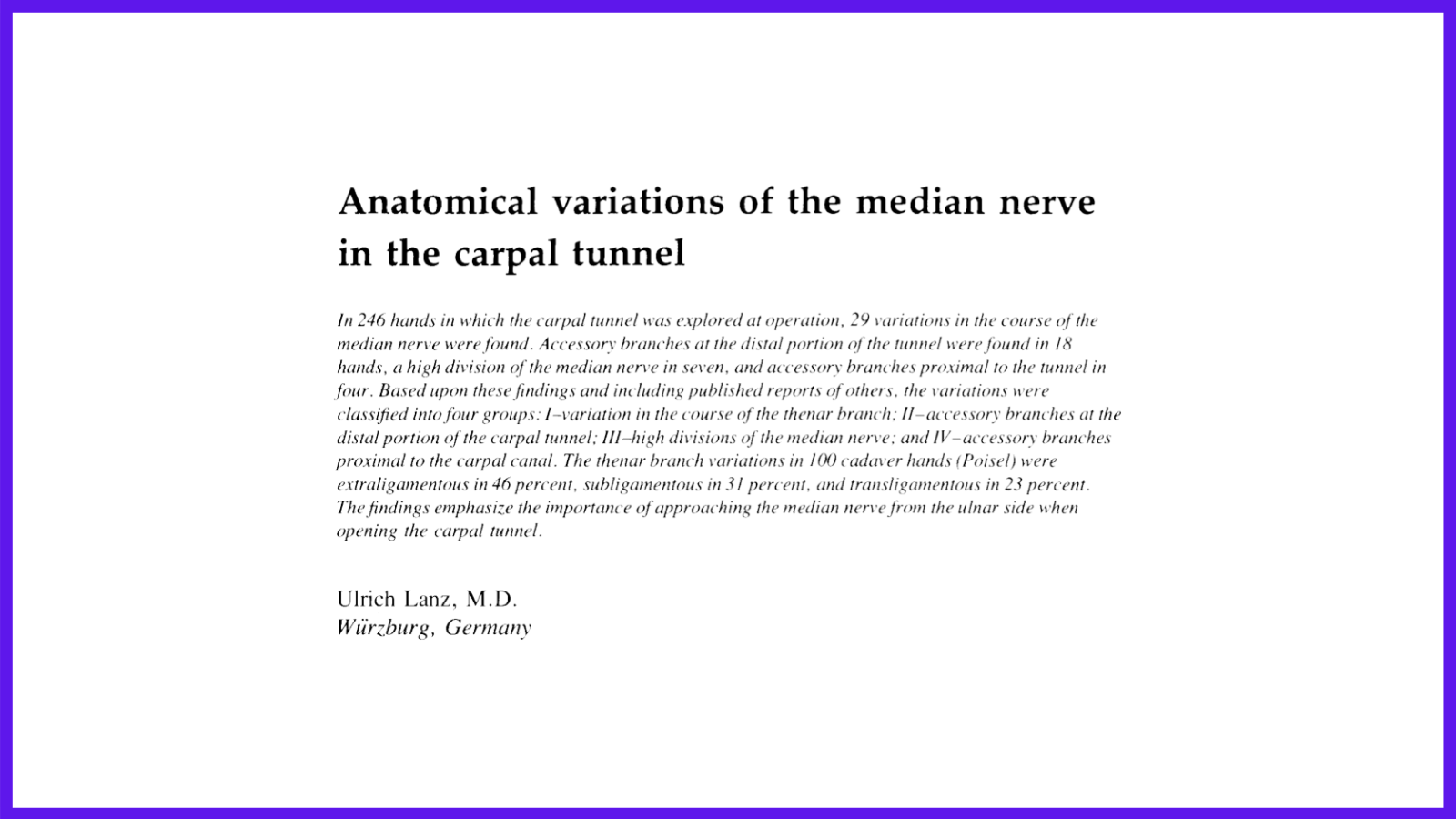 Ulrich Lanz published in seminal work in the The Journal of Hand Surgery, January, 1977, Vol. 2 No. I, pp. 44-53. He analysed the branching pattern of the median nerve within the carpal tunnel in 246 hands.
Here is a 5 point summary:
Aim: Describe median nerve variations to avoid "surgical misadventure"
Methods: 300 explorations of a carpal tunnel over 4 years.
Results: 29/300 variations of median nerve in carpal tunnel were identified and can be classified into 4 groups.
Conclusion: "Important to approach median nerve from the ulnar side when opening the carpal tunnel"
Discussion: 12% incidence of anatomical variations in this series is much higher than the current literature suggests ("current" is at the time of publication in 1977).
A deep-dive on this article is available here.
---
🥼
Case of the Week
Clinical Picture
This 40-year-old male presented to the emergency department after punching another man. He felt he didn't quite time the punch correctly and his thumb connected first. The radial aspect of his hand is swollen and painful.
Xray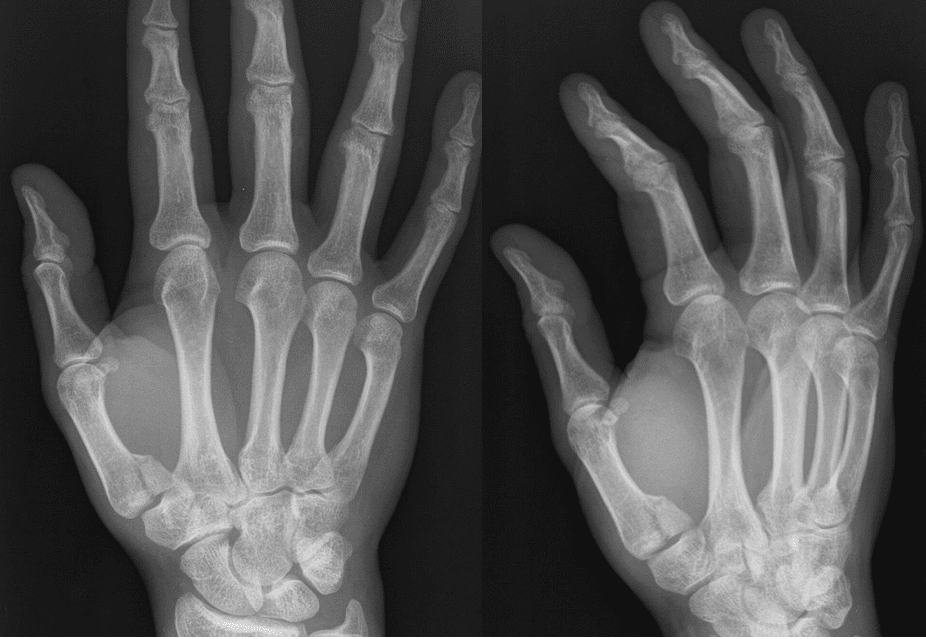 Quiz
Test yourself, every Sunday. How well do you know how to diagnose and treat this injury?
---
👀
Watch this Space
Reconstructive Surgery Trials Network
This looks like something to keep an eye on. It has a lot of potential.
The RSTN website states it is the clinical trials network for plastic surgery and hand surgery in the UK. It is part of the RCS Clinical Trials Initiative and is supported by BAPRAS and the BSSH.
What does the network do?
A mailing list that allows you to receive regular updates
Allow you to collaborate and get involved in research
Pitch your ideas to the RSTN network.
Overall, it seems like a fantastic initiative.
---
🎭
Upcoming Events
Canniesburn - Double Free Flap Breast Reconstruction
Mr Russell Bramhall (Consultant Plastic Surgeon) from the Canniesburn Plastic Surgery Unit discusses his experience in performing Double Free Flap Breast Reconstruction
Aug 30, 2021 08:00 PM
London Breast Meeting 2021
September 1 - September 4
Plastic Surgery for Juniors - A Crash course for plastic surgery juniors
2nd International Stoke Mandeville Plastic Reconstructive Surgery Symposium
---
💰
Work with P'Fella
If you're interested in teaching, developing your skills, and building your CV, then there is a big opportunity on the horizon.
thePlasticsFela is currently in the process of building the largest online database of Plastic Surgery questions. A database the will closely follow the international plastic surgery curriculum
Oh also, you will be paid.
If you might be interested, just drop your email below, and P'Fella will be in touch.