Curated evidence-based Plastic Surgery, every week. It can be hard to find time to keep up-to-date with all the reading. thePlasticsPaper sends you 1 email per week - just the highlights!
---
In This Week's Edition
---
✍️
A Note From P'Fella
Have you ever wondered about the unique relationship between an author and a publisher?
An author conceives an idea, builds a research team, executes the methodology, and submits multiple revisions - all for free and often for a "line of the CV".
A publisher is dependent on this user's "user-generated content". It depends on the hard work of the authors. It then puts their content behind a pay-wall.
Here is a great example - a screenshot from a commonly used Plastic Surgery Journal. Everything behind a pay-wall, except 1 article.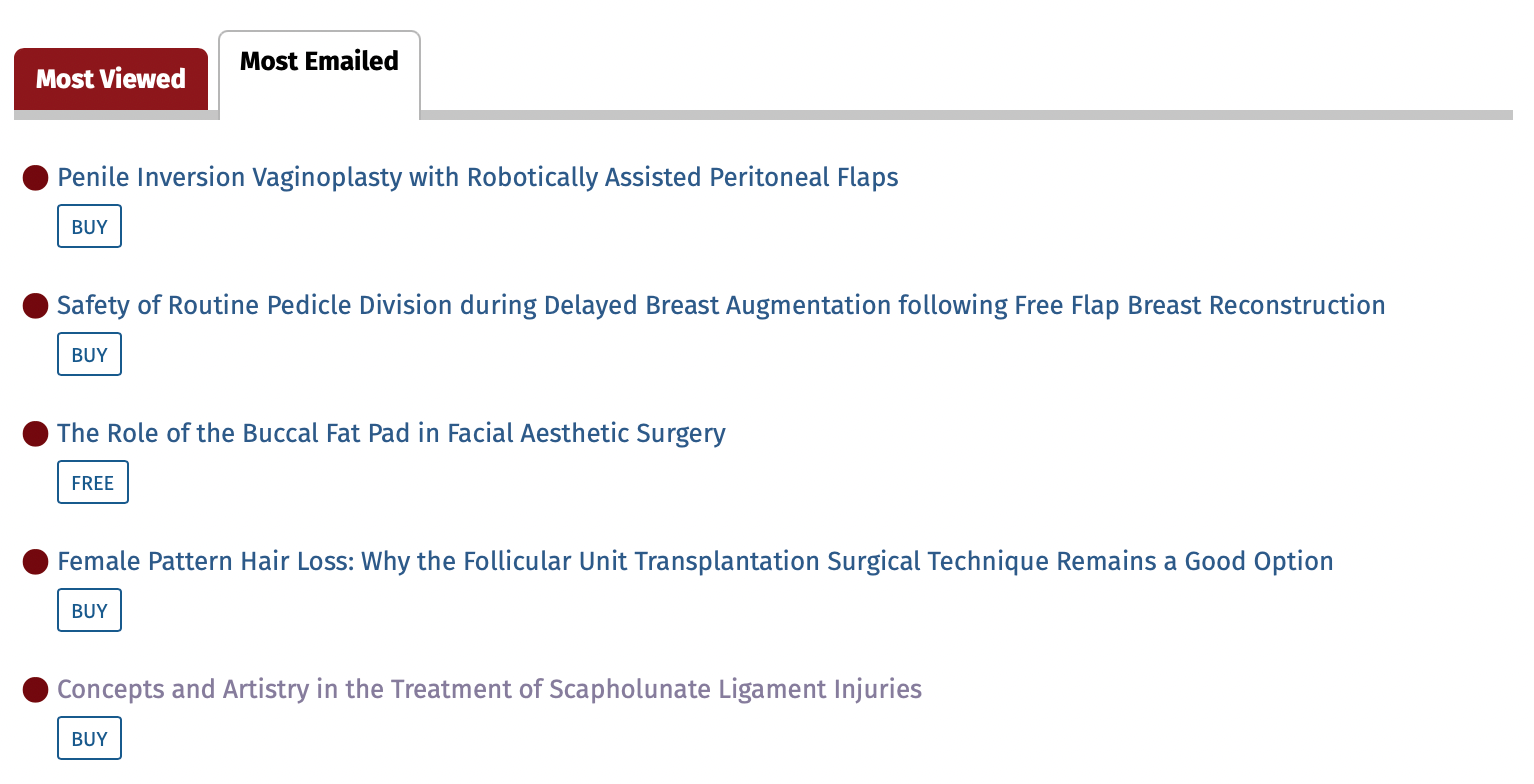 P'Fella previously described this concept as the "RICH Complex".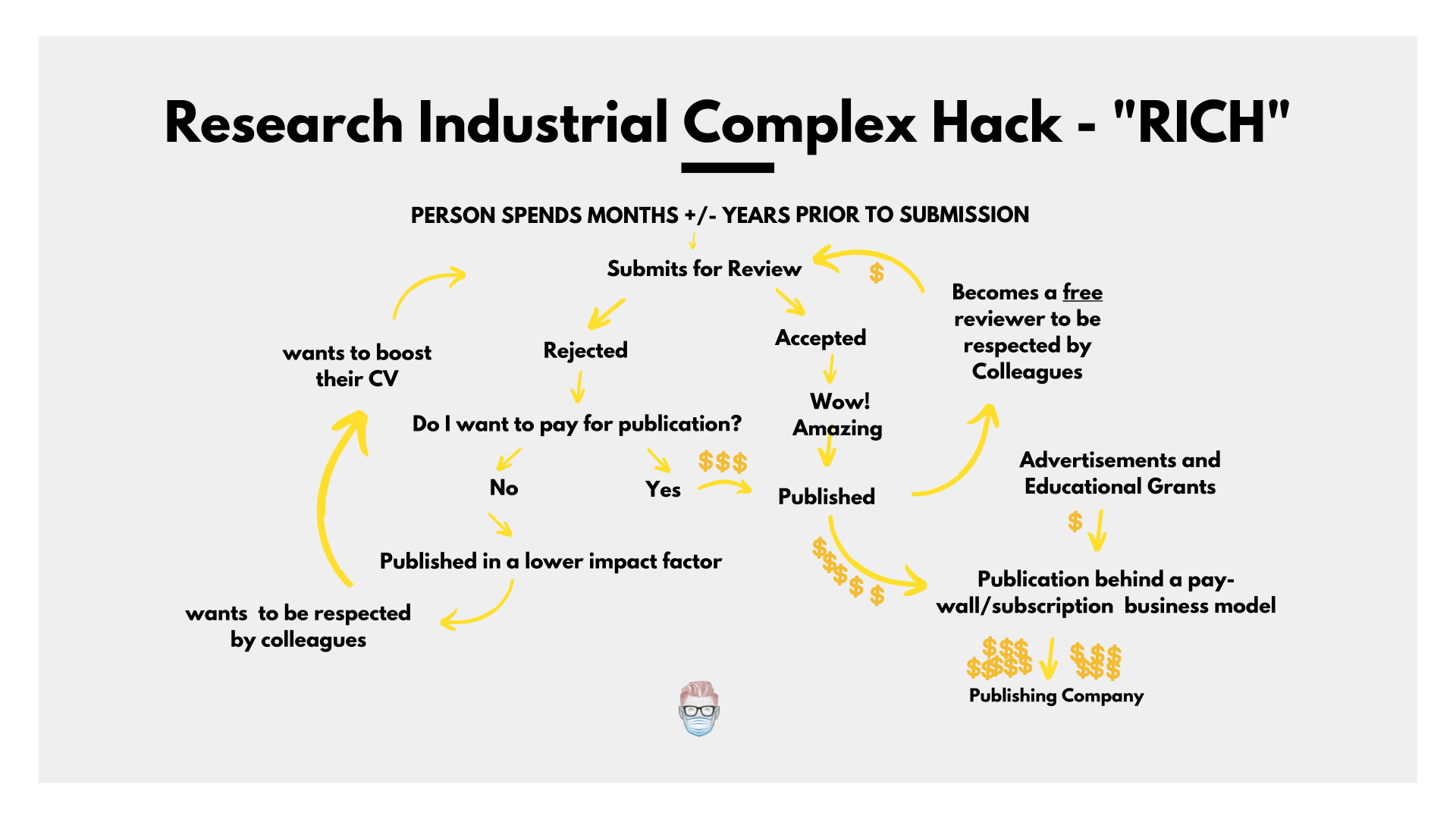 It's a strange dynamic and certainly worth discussing. A change in the system will require a change in the publisher's business models. Attempts have been made through "Open" journals. However, these journals often require the user to "pay for publication" - this just takes the pressure off the reader and transfers it to the author.
---
📚
Article of the Week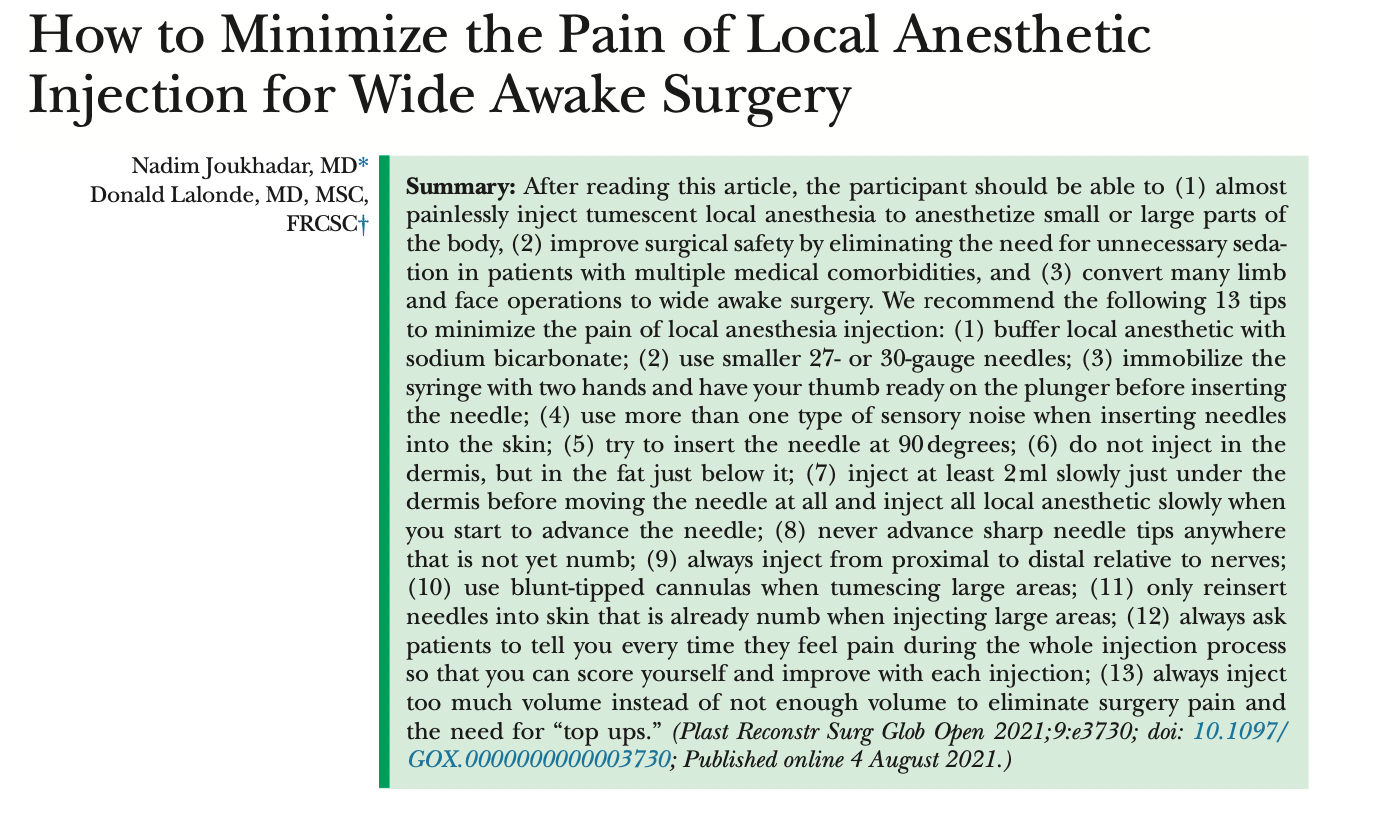 P'Fella recently came across this informative article in PRS Global Open. There are some interesting tips and tricks in this article. Some of them are common sense and some are relatively novel.
You can read the entire article here, or just read P'Fella's 4 tricks that are definitely useful:
Use Small Needles (+ Small Syringes) - it's all to do with Poiseuille's Law
Insert at 90-degrees, not at an angle!
Pinch the skin - it can distract the patient
Don't inject into the dermis, go deeper - it's quite sore!
The authors' entire 10 tips can be found in the article.
---
💭
5 Questions with The Upper Hand Podcast
P'Fella is a big fan of "The Upper Hand Podcast". It's hosted by 2 really interesting surgeons, Dr. Christopher J. Dy (CJD) and Dr. Charles Goldfarb (CAG) If you haven't listed to this podcast before, make sure you check them out here.

1. The Upper Hand Podcast is pretty damn popular!! It's also a pretty good name - who gets the bragging rights for naming it?
CJD: I honestly don't remember, but I'll give Chuck credit because he is old and needs a legacy. But I will take credit for designing the logo (thanks, Canva! And yes, I am totally content sticking with the free version).
CAG: I did, of course.  I do all the heavy lifting for this podcast (just kidding, total partnership on the Upper Hand Pod).
2. If you could only use 1 fracture fixation technique for the rest of your career, what would it be?
CJD: buttress plating. All day err day.
CAG: Right now, I am all about the intramedullary screw.


3. What is worse - someone stealing your lunch in the theatre fridge, someone wearing your theatre shoes, or a delay to theatre start time?
CJD: stolen lunch. I don't do well when I am hangry, especially if I had been counting on eating something. But the true low point is when the trainees have not adequately reviewed their 90's/00's pop culture prior to a day in the theatre with me.
CAG.  As usual, I need to translate for Chris in case the "hangry" is not clear.  It is Snickers chocolate bar commercial reference in the US and is such a great term.  But, a late start is my tipping point.  Brutal as I am just a bit focused on efficiency.

4. You guys make podcasting sound easy. What is the most enjoyable and also what is the hardest/laborious part of it?
CJD: truly a joy to work with Chuck and to get to know him more. Hardest part is remembering to post on social media. Another easy part is letting Chuck do all of the real work.
CAG: It's hard to explain but this is absolutely fun.  It is another "thing" and every day is already overly full.  But, it brings joy so I make time for it.  I think the hardest part is educating Chris- so much for him to learn.  Another hard part… just the time.  We want the podcast to be consistently good and have re- recorded episodes on occasion.  But worth every minute.

5. What's the most annoying thing that's happened on the podcast is something behind the scenes stuff that the listener doesn't really know about?
CJD: my microphone always seems to suck, despite buying 3 different mic's and trying 3 different laptops. And seeing Chuck's face/grimace when my audio drops.
CAG: Agree- Chris' microphone!  Ha.  Not sure.  The on-air is easy and we are almost always in sync although Chris keeps wanting to talk about unimportant things like nerves.  The editing can be frustrating at times.



---
🥼
Case of the Week
History: 30-year-old male, tried catching a baseball 12 hours ago.
Findings: Closed wound, highly unstable, and cannot be reduced.
Investigations: as below.
Try and answer these 5 questions!
---
🎭
Upcoming Events
Here is a small list of upcoming events being help both virtually and in person. If you have any courses you would like promoted, just let P'Fella know!
Pulvertaft: Outcomes in hand surgery - Jeremy Rodrigues, 13th Sept.
BSSH/BFirst Training: Soft Tissue Cover (Part 2) - September 18th
BAPRAS Celtic Meeting: 23-24 September in Dunblane, Scotland
BAPRAS Facial Aesthetics: 12th October.
BAPRAS 75 years: 3rd December
2nd Stoke Mandeville Plastic Surgery Symposium - 14th December
---
Work with P'Fella
If you're interested in teaching, developing your skills, and building your CV, then there is a big opportunity on the horizon.
thePlasticsFella is currently in the process of building the largest online database of Plastic Surgery questions. A database the will closely follow the international plastic surgery curriculum
Oh also, you will be paid.
If you might be interested, just drop your email below, and P'Fella will be in touch.