Authors: Phillip G Arnold, Peter C Pairolero, General Thoracic Surgery at the Mayo Clinic, Minnesota, USA
Publication: October 1996.
Free Article: Read here.
---
5 Sentence Summary    
Case series of 500 chest wall reconstructions over an 18 year period.
Commonly used flaps included pec major, LD, serratus anterior.
Skeletal Defects reconstructed with patches, mesh, and autogenous rib.
Common indications for surgery were tumors, infection, radiation necrosis.
Chest-wall reconstruction is safe, reproducible & "good" long-term outcomes.
---
Here is the Abstract: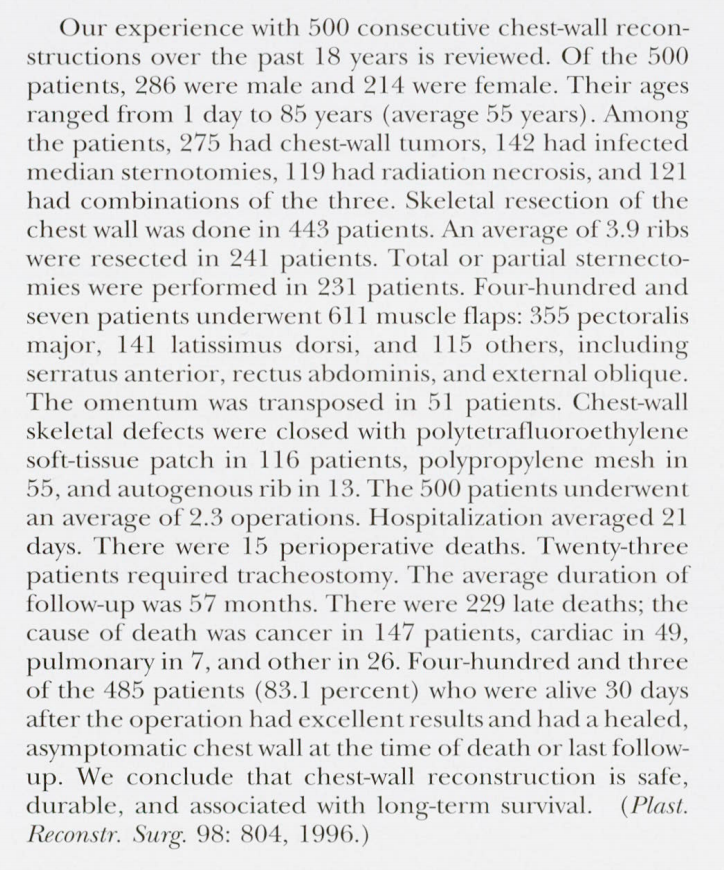 ---
Authors Thoughts on Flaps
The authors advocate the most important thing is to have good knowledge of potential options, but also have a fall-back flap!  Also, be careful of radiotherapy!! and smokers!!
Pectoralis Major  
Most frequently used
Good for anterior chest wall (esp upper chest!)
Can remain innervated and functional.
Prefer supply by thoracoacromial muscle, as IMA supply could be compromised if further secondary cartilage resection could kill the flap.
Latissimus Dorsi
Good for anterior and anterolateral chest wounds and also back defects.
Incredibly reliable, a "workhorse".
Can be used with the Serratus Anterior to give more tissue coverage.
Rectus Abdominis Muscle
Anterior chest wall
Dynamic in that skin can be orientated vertically or horizontally
Less muscle than other flaps and superiorly-based blood supply is less robust
External Oblique
Used only up to the level of the IMF
Greater Omentum
A security blanket of the chest wall and can be your best friend.
Readily accepts and supports bone and skin grafts
Not good for full-thickness defects (obviously!)
---
P'Fella's Thoughts on the Article
A seminal paper that really shaped the next generation of chest wall reconstructions.
Stood the test of time and supported in more modern literature. For example, this 25-year case series concludes similar findings.
An insight into how the medical practice has developed. The paper reports a relatively high mortality rate (for current standards), which just shows how we have progressed in a multi-disciplinary manner.
---