A concise review of an importan publication in PRS Journal by Som et al, in March 2021.
---
Som, Avira B.S.; Santosa, Katherine B. M.D., M.S.; Skolnick, Gary B. B.S.; Lapidus, Jodi B. M.P.H.S.; Waljee, Jennifer F. M.D., M.P.H., M.S.; Patel, Kamlesh B. M.D., M.Sc. Plastic and Reconstructive Surgery: March 2021 - Volume 147 - Issue 3 - p 690-698 doi: 10.1097/PRS.0000000000007643
---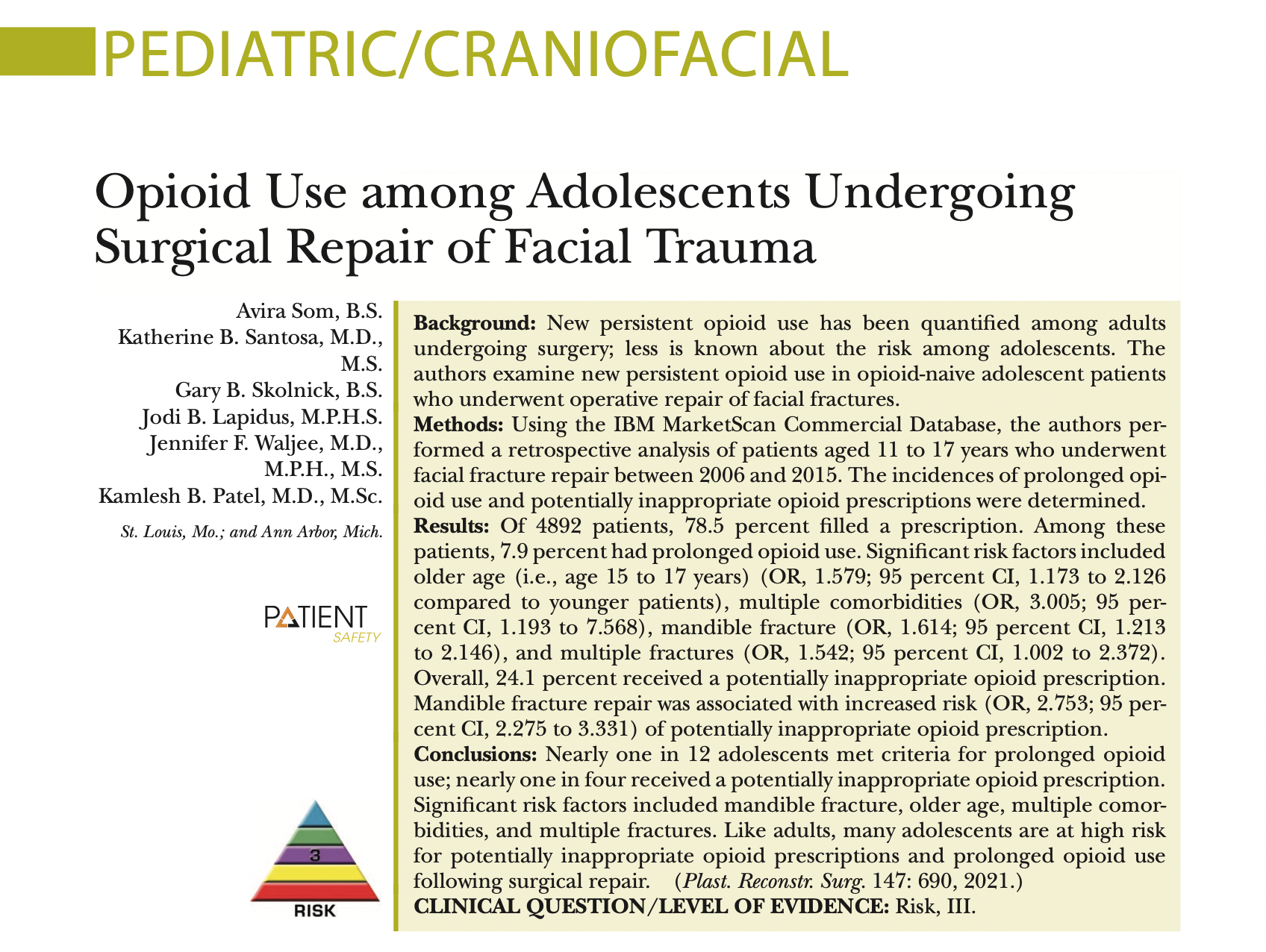 3 Sentence Summary
~1 in 2 patients will refill an opioid prescription, ~1 in 4 patients are inappropriately prescribed opioids, ~1 in 12 will have prolonged opioid used.
Risk factors include late teens, and lots of fractures, in particular mandibular fractures.
An enhanced recovery protocol can provide safe analgesia: bupivacaine nerve block, pregabalin, acetaminophen, opioid prescription with a 7-day limit.
---
3 Discussion Points
Well-defined primary outcomes: "the primary outcome of our study was new persistent opioid use, defined as filling an opioid prescription between 60 to 180 days after surgery. Our second- ary outcome was the incidence of potentially inappropriate prescriptions."
Large sample size (4829 patients) with solid collection of patient demographic data to allow for subgroup analysis and identification of confounders and clinical covariates.
This data is representative of the general population of patients with this injury (majority are males, aged 15-17 years old with nasal fractures undergoing 1 procedure).
---
3 Ways to Change your Practice
Early recognition of patients who are high risk for prolonged opioid use (males, late teens, multiple fractures or mandibular fracture)
Educate your team about alternative safe medication options and enhanced recovery protocols.
Audit your practice on opioid prescribing and see where there are areas to improve.
---
3 Recommended Articles
Gaither JR, Leventhal JM, Ryan SA, Camenga DR. National trends in hospitalizations for opioid poisonings among children and adolescents, 1997 to 2012. JAMA Pediatr. 2016;170:1195–1201.
Scully RE, Schoenfeld AJ, Jiang W, et al. Defining optimal length of opioid pain medication prescription after common surgical procedures. JAMA Surg. 2018;153:37–43.
Ahiskalioglu A, İnce İ, Aksoy M, Yalcin E, Ahiskalioglu EO, Kilinc A. Effects of a single-dose of pre-emptive pregabalin on postoperative pain and opioid consumption after double- jaw surgery: A randomized controlled trial. J Oral Maxillofac Surg. 2016;74:53.e1–53.e7.