The pre-operative Rhinoplasty examination can often be challenging. The "RHINO" structure, which was created by P'Fella, can act as a template and guide for the patient consultation.
The "RHINO" answer template is a mnemonic designed specifically for the pre-operative rhinoplasty examination and assessment in plastic surgery. It focus on the patient's reason, history, individual aspects of their nose and outcome.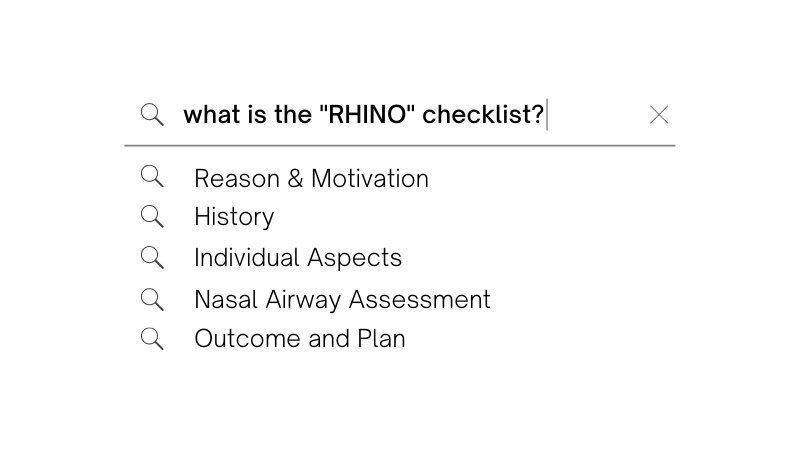 Reason
The most important aspect of the pre-operative consultation is to determine the patient's reasoning and motivations for a rhinoplasty (Constantin MB, 2015). The patient should list and rank  three concerns abou their nasal appearance and/or function (Rohrich et al, 2016). Essentially, does the patient want a rhinoplasty for:
cosmetic concerns
nasal symptoms
cosmetic and symptomatic
If the patient is asymptomatic, it should act as a reminder to respect and preserve the key structures (Rohrich et al, 2016).
---
History
In addition to a standard medical history, it is important to focus on these points:
Medical: Asthma, sinusitis, rhinitis (linked to inferior turbinate hypertrophy)
Surgery: previous nasal trauma or surgery
Social: smoking, drugs such as cocaine (Guyuron et al, 2008)
Allergies & Medications: NSAIDs increase bleeding.
Some patients are naive to their nasal obstruction. Their body has adjusted over time to their breathing issues and subsequently have become mouth breathers. Clues in the history include, a positive history of sinus infections, sinus headaches, and knowledge of mouth breathing (Guyron et al, 2008).
---
Individual Aspects  
The individual aspects of the nose are the primary focus of the rhinoplasty assessment. After a general observation of a patients facial proportions, symmetry and skin quality the nose can be sectioned into:
Upper 1/3: bony vault of the nose.
Middle 1/3: cartilaginous aspect of the nose.
Lower 1/3: Nasal Tip, Alar and relationship to Lip
These individual aspects of the nose are explained below in the illustration. It is these observations which strongly influences the management options suitable for the patient.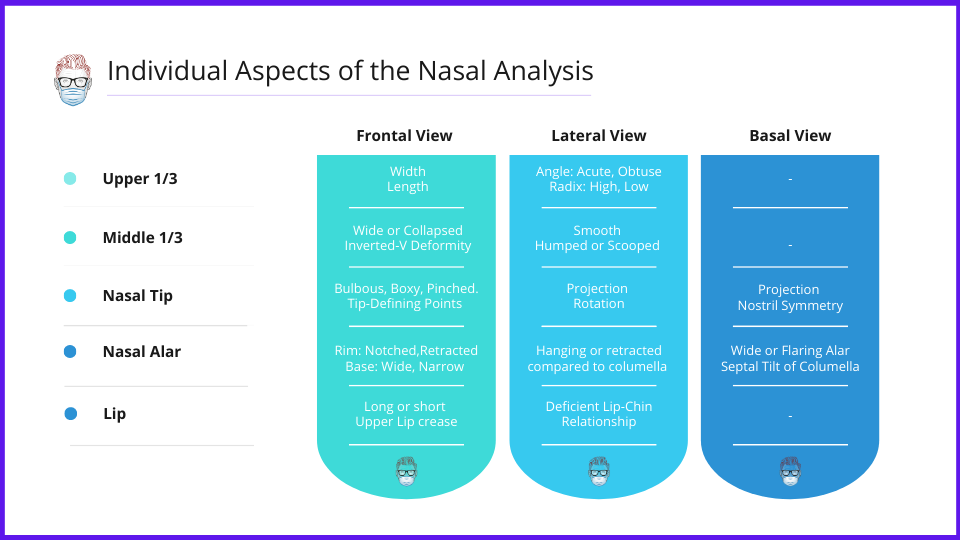 More specifically spekaing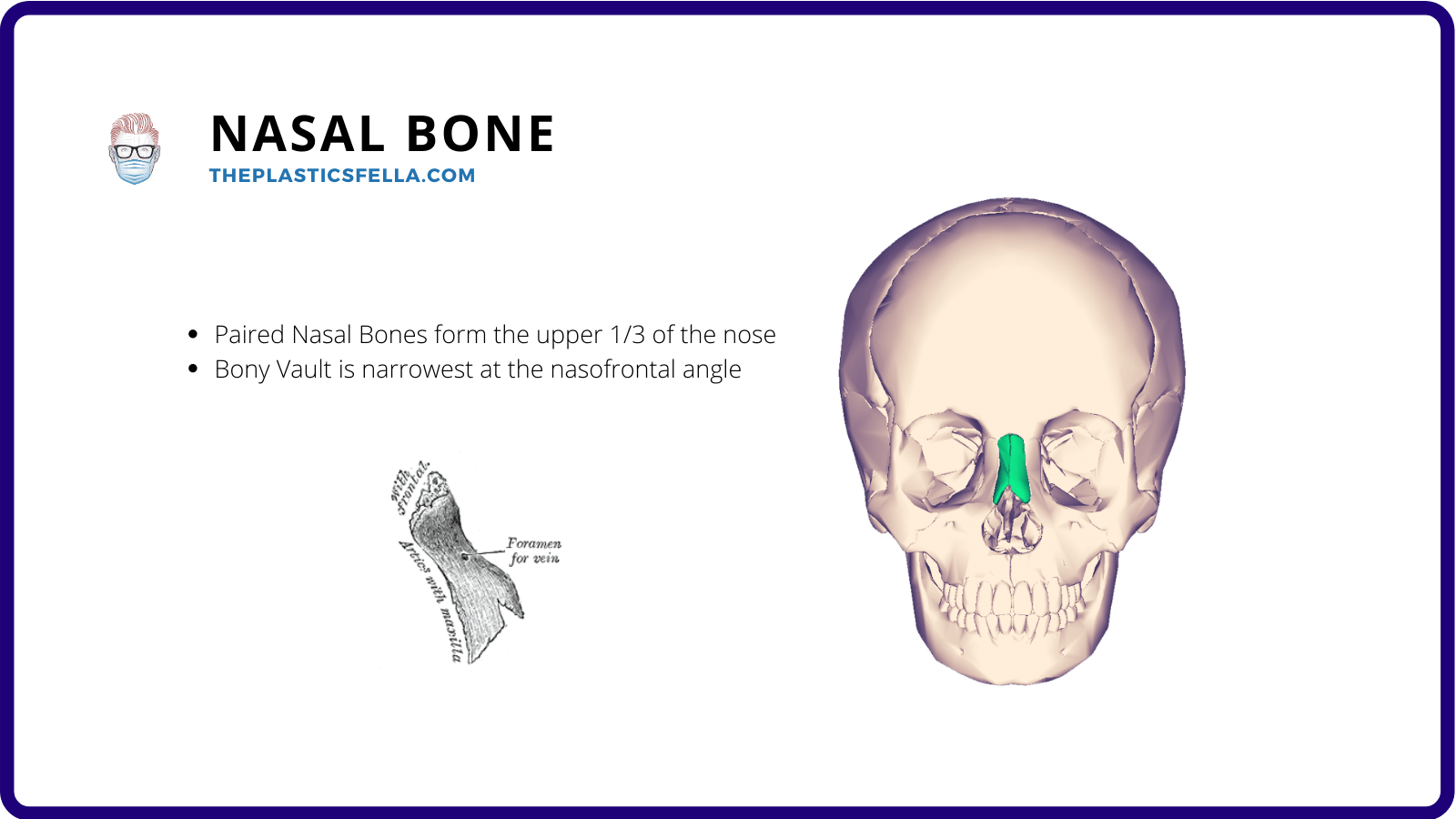 ---
Nasal Flow
As part of a routine pre-operative rhinoplasty assessment, the nasal airway should be formally examined. In particular, nasal valves, septum and turbinates. This can be done by the following techniques:
External Nasal Valve: collasping on deep inspiration
Internal Nasal Valve: Cottle's Test
Inferior Turbinates: speculum examination may should hypertrophy, typically on the side of the septal deviation.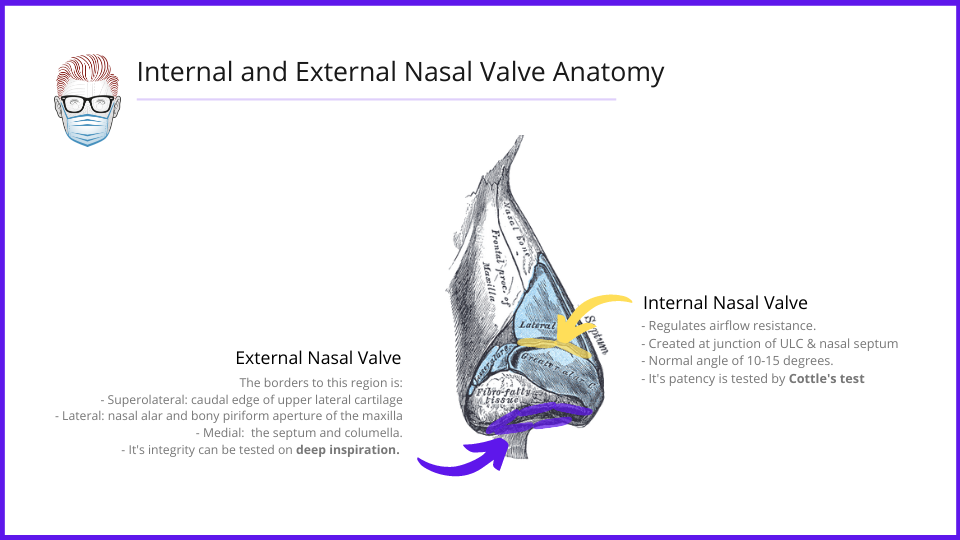 ---
Outcome
To conclude the rhinoplasty examination, the important points to detail are:
Patient Expectations: Postoperative patient satisfaction is strongly influenced by patient expectations (Constantin MB, 2014)
Prepare Patient: advise patient on what to expect on day of surgery and post-operatve care.
Plan the Surgery: based on the detailed history and examination, a management plan should be finalised and technique detailed.
The surgical plan is discussed as per operative technique required in other articles.