Upper Limb development occurs during weeks 4-8 of gestation. This article details the mechanisms of development and critical milestones.
Summary Card

Overview
Upper limb development occurs during weeks 4-8 of gestation from the mesoderm and ectoderm.
Milestones
Limb bud appears on day 26 and differentiates into a limb by day 58.
Mechanisms
Upper limb embryogenesis is based on 3 axes, 3 signalling zones and 3 proteins.
---
Overview of Upper Limb Embryology
The upper limb develops during weeks 4-8 of gestation from mesoderm and ectoderm. More specifically,
3 axis: proximodistal, anteroposterior, dorsoventral
3 centres: apical ectodermal ridge, zone of polarizing activity, dorsal ectoderm
3 proteins: fibroblast growth centre, sonic hedgehog protein, WNT7a.
These critical elements of embryological development are illustrated below.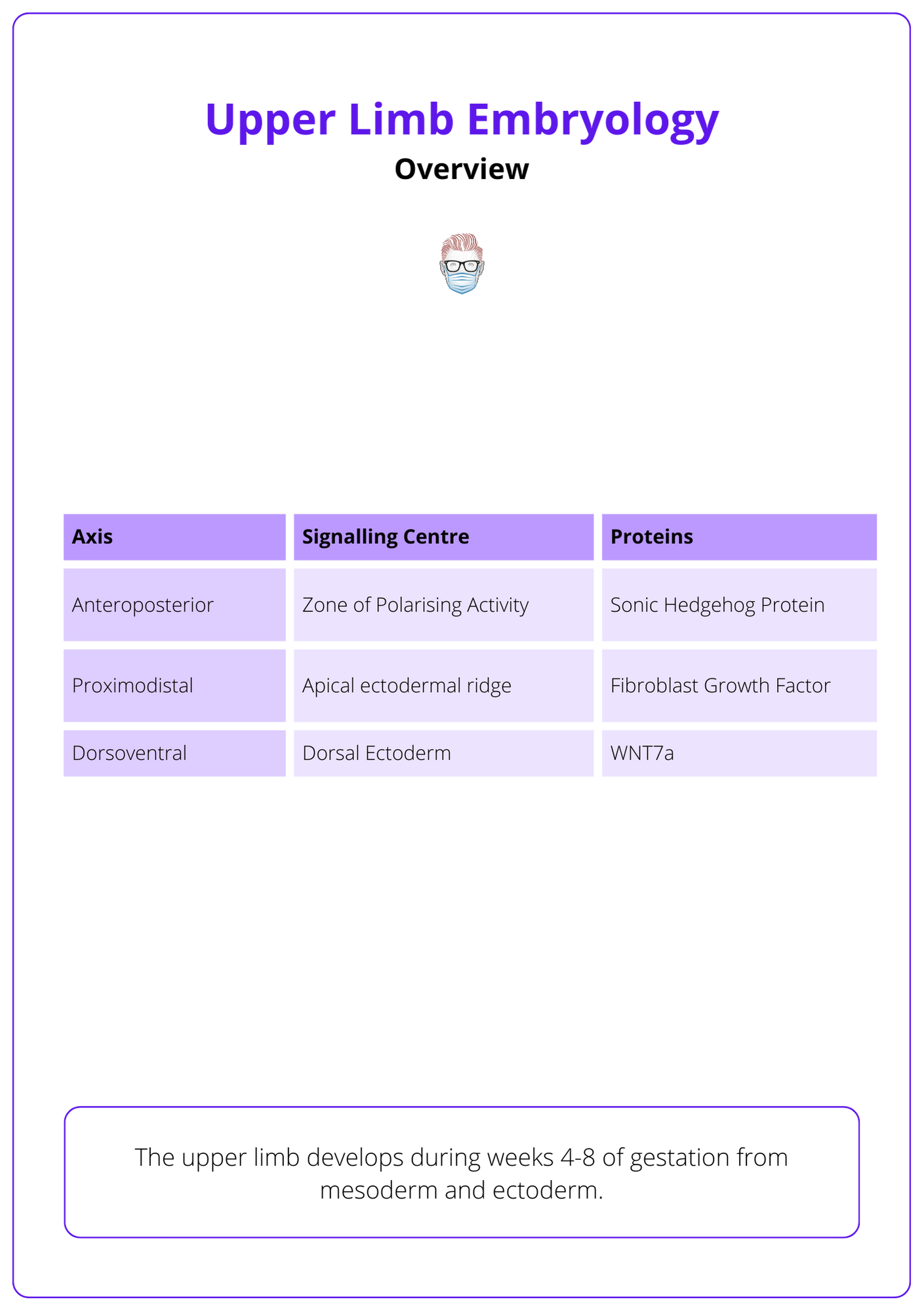 😎
Fun Fact: The lateral plate of the mesoderm forms bone, cartilage and tendon. The somatic mesoderm differentiates into myofibroblasts that muscle.
---
Developmental Milestones

Key Point

These are general guidelines for the development milestones of limb embryogenesis.



The upper limb differentiates into a 'human-appearing' limb during 4-8 weeks of gestation. Here are some general timelines to consider
~ Day 26: Limb bud is present
~ Day 33: Paddle-shaped hand
~ Day 36: Nerves appear
~ Day 42: Webbed-shaped hand.
~ Day 48: Palms move anteriorly and elbows flex
~ Day 50: Digits separate
~ Day 56: Digits ossify secondary to apoptosis.
~ Day 58: Human limb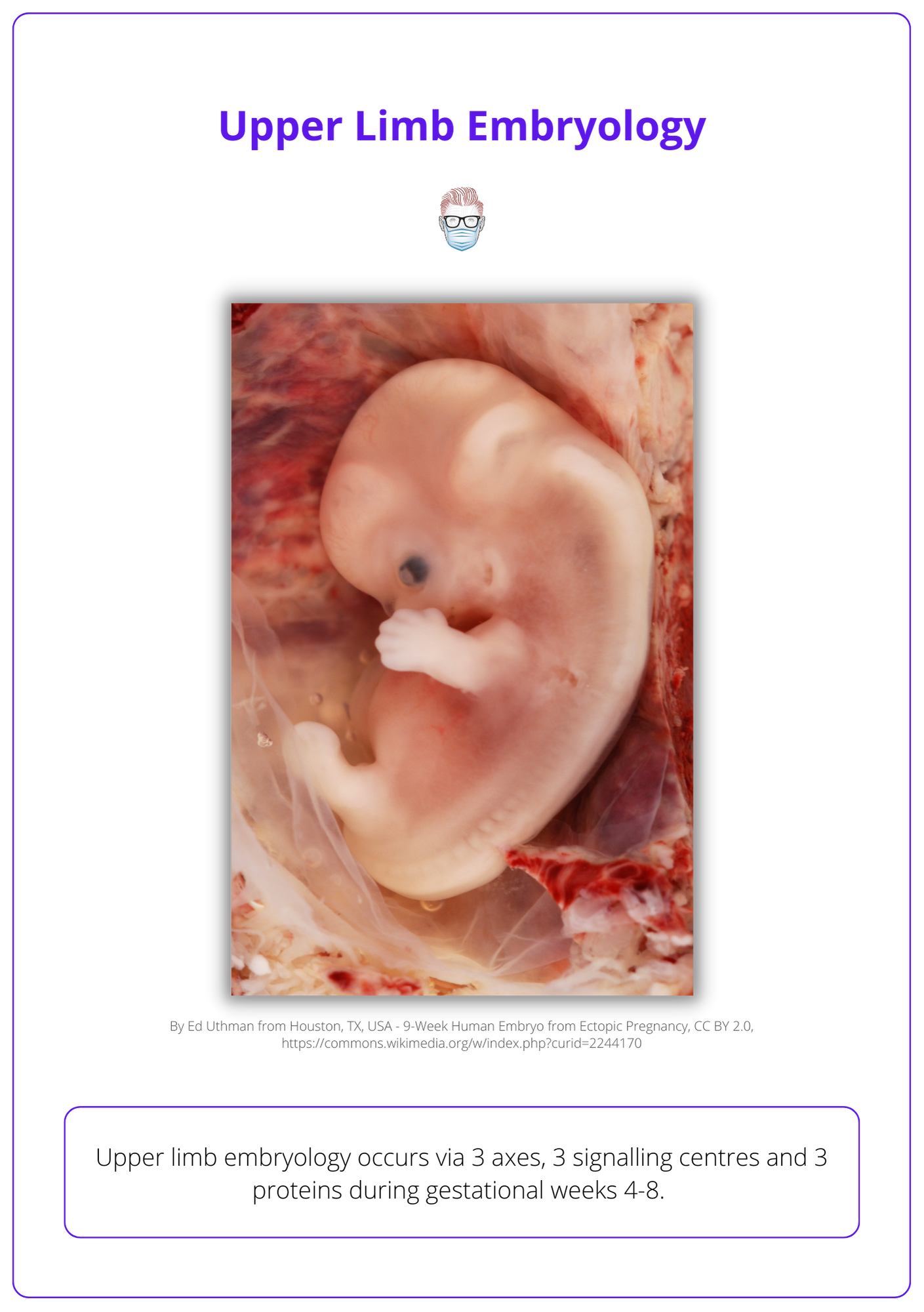 💡
Tip: Tetramelia is the term used to describe the failure of limb induction.
Formation of a Blood Supply
In the 4th week, the limb bud is supplied by a capillary network. During embryogenesis, the following occurs.
Subclavian-axillary brachial arterial axis is formed
Basilic-axillary-subclavian venous axis is formed
Brachial artery branches into interosseous and median arteries
Ulnar and radial arteries replaced median artery (now supplies median nerve)
---
Mechanisms of Development

Key Point

Upper limb embryology occurs via 3 axes, 3 signalling centres and 3 proteins.


Proximodistal Axis
Role: "distalises" the limb by differentiating limb from the shoulder to finger.
Signalling centre: Apical Ectodermal Ridge (AER)
Proteins: Fibroblast growth factors (FGFR 2, 4, 8) influence SHH expression.
😎
Fun Fact: AER is an ectodermal thickening at the leading bud edge. Its removal will result in a truncated limb.
Anteroposterior
Role: "ulnarises" the limb by controlling ulnar and radial growth
Signalling centre: Zone of Polarising Activity (ZPA)
Proteins: Sonic Hedgehog (SHH), which also influences FGFR expression.
😎
Fun Fact: ZPA contains mesenchymal cells in the posterior limb bud margin. Its removal will result in an ulnar longitudinal deficiency.
Dorsoventral Axis
Role: "dorsalises" the limb by differentiating a dorsal and palmar surface.  
Signalling centre: Dorsal ectoderm
Proteins: WNT7A, which activates LMX1
😎
Fun Fact: WNT7A is restricted to the dorsum by the volar-acting en-1. Its removal will result in abnormal dorsalisation, such as nail-patella syndrome.
\
---