FRCS Plastic Surgery or FRCS Plast is commonly known as the 'exit exam'. This article details its structure, eligibility, courses, and questions.

What's the FRCS Plast All About?
A rigorous JCIE-governed exam that certifies a surgeon's consultant-level expertise in plastic surgery.

Are You Eligible?
Entry requirements span a recognized medical degree, years of experience, curriculum adherence, and professional references.
Structure of the FRCS Plast Exam
The exam unfolds in two stages: a computer-based test followed by a two-day hands-on clinical evaluation.
Key Dates for the FRCS Plast Exam
The exam takes place multiple times a year; don't miss the application deadlines!
Tools to Boost Your FRCS Plast Prep
Discover specialized tools like thePlasticsPro, tailor-made to help you succeed.
Success Rates and the Coveted Gold Medal
CCT trainees tend to shine, and standout performances can earn the prestigious Ian McGregor Medal.
Unraveling the Cost
The £1904 fee is a comprehensive package, supporting various operational and developmental aspects of the exam.
---
What is the FRCS Plastic Surgery (Plast) exam?

Key Point

The FRCS Plastic Surgery (Plast) Exam is a rigorous assessment overseen by the Joint Committee on Intercollegiate Examinations, designed to validate a surgeon's ability to practice safely and effectively as a consultant in plastic surgery.



The FRCS Plastic Surgery (Plast) Exam, officially recognized as the "Intercollegiate Specialty Examination in Plastic Surgery," is governed by the Joint Committee on Intercollegiate Examinations.
This prestigious 'exit exam' stands as a testament to a surgeon's capability, earned after the successful completion of a rigorous two-part assessment. It's designed to ensure that candidates possess the vital knowledge and adeptness to practice autonomously as a consultant in plastic surgery.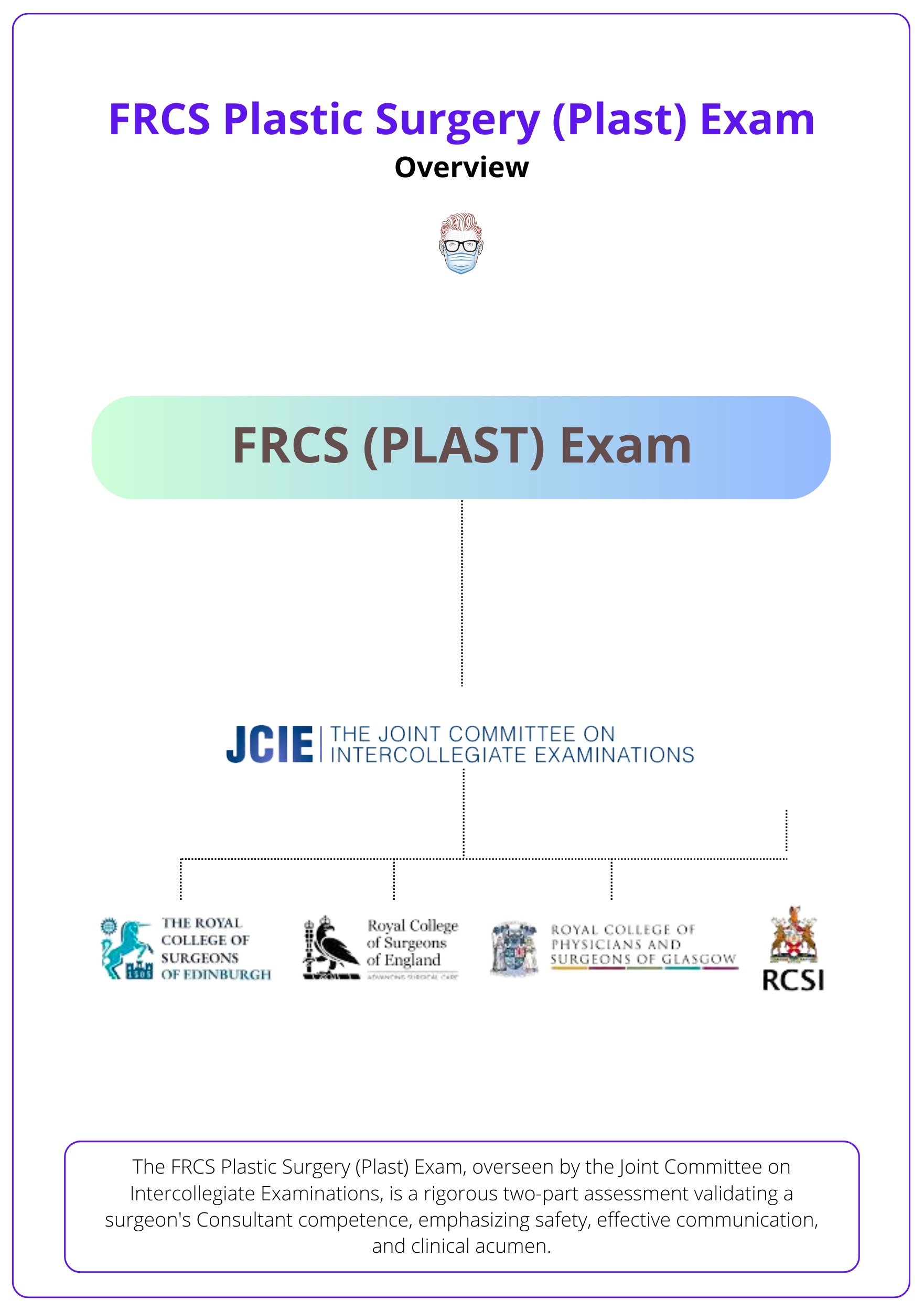 While the examination is generally perceived as challenging, it's also seen as fair, with stringent quality assurance measures in place. Beyond testing factual knowledge, the exam emphasizes clinical acumen, ensuring that candidates can safely practice and communicate effectively. The overarching goal is for candidates to demonstrate their readiness to provide care at the consultant level, emphasizing safety and effective communication.
💡
Tip: JCIE oversees the Specialty Fellowship Examinations on behalf of the four surgical Royal Colleges of Great Britain and Ireland, as mandated by the GMC. Additionally, the JCIE serves as the overarching entity for its ten surgical Specialty Boards.
---
FRCS Plastic Surgery (Plast) Exam Eligibility

Key Point

Eligibility for the FRCS Plastic Surgery (PLAST) Exam requires a recognized medical qualification, six years post-qualification experience, adherence to the Intercollegiate Surgical Curriculum, and three professional references as set by the JCIE.



The FRCS Plastic Surgery (Plast) Exam is a key qualification for those aiming to establish their prowess in the field of plastic surgery. Governed by the Joint Committee on Intercollegiate Examinations (JCIE), this exam sets high standards for candidates, ensuring their readiness for consultant-level practice.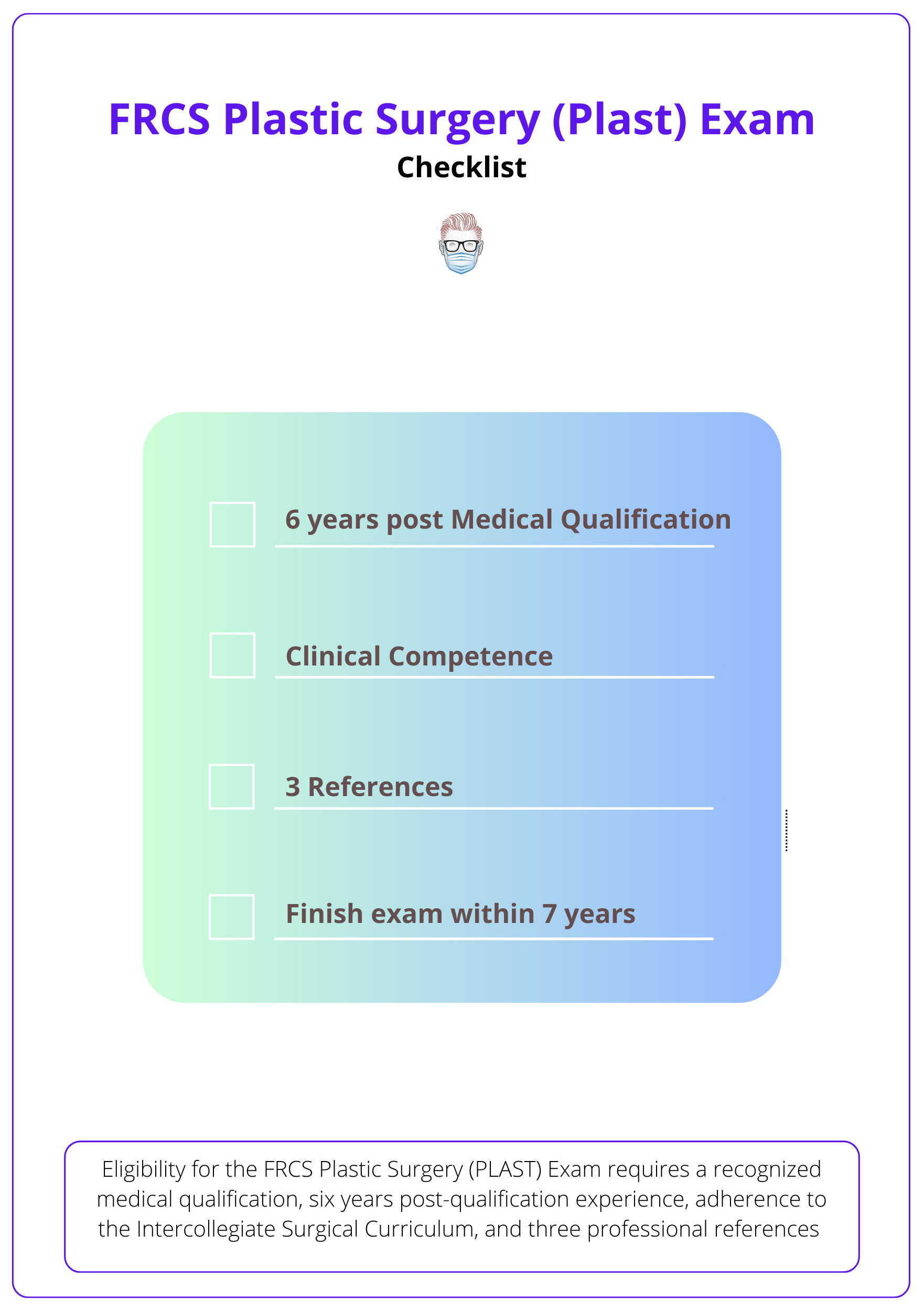 As illustrated above, to be eligible for the the FRCS Plastic Surgery exam, the following criteria must be met. This also applies for overseas doctors.
Medical Qualification: Must be recognized by the GMC UK or the Medical Council of Ireland, with a minimum of six years post-qualification.
Clinical Competence: Candidates must provide evidence of meeting the standards set by the Intercollegiate Surgical Curriculum. This can be derived from a combination of qualifications, training, or experience.
References: Three structured references are mandatory. These should be in the format prescribed by JCIE and ideally from senior colleagues who are familiar with the applicant's current clinical practice.
Timeframe: The entire examination journey has to be completed within a span of 7 years. This includes:

Section 1: 4 attempts within a two-year window from their initial try.
Section 2: Candidates have a maximum of 4 attempts.
Prospective candidates should be aware that detailed regulations and guidelines are available through the JCIE's official documentation online. It's pertinent to note that thePlasticsFella is not affiliated with JCIE.
💡
Tip: It's essential to understand that merely passing the Intercollegiate Specialty Examination doesn't guarantee a placement on the Specialist Register. It's a part of the comprehensive evidence required.
---
FRCS Plastic Surgery (Plast) Exam Structure

Key Point

The FRCS Plast exam consists of two sections: Section 1, a computer-based test with Single Best Answer (SBA) papers, and Section 2, a two-day clinical assessment integrating patient interactions and oral examinations. Successful completion of Section 1 is a prerequisite to attempt Section 2.



There are 2 sections to the FRCS Plastic Surgery exam. Candidates must meet the required standard in Section 1 in order to gain eligibility to proceed to Section 2
Section 1 FRCS Plast Exam Format
Section 1 of the FRCS Plast exam consists of two computer-based Single Best Answer (SBA) papers. These papers, tailored to effectively assess the curriculum content, are administered at Pearson VUE Test Centres across the UK and Ireland.
Paper 1 120 Single Best Answer for 2 hours 15 mins
Paper 2 120 Single Best Answer for 2 hours 15 mins
This can be visualised in the image below.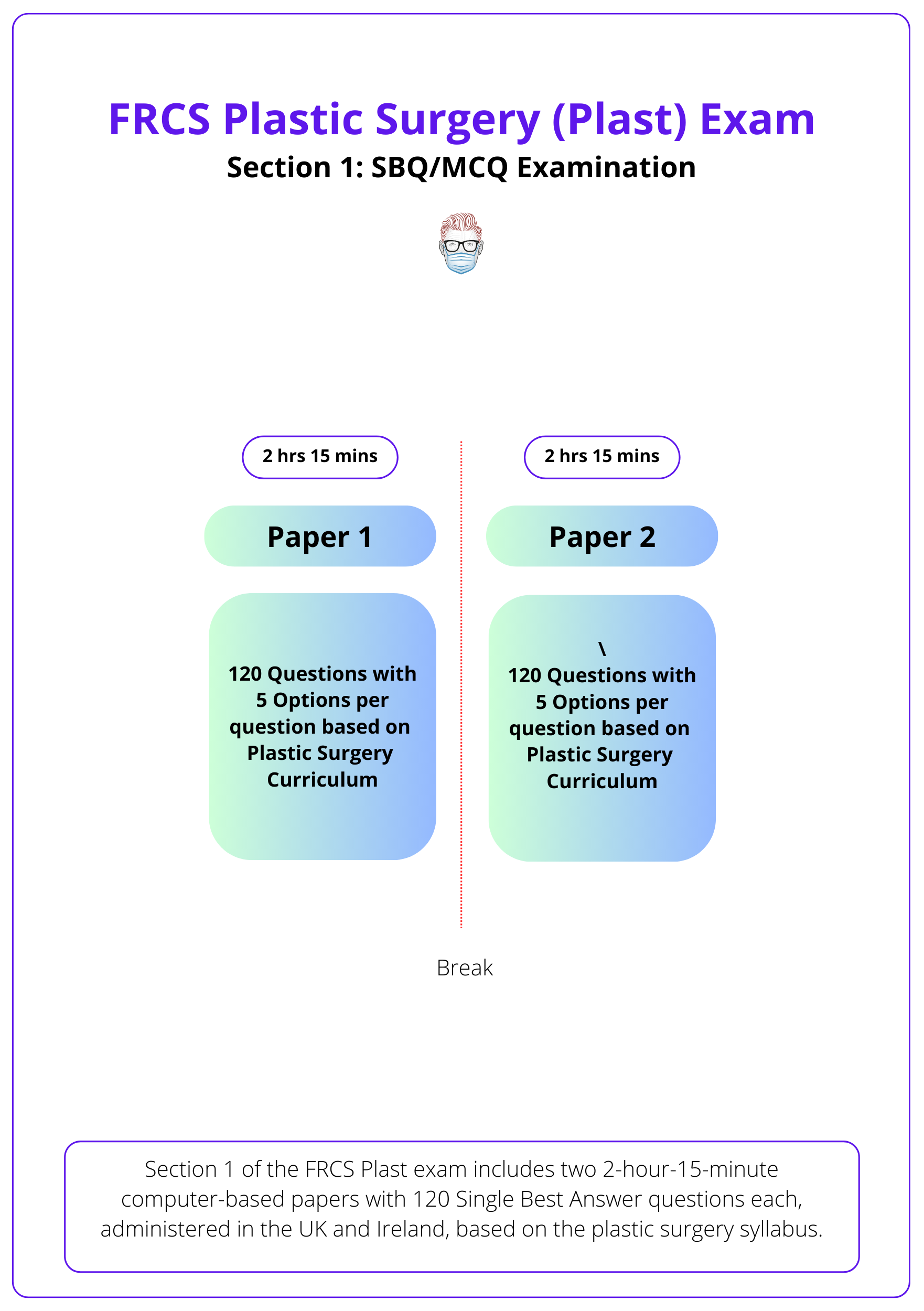 The design of these test questions is based on the plastic surgery syllabus. This can be downloaded below.
Section 2 FRCS Plast Exam Format

The FRCS PLAST Section 2 is the clinical component of the examination, conducted over two days. It integrates patient interactions, clinical scenarios, and structured medical interviews. The examination gauges advanced cognitive skills, such as decision-making, interpretation, and judgement. The quality of responses, depth of questions tackled, clarity, and confidence in answers, along with the degree of guidance required, are key evaluation parameters.
For each session, two examiners are present: one administers the exam while the other records the proceedings. They mark separately to ensure objective evaluation.
Candidates are expected to appear for this in-person examination in professional business attire.
💡
Tip: "Volunteers" are typically past or current patients relevant to the specialty, brought in by the examining host.
Examinations take place at selected host centers across the UK and Ireland and the format (effective from August 2022) is as follows:
Day 1: Clinical Examinations

The clinical examination segment is a comprehensive 90-minute assessment that integrates patient interactions with clinical scenario evaluations. Examinees engage with 'volunteers'—actual patients—and are evaluated by two examiners, with a potential addition of an external examiner.
This structure ensures a rigorous yet focused evaluation of the candidates' clinical proficiency. A broad overview can be visualised below.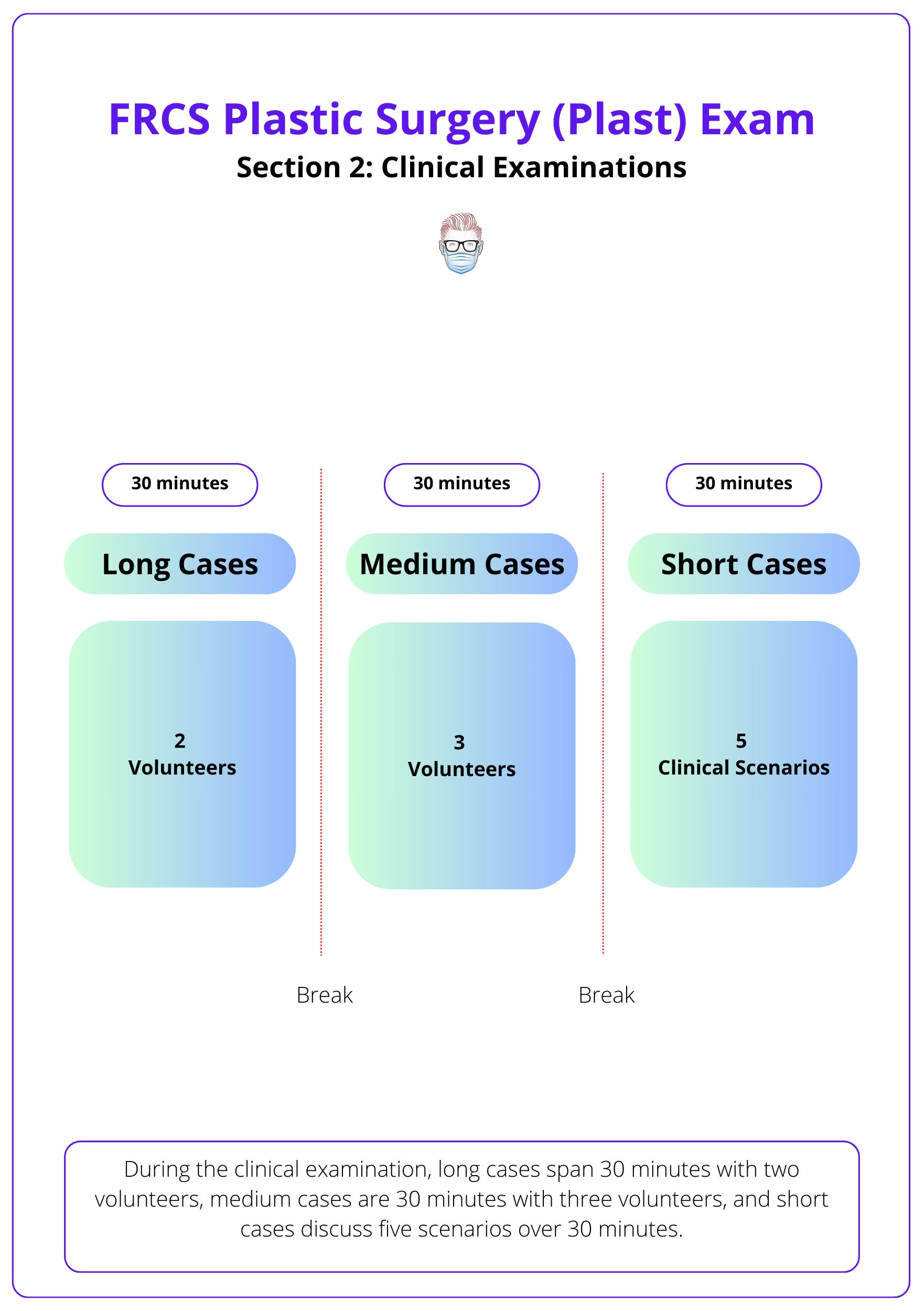 In more detail, the exam format is structured as follows:
Long Cases: Within a 30-minute session, candidates interact with two volunteers, dedicating approximately 15 minutes to each.
Medium Cases: This 30-minute segment involves three volunteers, allotting roughly 10 minutes per volunteer.
Short Cases: The final 30-minute portion covers five clinical scenarios, with an average of 6 minutes devoted to each. This is traditionally been referred to as "The Shorts".
In the Long and Medium Cases, you'll be evaluated on: Basic knowledge, Higher-order processing, Clinical skills, and Professionalism. For Short Cases, the assessment covers Basic knowledge and Higher-order processing.
💡
Tip: No breaks are given between individual cases within a section, like the long case. However, short breaks are provided between different sections, such as transitioning from the long case to the medium case.
Day 2 Oral Examinations
The Oral Examinations of the FRCS Plast involve a 90-minute oral test, broken down into three 30-minute stations. Each station concentrates on three specific themes, with two scenarios provided for each theme. The objective is to discuss all three themes within the allocated 30 minutes for each segment
This section has been traditionally referred to as the 'Vivas'.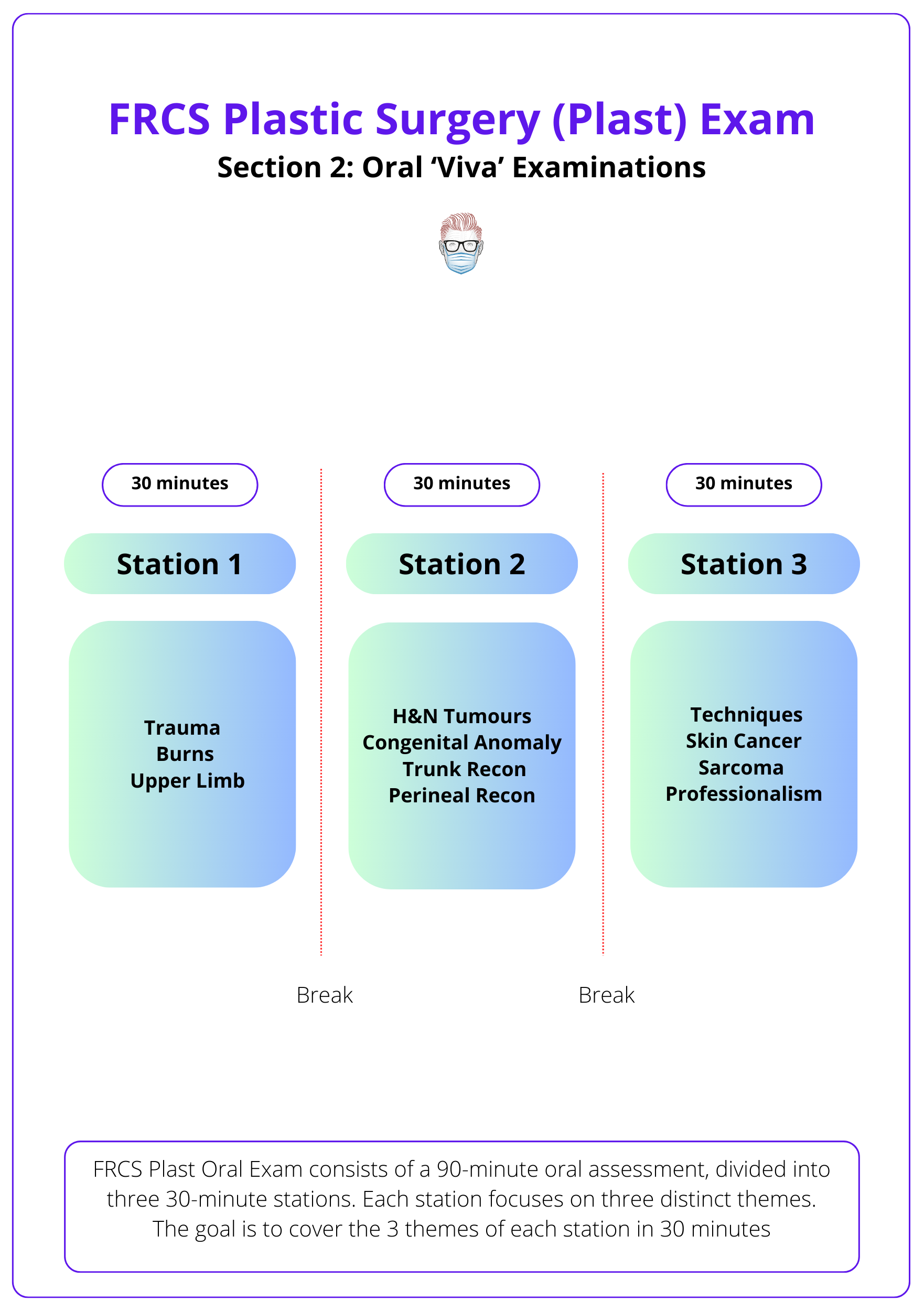 Oral Station 1 delves into Trauma, Burns, and the Adult Upper Limb. Within this, candidates will discuss the intricacies of burn management, the spectrum of upper limb traumas, and various facial and lower limb traumatic injuries.
Oral Station 2 centers on Acute Head and neck Tumours, Congenital anomalies, and Trunk and perineal reconstruction. This involves a deep dive into head and neck surgical procedures, management of congenital deformities like cleft lip and palate, and the nuances of perineal and breast reconstruction.
Oral Station 3 encompasses a wide range of topics from Generic Plastic Surgery Techniques to Skin Cancer, Sarcoma, and General Professional Capability. This session ensures a comprehensive evaluation of a candidate's skill in wound management, vascular anomalies, ethical considerations, and more."
💡
Tip: Section 2 is conducted in a different hospital each year. Some hospitals may have specific interests, for example, brachial plexus or lower limb trauma.
This FRCS Plastic Surgery exam structure can be visualised in the table below. It is important to note, that the Intercollegiate Specialty Board in Plastic Surgery reserves the right to modify the format of the examination.

💡
Tip: Generally, between each oral station you will have break and return to the 'green room'. This is approximately 15 minutes.
The Joint Committee on Intercollegiate Examinations (JCIE) is dedicated to continually refining its exam processes for optimal reliability. Notably:
Examiners work in pairs but mark independently.
The exam consists of 114 marking events.
A score of 6 on a scale of 4 to 8 is deemed as passing, setting the pass threshold at a cumulative score of 684. This may change based on JCIE decisions.
Performance Metrics:
Candidates are assessed across four pillars:
Basic Knowledge: Measures your foundational grasp.
Higher Order Processing: Gauges analytical, decision-making, and prioritization capabilities.
Clinical Skills: Evaluates expertise in clinical history taking, examination, and diagnosis.
Professionalism: Assesses interpersonal skills, ethical understanding, respect, and empathy.
Rating Insights:
4: Major deficiencies in knowledge and skills, inappropriate conduct.
5: Some gaps in knowledge, challenges with clinical skills and decisions.
6: Satisfactory across all areas with decent interpersonal behaviour.
7: Strong knowledge and skills; builds rapport effectively.
8: Exceptional in all dimensions; showcases exemplary behaviour and understanding.
To thrive, candidates should aspire to excel in knowledge, analytical acumen, clinical expertise, and professional demeanour. All candidates achieving the required score or above can pass, with no set group pass rate for clinical sections
💡
Tip: If you feel you didn't perform well in a particular segment, don't lose hope. You have the opportunity to compensate in the following sections.
---
FRCS Plastic Surgery (Plast) Exam Dates
The FRCS Plast Exam is conducted several times a year. Section 1 usually takes place in March and November. Section 2 usually takes place in February and October. The timeline of events is illustrated below with an example.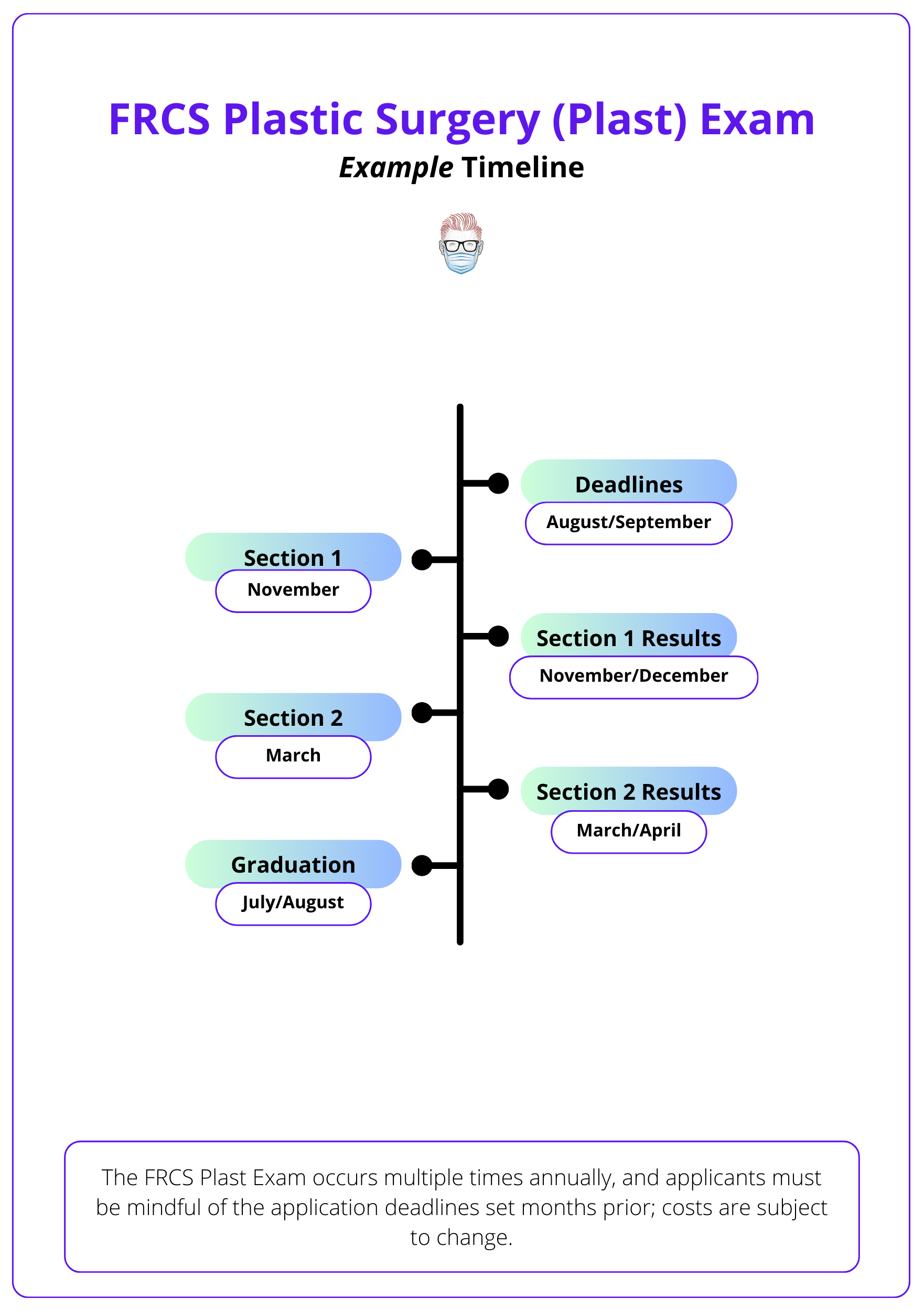 It's crucial to be aware of the application deadlines, which are usually set a few months before the actual exam dates. Late applications might not be entertained. For precise exam dates, please click here.
---
FRCS Plastic Surgery (Plast) Preparation Tools

Key Point

Leveraging educational tools tailored for the FRCS Plast can significantly boost preparation, enhance understanding, and increase the likelihood of success in the exam. Everyone is different. Here is a collection of resources you might find useful.




In the challenging journey of preparing for the FRCS Plast, it's essential to have the right resources by your side. FRCS plastic surgery revision courses have notoriously been quite expensive, unfortunately. thePlasticsPro offers a suite of educational tools designed specifically for the FRCS:
thePlasticsFlash
Dive into a collection of over +1000 Plastic Surgery flashcards. Curated from past exams, these cards come with detailed answers and references, ensuring comprehensive coverage. With Anki compatibility being rolled out, they're perfect for active recall and spaced repetition.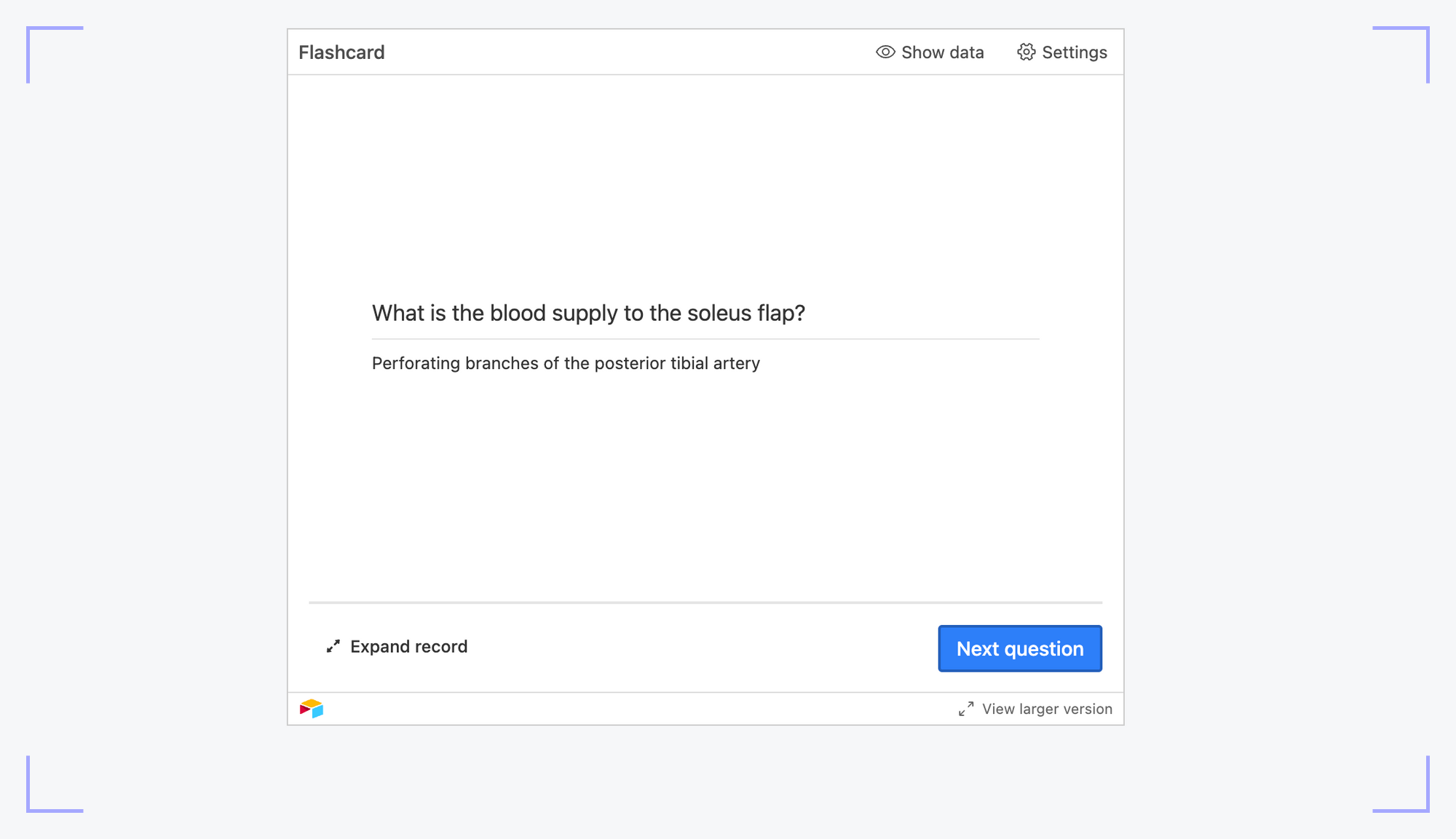 AI-generated Clinical Cases
This assesses your clinical expertise, decision-making, and management skills through an oral "viva" structure, using real-world scenarios representative of clinical practice and exams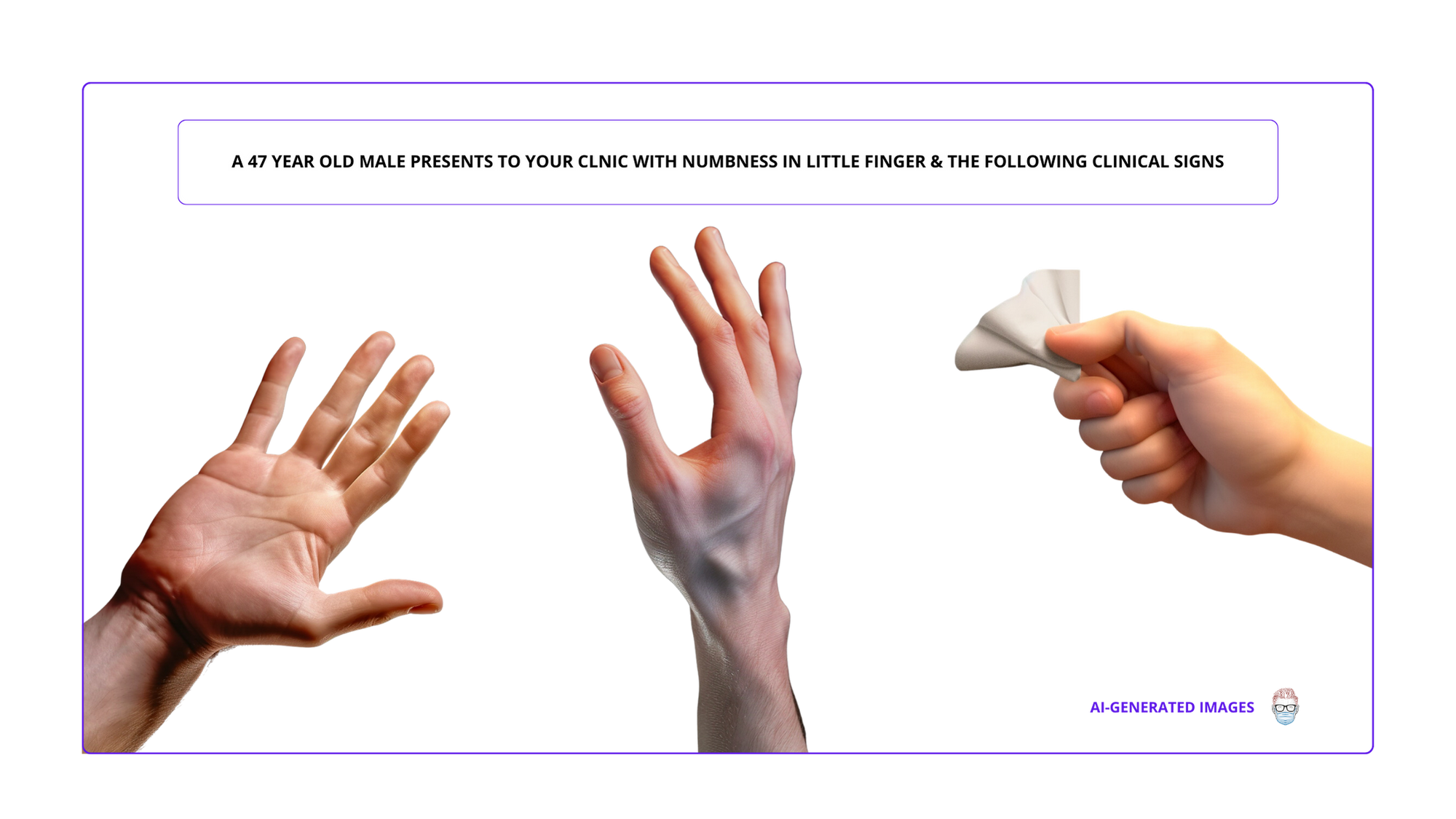 thePlasticsPaper
Stay updated with the latest in plastic surgery. Every week, enjoy curated content from trusted resources. The "Articles of the Week" section offers concise summaries of recent evidence, an excellent resource for your FRCS Plast exam.
Journal Club:
Deepen your understanding by exploring clinical cases. This feature offers a practical approach, ensuring you're well-prepared for clinical scenarios in the exam.
Twitter Community:
Engage with a vibrant community of peers, experts, and enthusiasts. Discuss topics, share insights, and stay updated on the latest trends and developments in plastic surgery.
thePlasticsQuiz (Soon!):
Engage with the largest online question bank dedicated to FRCS plastic surgery revision. Continually updated, this tool offers detailed answers, references, and images. A unique platform to identify and bridge knowledge gaps.
By integrating thePlasticsPro into your study plan, you're not just preparing for an exam; you're immersing yourself in a holistic learning experience. Remember, while the FRCS Plast is challenging, with the right resources and dedication, success is within reach.
💡
Tip: Consistency is key. Regularly using these tools can enhance retention and understanding, giving you a distinct advantage in the examination.
---
FRCS Plastic Surgery (Plast) Pass Rate & Gold Medal.

Key Point

Over the span from 2009 to 2023, CCT trainees consistently demonstrated superior performance in the FRCS Plast Section 1 and 2 examinations compared to their Non-CCT and "Out of Training" counterparts. However, all groups witnessed fluctuations in pass rates, with a general upward trend observable, especially in the latter years



As we delve into the performance metrics from 2009 to 2023, it becomes evident that while there are variances across different training backgrounds, a commitment to excellence remains a common thread. This data is publicly available.
Overall Pass Rate
The FRCS Plast Section 1 examination pass rates from June 2009 to June 2023 predominantly hovered above 80%. A peak performance was observed in June 2012 with a 98% pass rate. A brief decline to 58% in November 2015 is noticeable, followed by a recovery and consistent high pass rates in subsequent years, underscoring the resilience and high standards of the candidates.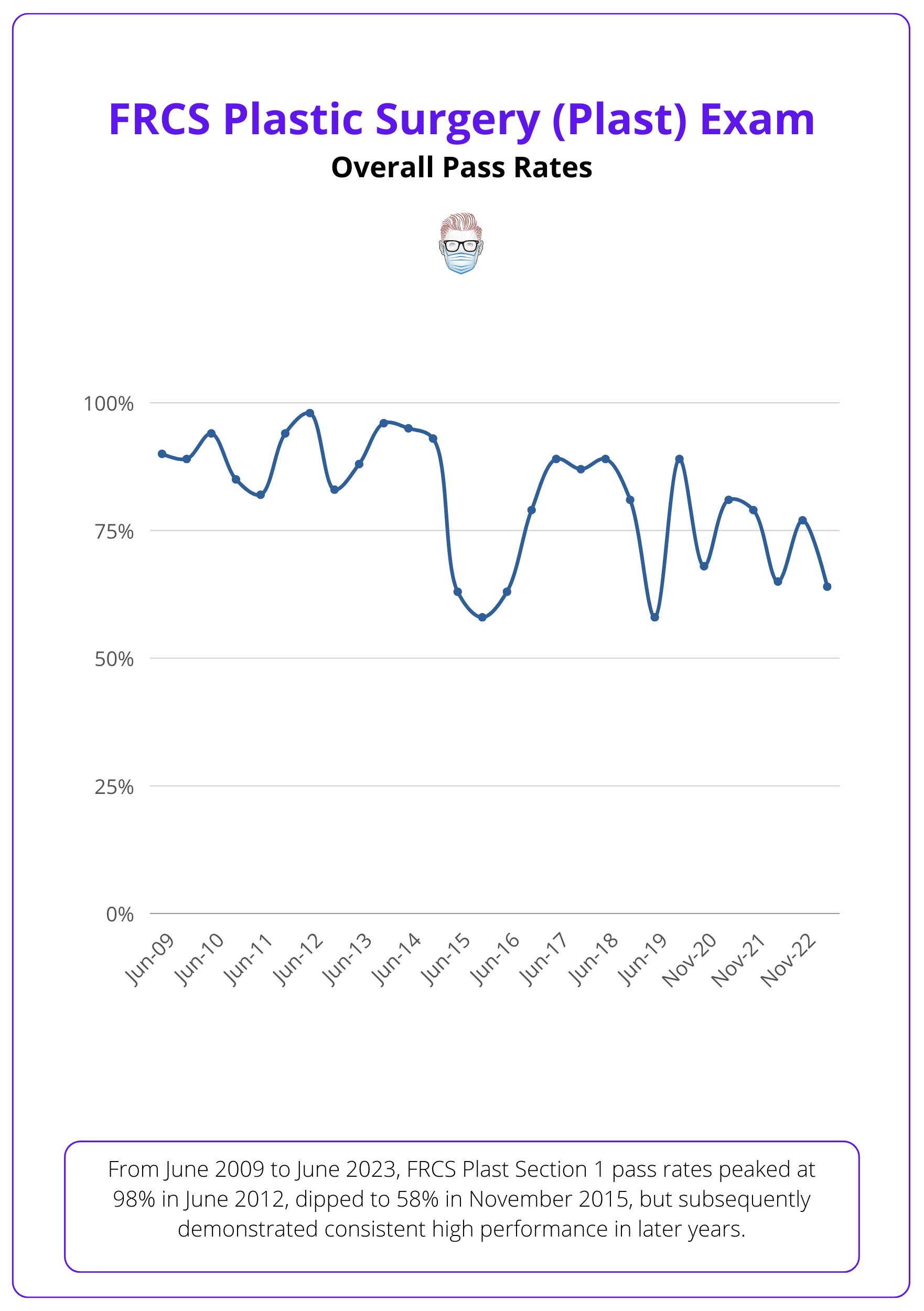 Analyzing the FRCS Plast examination results from 2009 to 2023 provides a comprehensive understanding of pass rates across different candidate categories in both Section 1 and Section 2:
Section 1:
CCT Trainees: Fluctuating pass rates, peaking at 96% in June 2019 and dipping to 55% in June 2015.
Non-CCT Trainees: High variability, with a top rate of 79% in November 2021 and a low of 26% in the same month.
Out of Training: Ranged from 100% in June 2021 to 44% in June 2023.
Overall: Upward trend, reaching 85% in June 2019 and settling at 70% by June 2023.
Section 2:
CCT Trainees: Varied rates, highest at 90% in 2023 and lowest at 57% in September 2009.
Non-CCT Trainees: Fluctuations with a peak of 79% in March 2017 and a trough of 33% in September 2016.
Out of Training: High of 100% in May 2021 and low of 30% in February 2022.
💡
Tip: Formalized training, like the CCT program, has consistently been shown to enhance success rates in the FRCS Plast exams. Consider this route for optimal results
"Gold" Medal

The Ian McGregor Medal is a prestigious accolade awarded to the top-performing candidate during their first attempt at Section 2 of the FRCS(Plast) examination. Endowed by the Association to celebrate exceptional achievement.
The Intercollegiate Board selects the recipient, and the medal is engraved with the winner's name and credentials.
😎
This honour is not automatically conferred each time but is reserved for truly outstanding performances.
---
FRCS Plastic Surgery (Plast) Cost

Key Point

The FRCS Plast exam fee of £1904 covers a wide range of operational, developmental, and logistical costs associated with ensuring a high-quality and rigorous assessment experience.



Examination Fee Breakdown
The comprehensive fee for the FRCS Plast exam stands at £1904. This is divided into £552 for Section 1 and £1352 for Section 2. Candidates must pay the full amount during the online application process, which is credited to their individual fee account. If a candidate needs to re-sit any part of the examination, the corresponding fee will be deducted from their fee account.
Allocation of the Fee
The Joint Committee on Intercollegiate Examinations (JCIE) operates as a self-financing entity. The examination fee primarily funds:
Running costs of the JCIE, including salaries and pensions.
Operational costs for the JCIE and its 10 Intercollegiate Specialty Boards (ISBs).
Development of the examination.
All expenses related to Section 2 examination venues, including catering.
Travel and accommodation for patients and examiners.
Compensation for Examiners
Examiners involved in the FRCS Plast examination do not receive any financial compensation for their contribution. They generously volunteer their time and expertise, showcasing their dedication to the continuous improvement and evolution of the examinations.
💡
Tip: Don't forget to include transportation to the examination venues and accommodation costs when budgeting.
---
Summary of FRCS Plastic Surgery (Plast) Exam

Key Point

The FRCS Plast exam, divided into written and clinical sections, rigorously assesses surgeons' competence in plastic surgery. Tailored resources aid in focused preparation for success.



Objective and Essence
The FRCS Plast stands as a robust testament to a surgeon's competence, emphasizing not just knowledge, but the ability to safely and effectively serve as an independent consultant in the specialized field of plastic surgery.
Exam Structure
The FRCS Plast exam is meticulously designed with two distinct sections:
Written Examination (Section 1): This section assesses a surgeon's foundational knowledge through single-best answer (SBA) papers, ensuring a comprehensive grasp of the plastic surgery curriculum.
Clinical and Oral Examinations (Section 2): These are hands-on evaluations that delve deeper, testing a candidate's clinical acumen, decision-making capabilities, and interpersonal skills through real-world patient interactions, scenarios, and viva voce examinations.
Preparation Resources
Embarking on the FRCS Plast journey necessitates rigorous preparation. Fortunately, a plethora of resources, ranging from flashcards to AI-generated clinical cases, are at a candidate's disposal. The key is to discern which tools and techniques resonate best with one's learning style and preferences.
Tips for Aspirants
While the journey is demanding, it's crucial to approach it with a strategic mindset. Consistency, active recall, and engagement with a community of peers and experts can enhance one's chances of success. Remember, the objective isn't just to pass an exam, but to emerge as a well-rounded, proficient consultant in plastic surgery.
---