Hidradenitis Suppurativa is a chronic inflammatory condition of hair follicles. Treatment involves lifestyle changes, biologics and surgery.
Key Points
Chronic inflammatory condition of pilosebaceous follicles.
Progressive disease, which is very difficult to treat and often recurs.
Hurley Classification can risk stratify patients and guide treatment
Treatment includes lifestyle modifications, biologics and surgery
Multi-disciplinary team is essential for any chance of cure.
---
What is Hidradenitis Suppurativa?
Hidradenitis Suppurativa (HS) is a chronic inflammatory disease involving the pilosebaceous follicles of the apocrine-bearing skin. It is a progressive condition, which often recurs post-treatment cessation.
---
Who gets Hidradenitis Suppurativa?
Risk Factors
The commonest risk factor for Hidradenitis Suppurativa is a family history. There is a higher incidence in women, African-Americans, obese and smokers.
It has also been associated with other immunological diseases:
Grave's Disease
Inflammatory Bowel Disease
Spondylarthropathies
Pathophysiology
The cause of Hidradenitis Suppurativa is poorly understood. The current prevailing pathogenic theory involves:
Hyperkeratosis and occlusion of the terminal hair follicle
Accumulation of inflammatory infiltrate
Follicular rupture, which causes a local immunologic response.
Abscesses form which drain via sinus tracts.
Over time, there is a continuous cycle of rupture, re-epithelialisation and chronic inflammation. This results in a scar formation and a significant impact in quality of life.
---
Clinical Picture
Early Disease
From the outset, the disease is quite debilitating. Patients classifically present with:
Pain at site of disease
Relapsing Nodules
Hypertrophic scarring
Late-stage Disease
As the disease progresses, the normal skin architecture gradually destructs. On examination, patient will have:
Interconnecting Sinus Tracts
Fistulas
Extensive dermal and subcutaneous fibrosis
---
Hurley Classification
The most commonly used adjunct in classifying Hidradenitis Suppurativa severity and guides the patients treatment.
| | | | |
| --- | --- | --- | --- |
| | Stage 1 | Stage 2 | Stage 3 |
| Abscesses | Isolated | Diffuse | Interconnecting |
| Scarring | No | Mild | Extensive |
| Sinus Tracts | No | Yes | Yes |
| Inflammatory Nodules | No | No | Yes |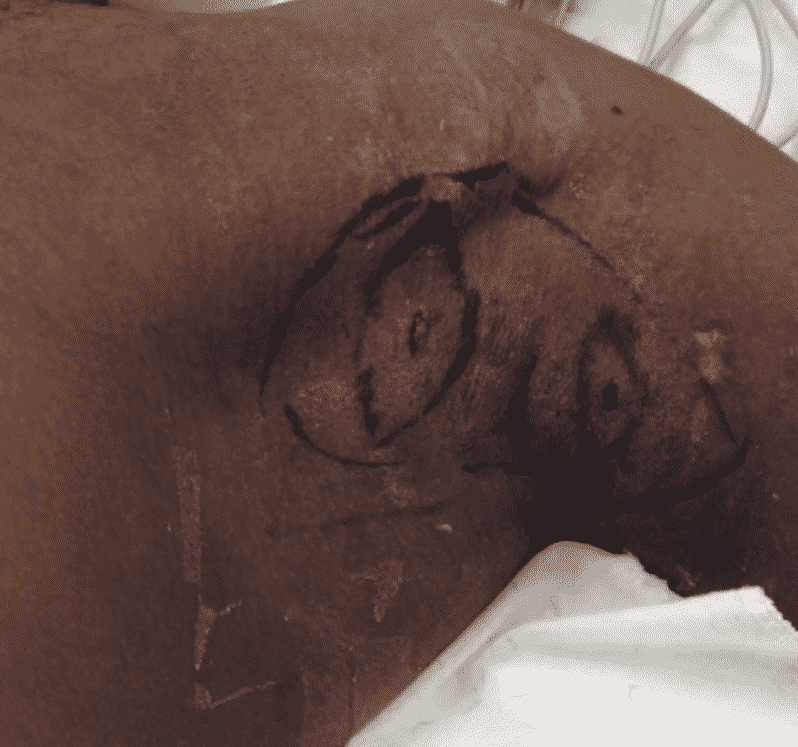 ---
Treatment of Hidradenitis Suppurativa
Treatment of Hidradenitis Suppurativa is challenging and is guided by the severity of the disease. Options to consider include: lifestyle modification, pharmacotherapy and surgery.
Lifestyle Modification
Patients should be counselled on the importance of hygiene, weight loss and smoking cessation. Medical comorbidities, for example Diabetes, should be optimised.
Hair Removal
The evidence supporting hair removal is Hidradenitis Suppurativa is conflicting. Current hair removal options include:
Depilation – removal of visible portion of hair follicles
Epilation – destruction of the sebaceous hair follicles

Literature reports an exacerbation of the disease with depilation, most likely due to trauma or the chemicals used. Reports are more promising for epilation with a nonablative neodynium laser, suggesting disease improvement is technique-dependent.
Pharmacotherapy
Pharmacotherapy treatment of Hidradenitis Suppurativa has traditionally focused on antibiotics, corticosteroids, isotretinoin and zinc gluconate. These have been shown to assist in inducing remission.
Of late, promising studies have shown efficacy of biologic therapies. Grant et al, showed a 50% disease reduction with Infliximab at 8 weeks. Current biologic options include:
Infliximab – chimeric anti-TNF alpha monoclonal antibody
Adalimumab – human anti-TNF alpha monoclonal antibody
Etanercept – recombitant TNF-aplha receptor/Fc fusion protein.
Combination therapy of biologicals and radical resection results in a lower rate of disease recurrence and development of new disease.
Surgery
There is no specific surgical algorithm for the treatment of Hidradenitis Suppurativa. Each patient should be surgically managed individually. The current options available are discussed below.
Incision and Drainage
A common procedure in the acute setting for localised abscesses.
This is just a temporary measure and is not curative. Patients will often require further surgical deroofings or radical excisions at a later date.
The wound should not be closed. Secondary intention should, in theory, ablate the disease follicles with healthy granulation tissue.
Radical Resection
Radical resection fo all hair-bearing skin in an affected region, with a clear 1-2cm margin of normal tissue is the gold standard treatment in severe Hidradenitis Suppurativa.

Literature has shown this technique to have fewer complications, lower recurrence rates and improved quality of life.
Method of Wound Closure
A variety of wound method closures have been attempted. Soft tissue reconstruction with either a skin graft or flap results in a better outcome than primary closure.
Temporary negative-pressure wound therapy and delayed reconstruction should be considered in:
Highly contaminated wound bed.
Large radical resection
The risk of recurrence is likely influenced by extent of excision and degree of contamination.
---
Sources
What Heals Hidradenitis Suppurativa: Surgery, Immunosuppression, or Both? Falola RA et al, Plast Reconstr Surg. 2016 Sep;138(3 Suppl):219S-29S. doi: 10.1097/PRS.0000000000002671
Outcomes After Combined Radical Resection and Targeted Biologic Therapy for the Management of Recalcitrant Hidradenitis Suppurativa. deFazio MV et al, Ann Plast Surg. 2016 Aug;77(2):217-22. doi: 10.1097/SAP.0000000000000584.
Hidradenitis suppurativa: surgical and other management techniques. Ellis LZ et al. Dermatol Surg. 2012 Apr;38(4):517-36. doi: 10.1111/j.1524-4725.2011.02186.x. Epub 2011 Oct 14.
Infliximab therapy for patients with moderate to severe hidradenitis suppurativa: a randomized, double-blind, placebo-controlled crossover trial.Grant A, et al. I. J Am Acad Dermatol. 2010;62:205–217