Basal cell carcinomas are the most common skin cancer. This article details their aetiology, diagnosis and treatment options
Summary Card
Definition
An epidermal keratinocyte neoplasm arising from the epidermis and hair follicles of the dermis.
Aetiology
Medical issues compound genetic and environmental factors.
Types
Nodular is the most common. Others include superficial, micronodular, infiltrative, pigmented and morpheaform.
Low-Risk vs High-Risk
Influenced by the lesion (size, location), histological features and patient medical conditions.
Management
Surgical excision is recommended. Other options include topical therapy, radiotherapy, cryotherapy and Hedge-hog medication.
Follow-up
Low-risk excised lesions in low-risk patients don't require follow-up.


---
Definition of Basal Cell Carcinoma
A basal cell carcinoma (BCC) is an epidermal keratinocyte neoplasm originating from pluripotential cells in the interfollicular epidermis and infundibulum of the hair follicle distributed along the basal layer and dermo-epidermal junction1,2.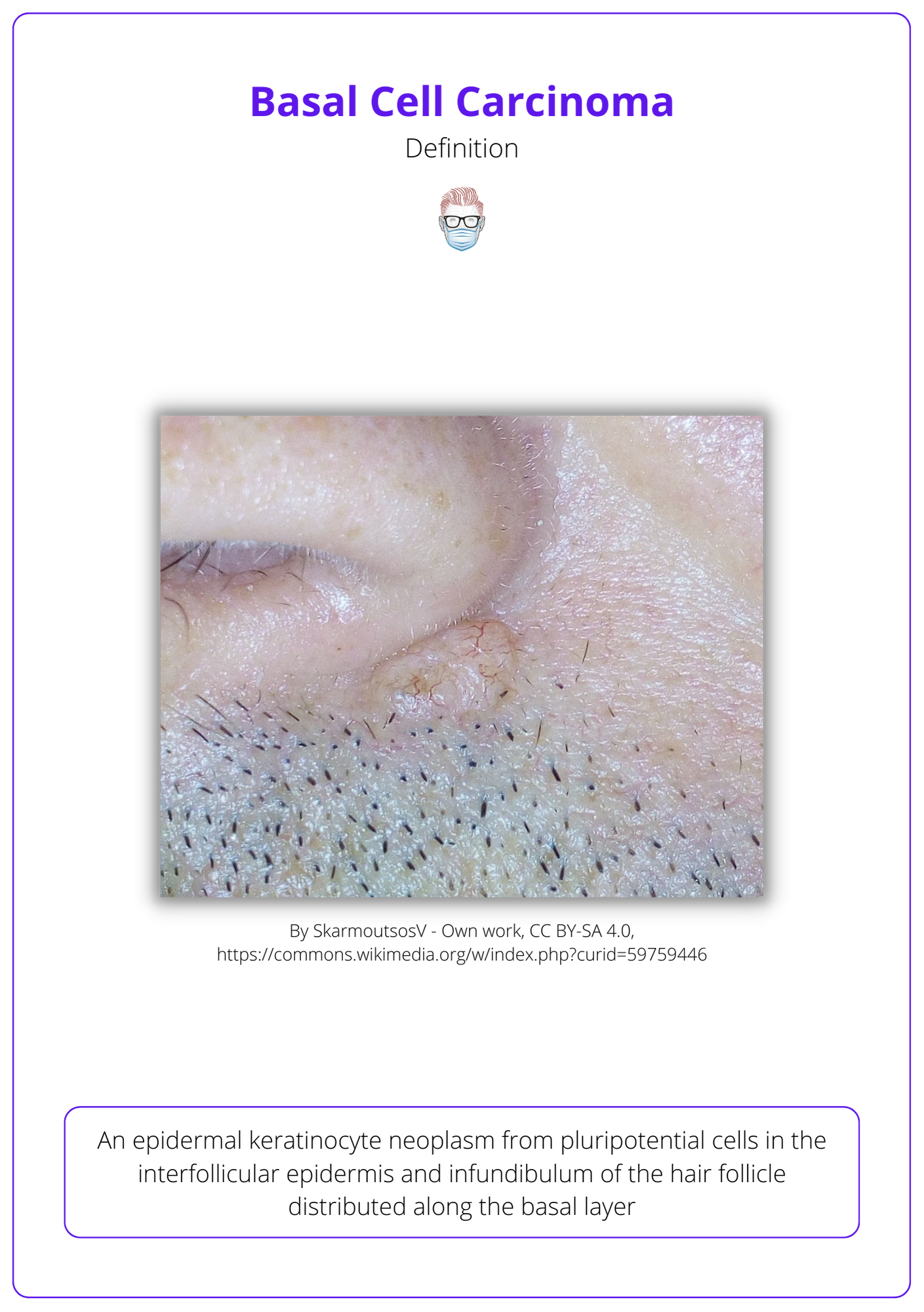 ---
Aetiology of BCC

Key Point

Basal cell carcinomas arise from a combination of genetic, environmental and patient causes.


Risk Factors
Basal cell carcinomas are caused by several compounding factrs3-4. These include:
Genetic: xeroderma pigmentosum, Bazex, Rombo, albinism.
Environmental: Exposure to ultraviolet radiation (UVR), prior radiotherapy
Immunosuppressed: transplant, HIV, hematologic malignancy, Gorlins
Pre-existing lesions:  naevus sebaceous.
😎
Fun Fact: Bazex-Dupré-Christol syndrome is a triad of congenital hypotrichosis and follicular-atrophoderma and basal cell carcinomas.
Hedgehog Pathway
The development of BCC is associated with loss of inhibition of the Hedgehog signalling pathway, which regulates cell growth and differentiation. This is the result of:
Inactivating mutations in tumour-suppressor protein patched homologue 1 (PTCH1) gene
Activating mutations in smoothened (SMO) transmembrane protein gene
Suppressor of fused (SUFU) gene in Gorlin syndrome
💡
Tip: The importance of this Hedgehog pathway is highlighted by the successful use in advanced BCC of hedgehog pathway inhibitors (e.g. vismodegib).
Gorlin Syndrome
Gorlin syndrome (Basal Cell Naevus Syndrome) is an autosomal dominant condition associated with PTCH gene mutations.
Features of this systemic condition include:
Skin: Multiple early BCCs
Limbs: Palmar and planter pitting
Brain: Flax cerebri calcification, learning difficulty
Craniofacial: odontogenic keratocysts, supraorbital ridging, hypertelorism.
These clinical features of Gorlin syndrome are illustrated below.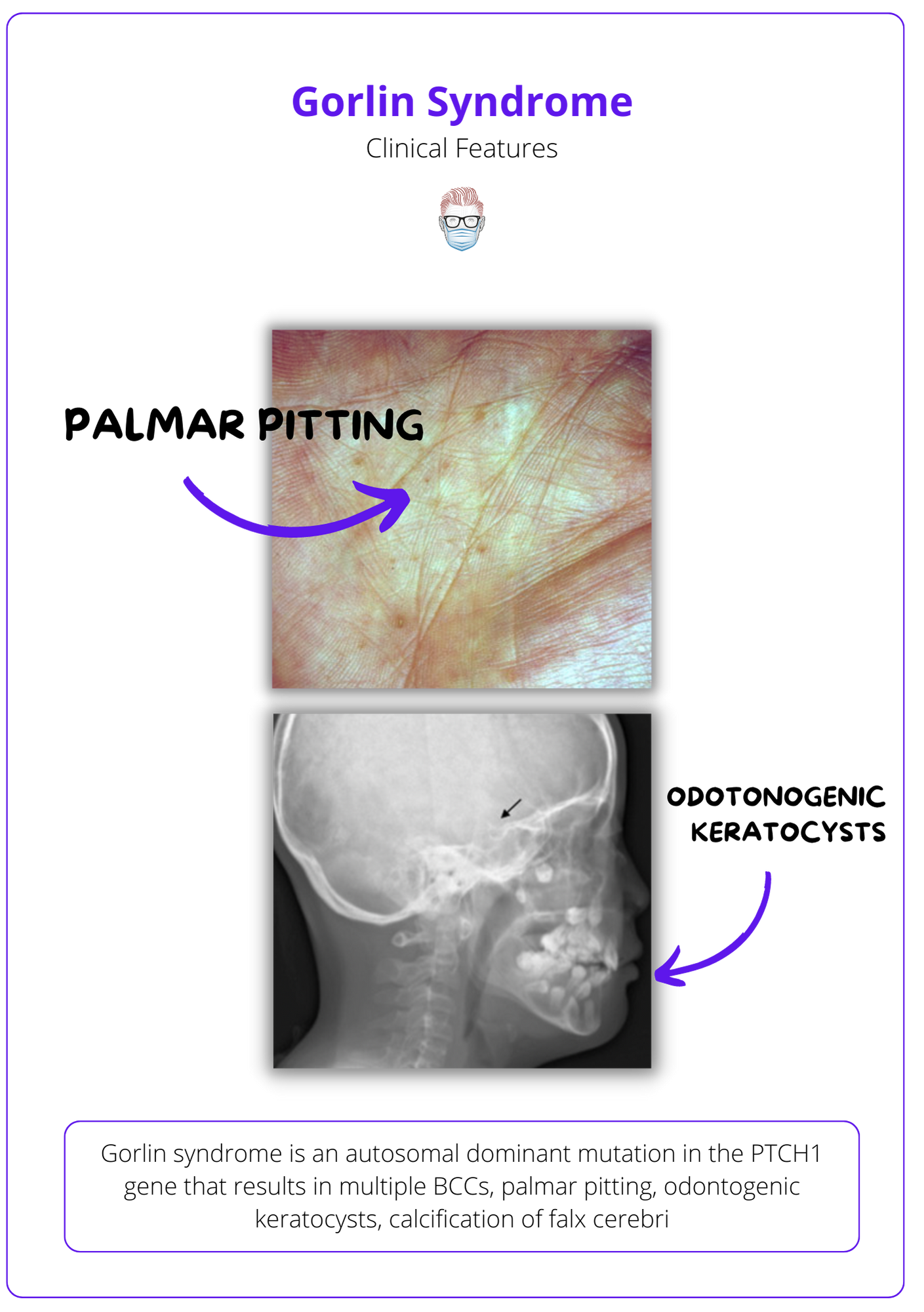 ---
Types of BCCs

Key Point

Basal cell carcinomas can be classified based on their histological subtype. The most common is nodular. There are 26 other variants.



There are 26 histological basal cell carcinoma subtypes6.  Nodular is the most common; other commonly encountered subtypes in clinical practice are:
Nodular: well-defined, flesh-coloured, pearly nodule with telangiectasia ± central ulceration
Superficial: flat, pink, keratotic lesions usually in sun-damaged skin
Micronodular: small rounded nodules
Infiltrative: poorly-defined yellow-white opacity.
Pigmented: a dark lesion that can be confused for melanoma
Morpheaform:  indurated plaque with a sclerotic or fibrotic appearance.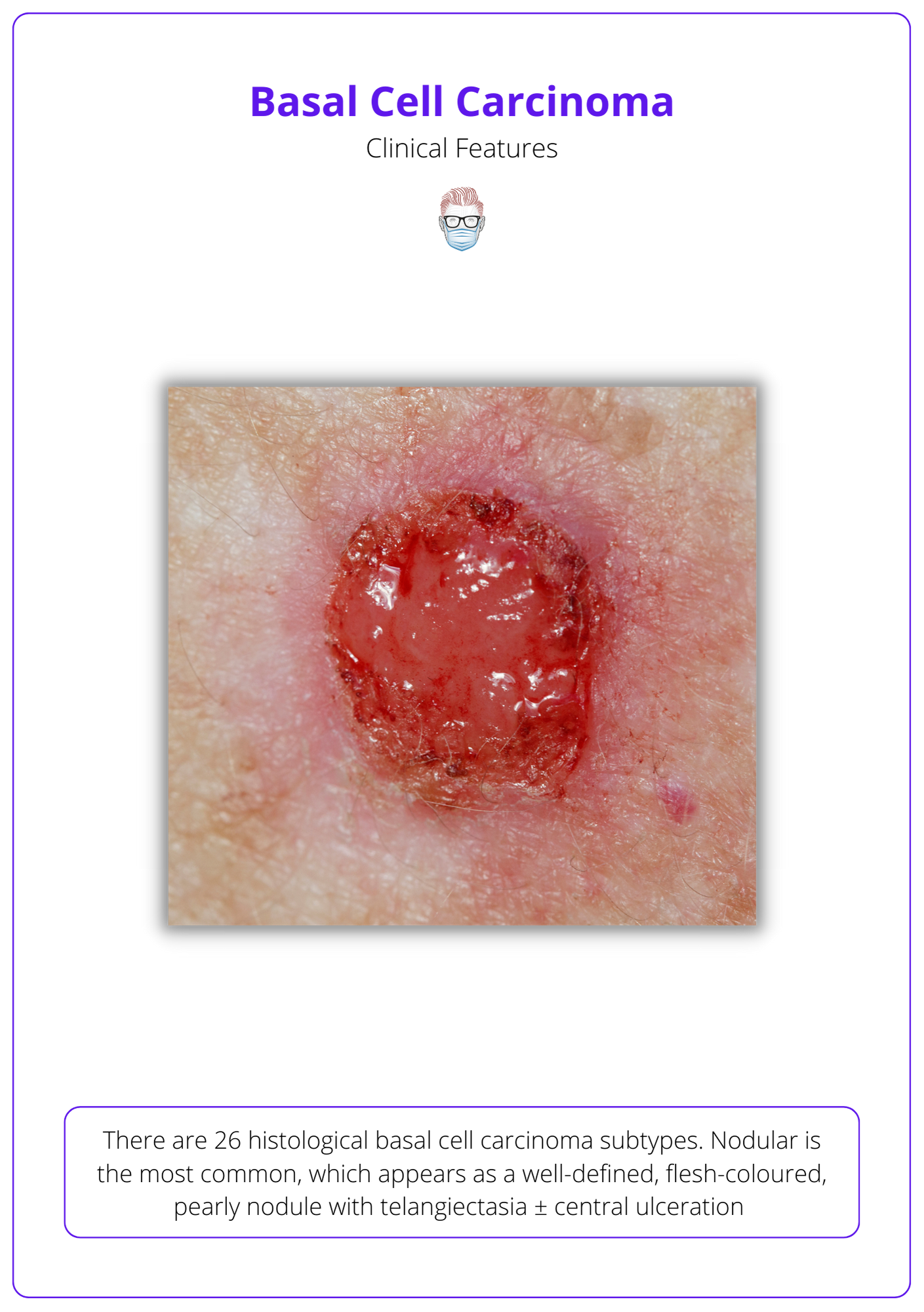 😎
Fun Fact: A superficial BCC does not invade the dermis, which enables it to be managed with topical treatments.
---
Low-Risk vs High-Risk BCC

Key Point

Risk stratification of basal cell carcinomas is influenced by the lesion (size, location, recurrence), histological features (depth, invasion, PNI) and the patient (immunosuppression, genetic conditions, radiation)



Management of BCC depends on several factors, including the size, site and histological subtype of the tumour, patient comorbidities, previous treatment history and patient preference.
The low-risk and high-risk profiles of BCCs are described below24.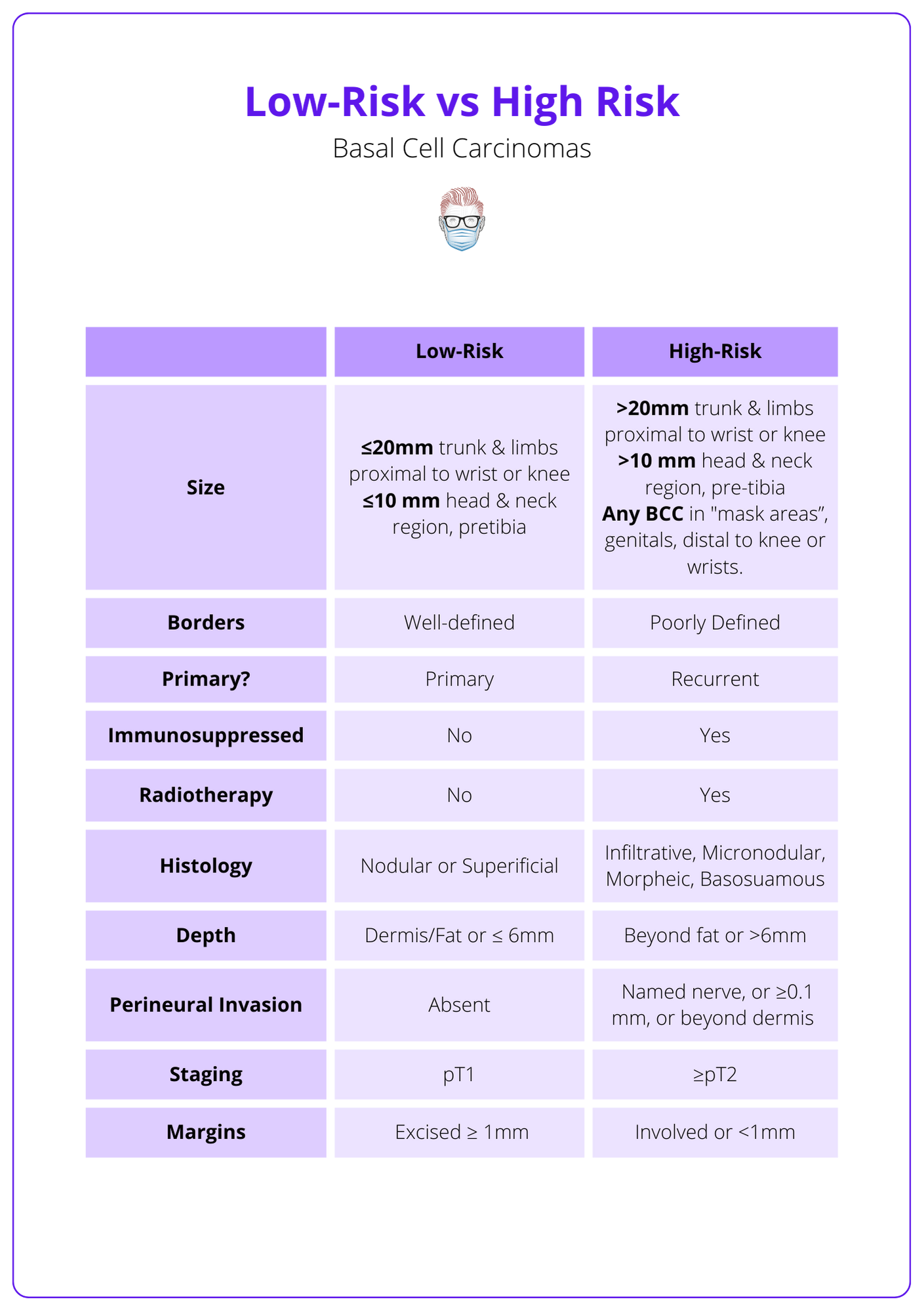 ---
Management of BCCs

Key Point

Basal cell carcinomas are treated primarily through surgical excision. Other treatment options include topical therapy, radiation, Hedgehog inhibitors, cryotherapy.



Basal cell carcinomas are a clinical diagnosis that can be confirmed with a biopsy in patients with diagnostic uncertainty.  Surgery is the recommended treatment modality. Other treatment options, such as radiotherapy, topical therapies, photodynamic therapy (PDT), and hedgehog pathway inhibitors, do exist.
Surgery
Standard surgical excision is suitable for the majority of primary BCCs. Current guidelines (British Association of Dermatology Guidelines 2021) recommend the following indications24:
Standard surgical excision as a first-line treatment in low-risk BCC.
Immediate reconstruction of lesions with well-defined clinical margins
Delayed definitive reconstruction, or Mohs micrographic surgery (MMS) in high-risk BCC with poorly defined clinical margins.
Here are some statistics regarding the 5-year recurrence rate7-9:
Completely excised in primary BCCs: 0.5%10
Completely excised in recurrent BCCs is 2.9%10
Mohs surgery for primary BCCs is 0.3-6.5%11,12.
Deep margins should be into the subcutaneous fat or other deeper structures if needed. The peripheral margins should be excised as follows:
Low-risk: 4 mm peripheral clinical surgical margin24.
High risk: 5 mm peripheral clinical surgical margin24.
Recurrent BCC: 5 mm peripheral clinical surgical margin24.
💡
Tip: Mohs micrographic surgery can be considered for high-risk primary or recurrent BCCs24.
Topical Therapy
Two topical agents are licensed for BCC: imiquimod and 5-fluorouracil (5-FU).
Imiquimod
Toll-like receptor 7 agonist induces a tumour-directed cellular response to produce interferon-alpha, TNF-alpha, and interleukins, and decreases expression of Bcl-2 (leading to tumour apoptosis).
It is licensed for superficial BCC with a regimen of 5 days per week over 6 weeks.
Results in local skin reactions, and some patients develop flu-like illness.
5-year cure rate >80%19
Non-inferior cosmetic outcomes compared to surgical excision20.
5-Fluorouracil cream (Efudix)
Topical chemotherapeutic agent
Thymine analogue inhibits thymidylate synthetase disrupting DNA synthesis and causing apoptosis.
It is licensed for superficial BCCs once or twice daily for 3-4 weeks.
Rates of local reactions are similar to imiquimod but less flu-like symptoms.
Radiotherapy
Radiotherapy can be considered individually, particularly for patients with poorer performance status or medical comorbidities that may not be suitable for surgery.
It may be an adjuvant treatment to surgery in patients with
Involved histological margins for which further surgery is inappropriate
Involved histological margins with PNI
The evidence for the role of adjuvant radiotherapy in a completely excised BCC with PNI is weak14. It should not be offered to patients who
Have previously received radiotherapy at the site of lesion
Have underlying medical conditions, such as Gorlin Syndrome.  
Hedgehog pathway inhibition
Vismodegib and Sonidegib are Hedgehog pathway inhibitors targeting oncogenic smoothened receptors.
Both are approved by the EMA and FDS  for the treatment of adults with locally advanced diseases who are not candidates for surgery or radiotherapy24.
Vismodegib is also approved for patients with metastatic BCC
Consider in patients with Gorlin Syndrome
Vismodegib has demonstrated efficacy in the pivotal ERIVANCE and STEVIE clinical trials21-22.  Sonidegib was assessed in the BOLT trial23
Other Options
Curettage
Curettage, in combination with cautery or electrodesiccation, up to three cycles has been used as a treatment modality.
Expedient and cost-effective technique for low-risk superficial lesions
Does not allow histological margin assessment
Recurrence rate is 4-8% for low-risk15 and 20% for high-risk BCCs16
If subcutaneous fat is exposed, curettage should be abandoned, and the wound excised surgically.
Cryosurgery
Cryosurgery with liquid nitrogen spray in freeze-thaw cycles is an effective treatment for selected low-risk, well-defined BCCs17
5-year recurrence rates range from 7.5- 20%18
Not necessarily a better cosmetic outcome16
Laser Therapy
Laser therapy can be considered for low-risk superficial or thin nodular BCCs
Pulsed dye and CO2 laser.
Current evidence and the long-term efficacy of this treatment option are weak.
Photodynamic Therapy
Topical PDT can be considered in low-risk, superficial BCC.
---
Follow-up of BCCs

Key Point

Routine follow-up is generally not recommended for low-risk, completely excised basal cell carcinomas in low-risk patients.



There is no evidence that follow-up is required for patients with a single, adequately treated low-risk BCC.
Routine follow-up can be considered for patients with
Inadequately treated BCC at high risk for recurrence
Patients with a history of multiple primary or recurrent BCCs
Increased risk of developing multiple BCC (e.g. in the setting of Gorlin syndrome or immunosuppression)
There is no evidence to support how often this should be, but a 6-monthly follow-up for the first year, then annually for at least 5 and possibly up to 10 years or longer, maybe appropriate24.
Close Margins (<1mm)
If a basal cell carcinoma has been narrowly excised, consider the following:
Refer to MDT if a high-risk narrowly BCC
Consider surgical re-excision, Mohs, radiotherapy, or monitoring.
The patient's choice should be factored into the decision-making process
---
References
Tan ST, Ghaznawie, M., Heenan, P.J. and Dosan, R.,. Basal Cell Carcinoma Arises from Interfollicular Layer of Epidermis. J Oncol 2018; 2018;1-5
Sehgal VN, Chatterjee K, Pandhi D et al. Basal cell carcinoma: pathophysiology. Skinmed. 2014; 12:176-81.
Dika E, Scarfì F, Ferracin M et al. Basal Cell Carcinoma: A Comprehensive Review. International Journal of Molecular Sciences 2020; 21:5572.
Matinfar M, Shahidi S, Feizi A. Incidence of nonmelanoma skin cancer in renal transplant recipients: A systematic review and meta-analysis. J Res Med Sci 2018; 23:14.
Omland SH, Ahlstrom MG, Gerstoft J et al. Risk of skin cancer in patients with HIV: A Danish nationwide cohort study. J Am Acad Dermatol 2018; 79:689-95.
Wade TR, Ackerman AB. The many faces of basal-cell carcinoma. J Dermatol Surg Oncol. 1978 Jan;4(1):23-8. doi: 10.1111/j.1524-4725.1978.tb00375.x. PMID: 618933.
Nissen MR, Neumann MH, Schouten LJ. A systematic review of treatment modalities for primary basal cell carcinomas. Arch Dermatol 1999; 135:1177-83.
Smeets NW, Krekels GA, Ostertag JU et al. Surgical excision vs Mohs' micrographic surgery for basal-cell carcinoma of the face: randomised controlled trial. Lancet 2004; 364:1766-72.
Mosterd K, Krekels GA, Nieman FH et al. Surgical excision versus Mohs' micrographic surgery for primary and recurrent basal-cell carcinoma of the face: a prospective randomised controlled trial with 5-years' follow-up. Lancet Oncol 2008; 9:1149-56.
Witzig T, Woitek M, Eichhorn K et al. Surgical excision of basal cell carcinoma with complete margin control: outcome at 5-year follow-up. Dermatology 2010; 220:363-9.
Maccfarlane L, Waters A, Evans A et al. Seven years' experience of Mohs micrographic surgery in a UK centre, and development of a UK minimum dataset and audit standards. Clin Exp Dermatol 2013; 38:262-9.
Leibovitch I, Huilgol SC, Selva D et al. Basal cell carcinoma treated with Mohs surgery in Australia II. Outcome at 5-year follow-up. J Am Acad Dermatol 2005; 53:452-7.
Wennberg AM, Larko O, Stenquist B. Five-year results of Mohs' micrographic surgery for aggressive facial basal cell carcinoma in Sweden. Acta Derm Venereol 1999; 79:370-2.
kson JE, Dickie GJ, Wiltshire KL et al. Radiotherapy for perineural invasion in cutaneous head and neck carcinomas: toward a risk-adapted treatment approach. Head Neck 2009; 31:604-10.
Barow JO, Zalla MJ, Kyle A et al. Treatment of basal cell carcinoma with curettage alone. J Am Acad Dermatol 2006; 54:1039-45.
Thisssen MR, Neumann MH, Schouten LJ. A systematic review of treatment modalities for primary basal cell carcinomas. Arch Dermatol 1999; 135:1177-83.
National Comprehensive Cancer network (NCCN). NCCN Clinical Practice Guidelines in Oncology: Basal Cell Skin Cancer Version 1.2019 https://www.nccn.org/about/news/ebulletin/ebulletindetail.aspx?ebulletinid=1510. [Last access 20th May 2020]. 2016 [Last update: 2019].
Baset-Seguin N, Ibbotson SH, Emtestam L et al. Topical methyl aminolaevulinate photodynamic therapy versus cryotherapy for superficial basal cell carcinoma: a 5 year randomized trial. Eur J Dermatol 2008; 18:547-53.
Williams HC, Bath-Hextall F, Ozolins M et al. Surgery Versus 5% Imiquimod for Nodular and Superficial Basal Cell Carcinoma: 5-Year Results of the SINS Randomized Controlled Trial. J Invest Dermatol 2017; 137:614-9.
Bathh-Hextall F, Ozolins M, Armstrong SJ et al. Surgical excision versus imiquimod 5% cream for nodular and superficial basal-cell carcinoma (SINS): a multicentre, non-inferiority, randomised controlled trial. Lancet Oncol 2014; 15:96-105.
Sekulic A, Migden MR, Lewis K et al. Pivotal ERIVANCE basal cell carcinoma (BCC) study: 12-month update of efficacy and safety of vismodegib in advanced BCC. J Am Acad Dermatol 2015; 72:1021-6 e
Basset-Seguin N, Hauschild A, Grob JJ et al. Vismodegib in patients with advanced basal cell carcinoma (STEVIE): a pre-planned interim analysis of an international, open-label trial. Lancet Oncol 2015; 16:729-36
Boen L, Aria AB, Silapunt S et al. Treatment of advanced basal cell carcinoma with sonidegib: perspective from the 30-month update of the BOLT trial. Future Oncol 2018; 14:515-25
Nasr I, McGrath EJ, Harwood CA, Botting J, Buckley P, Budny PG, Fairbrother P, Fife K, Gupta G, Hashme M, Hoey S, Lear JT, Mallipeddi R, Mallon E, Motley RJ, Newlands C, Newman J, Pynn EV, Shroff N, Slater DN, Exton LS, Mohd Mustapa MF, Ezejimofor MC; British Association of Dermatologists' Clinical Standards Unit. British Association of Dermatologists guidelines for the management of adults with basal cell carcinoma 2021. Br J Dermatol. 2021 Nov;185(5):899-920. doi: 10.1111/bjd.20524. Epub 2021 Aug 13. Erratum in: Br J Dermatol. 2022 Mar;186(3):597. PMID: 34050920.