Craniofacial Clefts are various soft tissue and bone deformities. This articles looks at classification, managmenet and associated syndromes.
5 Key Points – Craniofacial Clefts
Craniofacial clefts are often described as "atypical" clefts to avoid confusion with the "typical" cleft lip/palate.
Craniofacial cleft is a sub-classification to the American Society of Cleft Lip and Palate Classification.
Tessier's classification is an anatomical description of craniofacial clefts centred on the clefts orientation from the palpebral fissure
van der Meulens classification is the embryological classification of craniofacial clefts based on the time and degree of arrest/dysplasia.
Associated conditions include Treacher Collins Syndrome and Pierre Robin Sequence.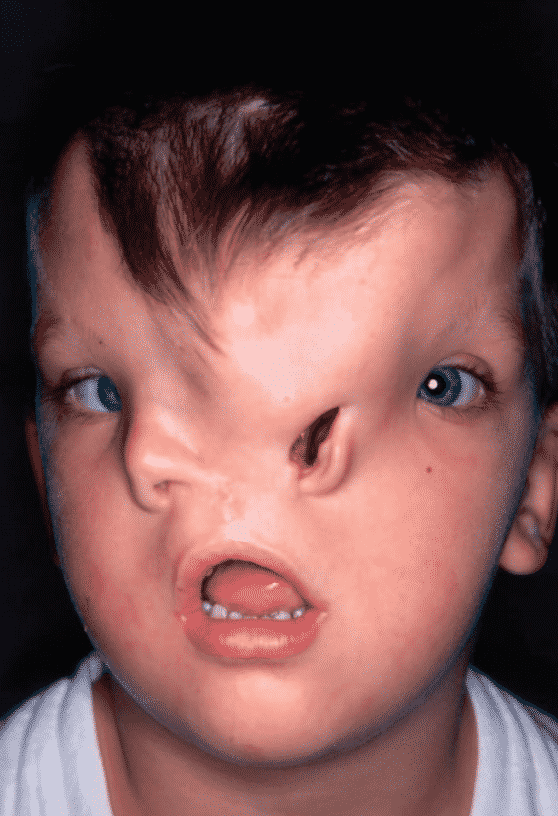 ---
Classification of Craniofacial Clefts
Craniofacial clefts is an umbrella term that encompasses a wide of of soft-tissue and bone deformities. It is a type of craniofacial deformity as defined by the American Society of Cleft Lip and Palate
There are two common classifications of craniofacial clefts – Anatomical or Embryological. A universally accepted classification scheme that is all-encompassing does not exist.
Anatomical – Tessier Classification
Tessier's Topographic Classification is the most frequently used anatomical classification​2​. It is commonly used by surgeons because it is purely description and makes no pretence at causation and developmental relationships. There is also an ease of correlation between the anatomical defect and the required reconstructive surgery​3​.
Tips to Understanding the Classification:
Tessier Classification differentiates 15 locations (0-14) for craniofacial clefts with the palpebral fissure (orbit) as central landmark.
Cleft axes 0-7 are below the fissure/orbit, and therefore are facial clefts.
Cleft axes 8-14 are above the fissure/orbit, and therefore a cranial cleft.
Each sequential cleft is more lateral than the last.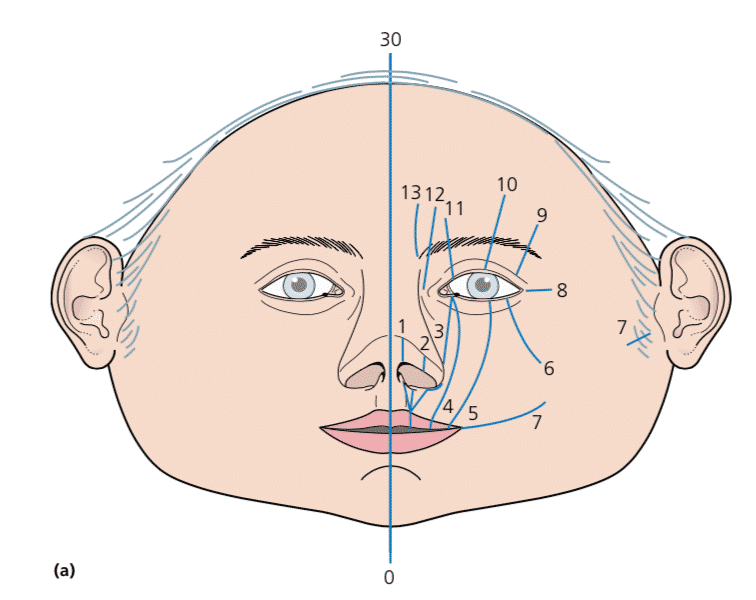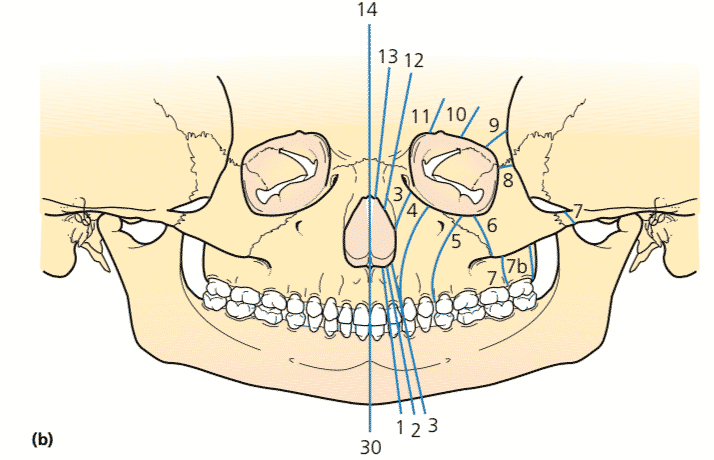 Clinical Craniofacial Cleft Pearls:
Lateral clefts tend to have more severe bony abnormalities
Medial clefts tend to have more severe soft-tissue abnormalities.
Clefts do not pass through bony foraminae which are the site of neurovascular structures.
Bilateral cases may present different clefts on each side.
Memory Hook for Tessier Classification: "Groups of 3"
0, 1, 2: Lip to nose
3, 4 ,5: Lip to lower eyelid
6, 7, 8: Treacher Collins Syndrome
9, 10, 11: Orbit to upper eyelid
12, 13, 14: Medial to orbit.
---
Embryological – van der Meulen Classification
van der Meulen embryological craniofacial cleft classification is the most comprehensive​4​.
In this system, the term dysplasia is used since not all malformations are true "clefts". These dysplasia are classified according to time and location of development arrest.
---
Associated Syndromes
There are many syndromes and genetic patterns associated with Craniofacial Clefts. These include Treacher Collins Syndrome, Pierre Robin Sequence. Other are summarised in the table below by Irene et al​1​:
---
Principles of Surgery
Functional
Oral Competence
Speech
Eyelid Reconstruction
Separation of Cavities
---
References