Mohs Micrographic Surgery (MMS)is a technique pioneered by Dr. Frederic Mohs in the 1930s. This article explores the indications, techniques & advantages.
Introduction
Dr. Frederic Mohs developed the tissue-sparing MMS in the 1930s for high-risk skin cancers, especially non-melanoma types.
Indication
MMS treats high-risk skin cancers, considering factors like recurrence, prior treatments, histological signs, and patient immunosuppression.
Moh's Surgery Technique
MMS involves precise excision, microscopic examination for clear margins, and consecutive stages till tumour-free margins are achieved.
Moh's vs. Standard Excision
MMS provides a same-day, comprehensive margin assessment and tumour removal. Standard Excision might necessitate multiple visits.
Advantages and Disadvantages
While MMS is exceptional for tissue conservation and NMSC outcomes, it demands specialized expertise and might be time-intensive.

Authors: Emma Yanko & Brandon Spink. University of Saskatchewan, College of Medicine
---
Introduction
Dr. Frederic Mohs, an American general surgeon in the 1930s, developed the Mohs micrographic surgery (Mohs surgery or MMS) technique.1 It is a tissue-sparing surgical technique used to remove skin cancers with a high risk of recurrence and located in areas of functional and aesthetic importance.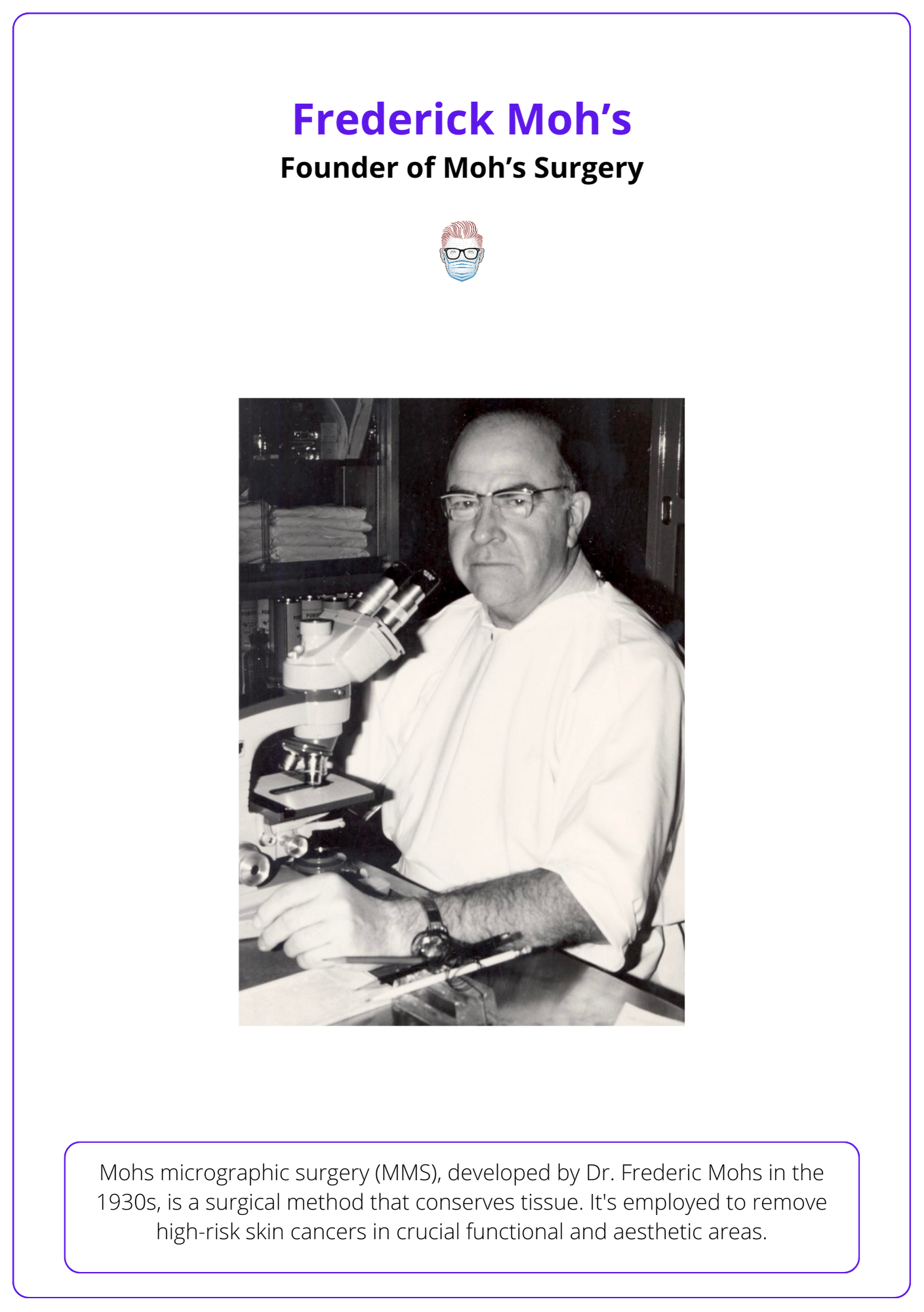 💡
Tip: Mohs surgery is most commonly used for the removal of non-melanoma skin cancers (NMSC)2
---
Indication for Moh's Surgery

Key Point

MMS targets high-risk skin cancers, especially in areas like the H-zone where tissue preservation is crucial, considering factors such as recurrence, unclear margins, and patient immunosuppression.



MMS is predominantly endorsed for managing high-risk skin cancers with high-risk pathology located in high-risk anatomical sites3-8.
Criteria for High-risk Non-melanoma Skin Cancers:
This criteria relates to high-risk basal cell and squamous cell carcinoma
Recurrence
Incomplete excision post-previous therapeutic interventions
Prior radiotherapy.
Indistinct margins.
Neoplasms manifesting histological hallmarks indicative of potential local recurrence, inclusive of:

Micronodular
Morphoeic/Infiltrative
Perineural invasion
Perivascular invasion

Neoplasms are diagnosed in patients with immunosuppression.
An example of differentiating between high and low-risk basal cell carcinomas can be visualised below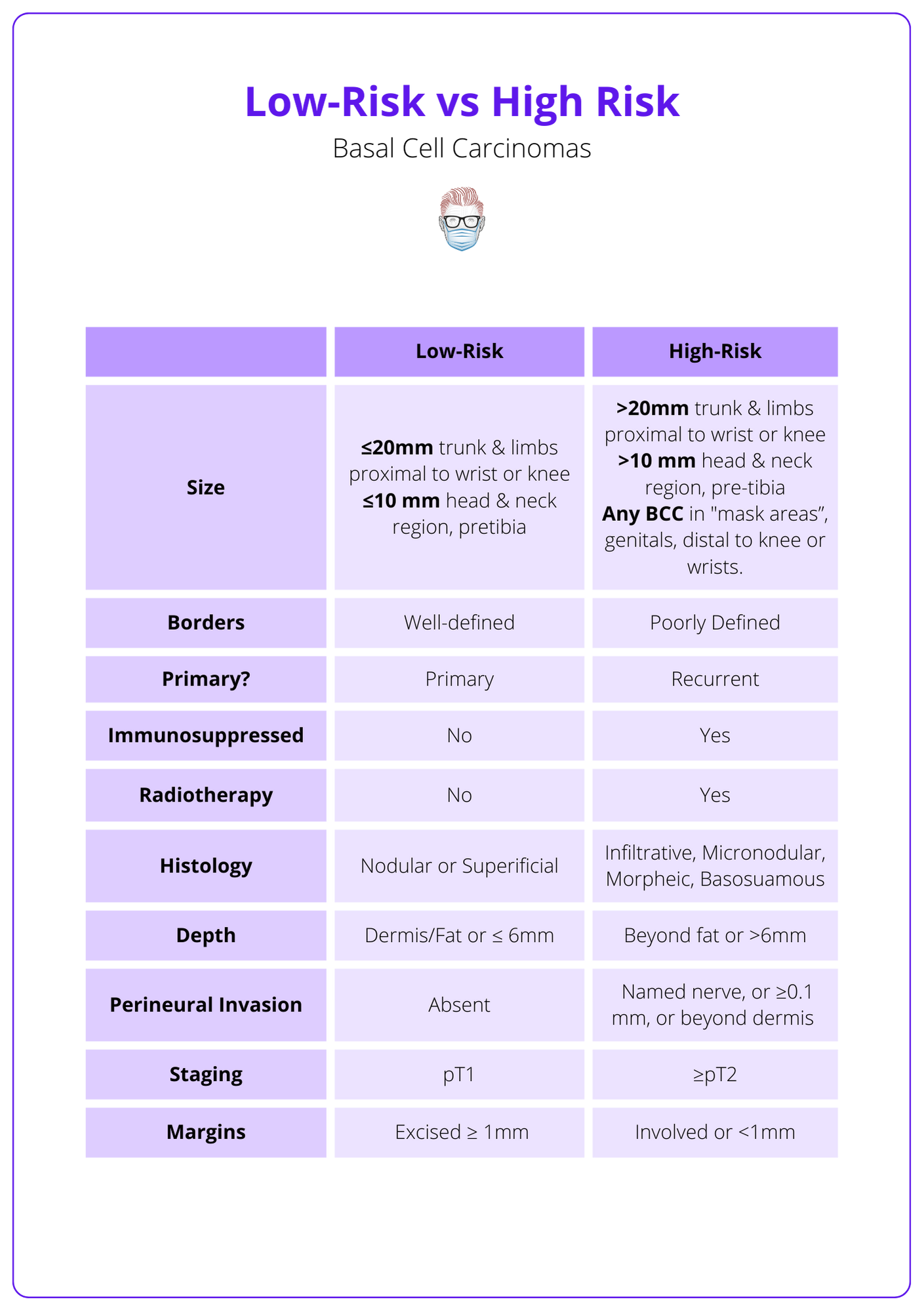 High-risk Areas
H-zone: eyelids, medial canthus, nasal apex and ala, preauricular sulcus, ears, and labia. In these regions, tissue conservation is paramount for maintaining dermal functionality and esthetic integrity.
Cosmetic areas where tissue preservation is paramount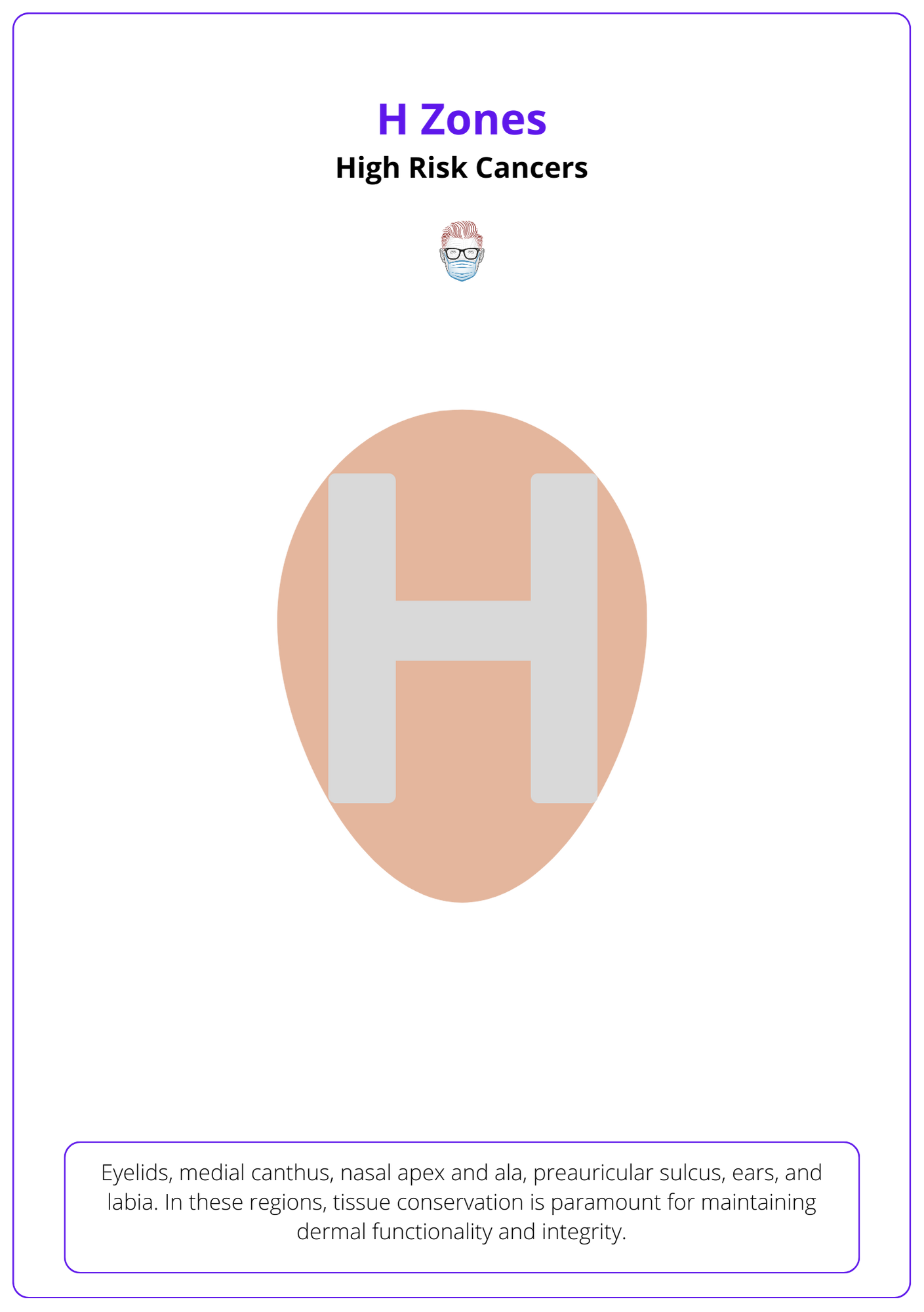 ---
Moh's Surgery Technique

Key Point

Mohs Micrographic Surgery is a meticulous process where skin cancer is marked, excised with precision, and examined microscopically in successive stages until clear margins are achieved, followed by surgical site closure8

Moh's micrograph surgery is usually performed in the following steps:
Preparation: Mark cancer and administer local anaesthetic.
Tumouranaesthetic Removal: Debulk the tumour and excise it with a circumferential margin (tissue around and beneath the tumor).
Mapping: Post-excision, sketch a map of the surgical site and corresponding tissue sections to maintain orientation.
Initial Dressing: Apply a dressing to the surgical site as the tissue undergoes microscopic evaluation.
Laboratory Processing: Segment the tissue sample, often bisecting or quartering it, and stain with dyes, typically H&E and toluidine blue.
Microscopic Examination: Freeze the tissue sample and inspect it under a microscope in the lab.
Precision Removal: If the microscope reveals a residual tumour, refer to the Mohs map and excise the specific area from the patient. Repeat until margins are tumour-free.
Closure: Conclude by closing the surgical site, either immediately or during a subsequent appointment.
This can be visualised in the video below.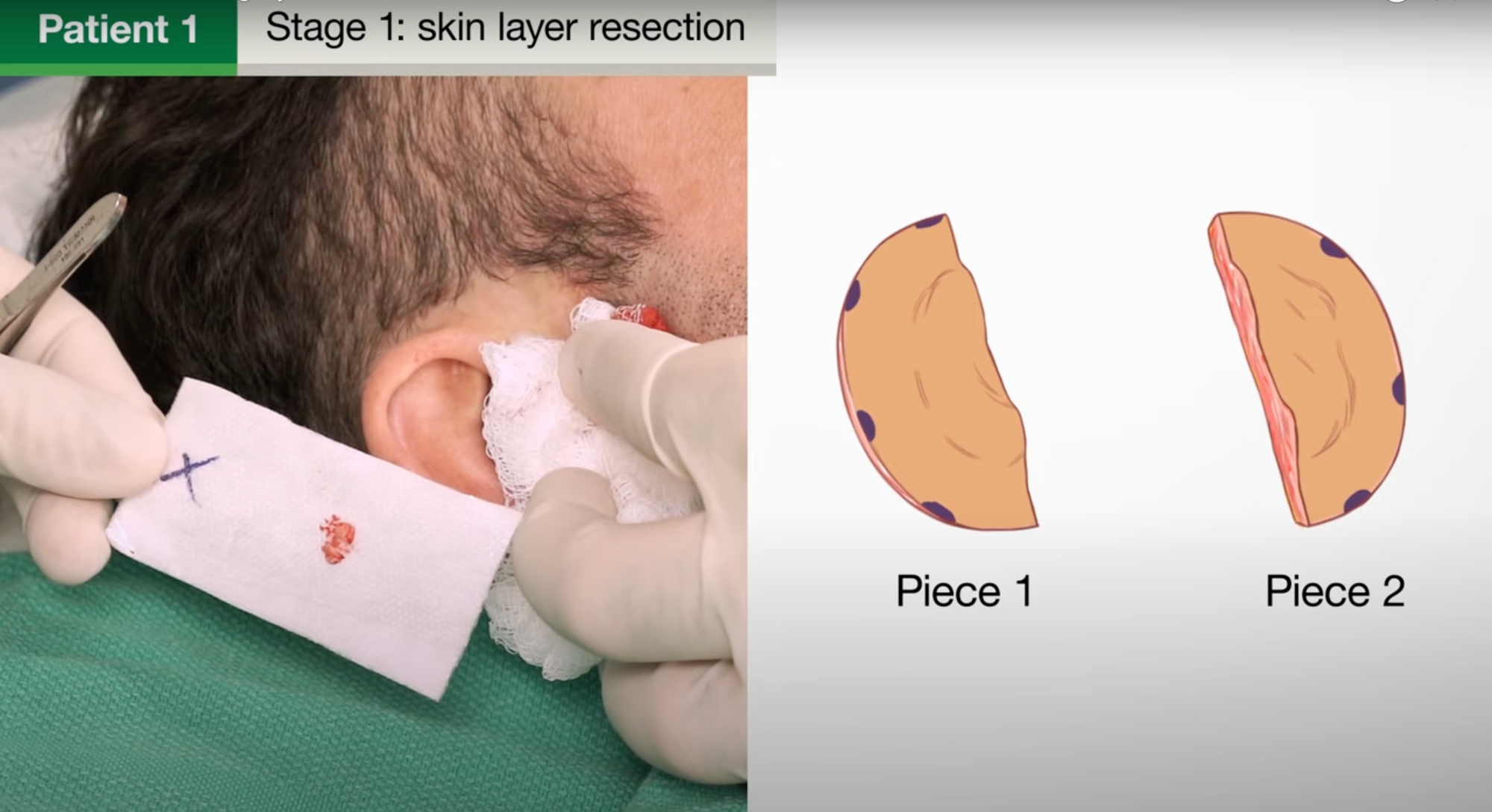 ---
Moh's vs Standard Excision

Key Point

Mohs Micrographic Surgery offers 100% margin assessment, same-day pathology reports, and single-session tumor removal. In contrast, Standard Excision may require multiple visits for re-excision and typically provides pathology reports in 1-2 weeks.



Mohs micrographic surgery and standard surgical excision differ in their techniques and outcomes. While standard excision might require multiple visits if margins are positive, Mohs ensures complete tumour removal in a same-day outpatient procedure with 100% margin assessment3–6.
A complete comparison between the two surgical techniques can be visualised below.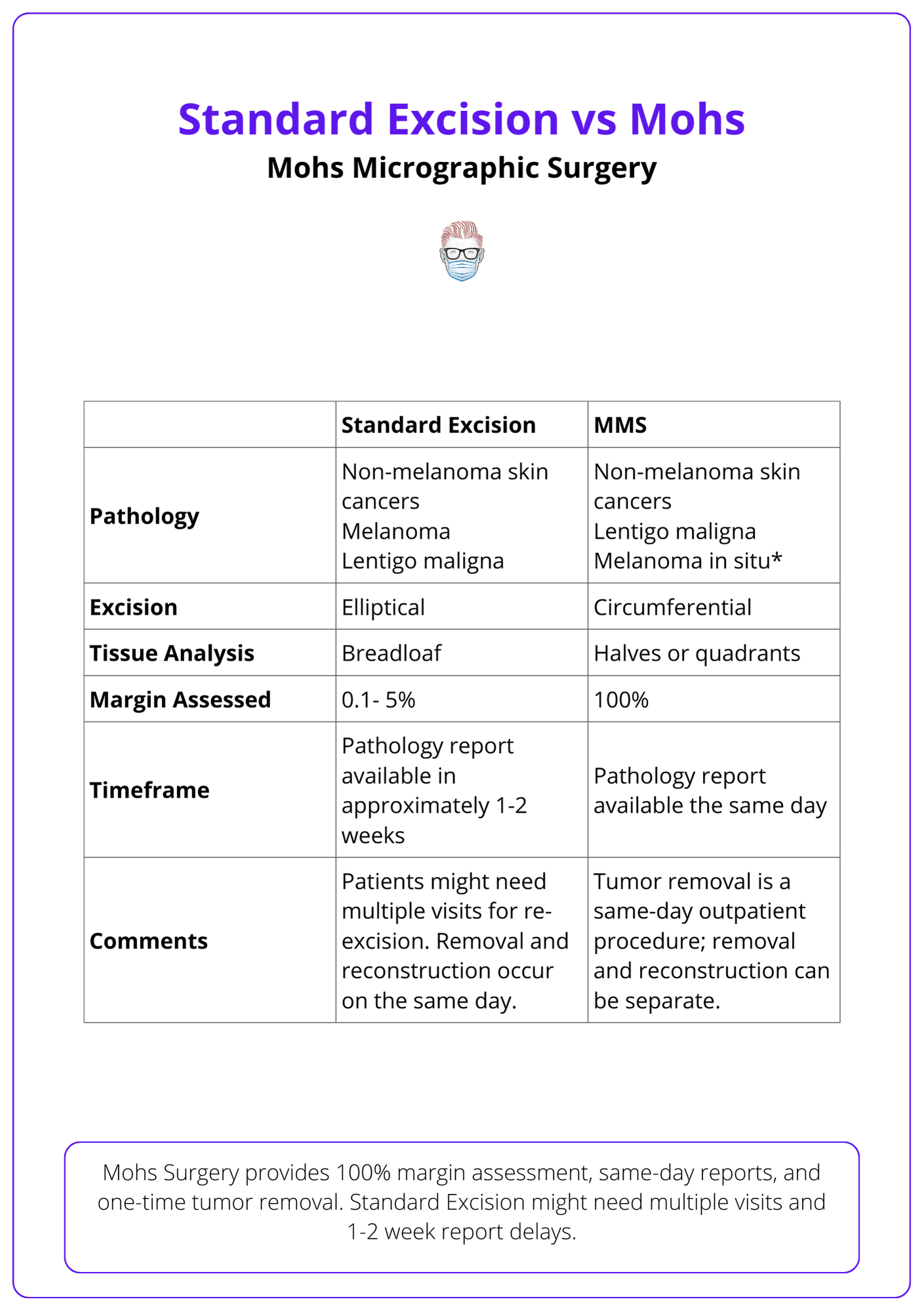 ---
Advantages and Disadvantages of Mohs surgery

Key Point

Mohs surgery excels in conserving tissue and ensuring NMSC outcomes but faces limitations in specialist access and extended procedure time.


Mohs Micrographic Surgery offers significant benefits in terms of tissue conservation, comprehensive margin assessment, and superior long-term outcomes for NMSC. However, its applicability is limited by the availability of trained specialists and the procedure's extended duration.

This is explained in the table below.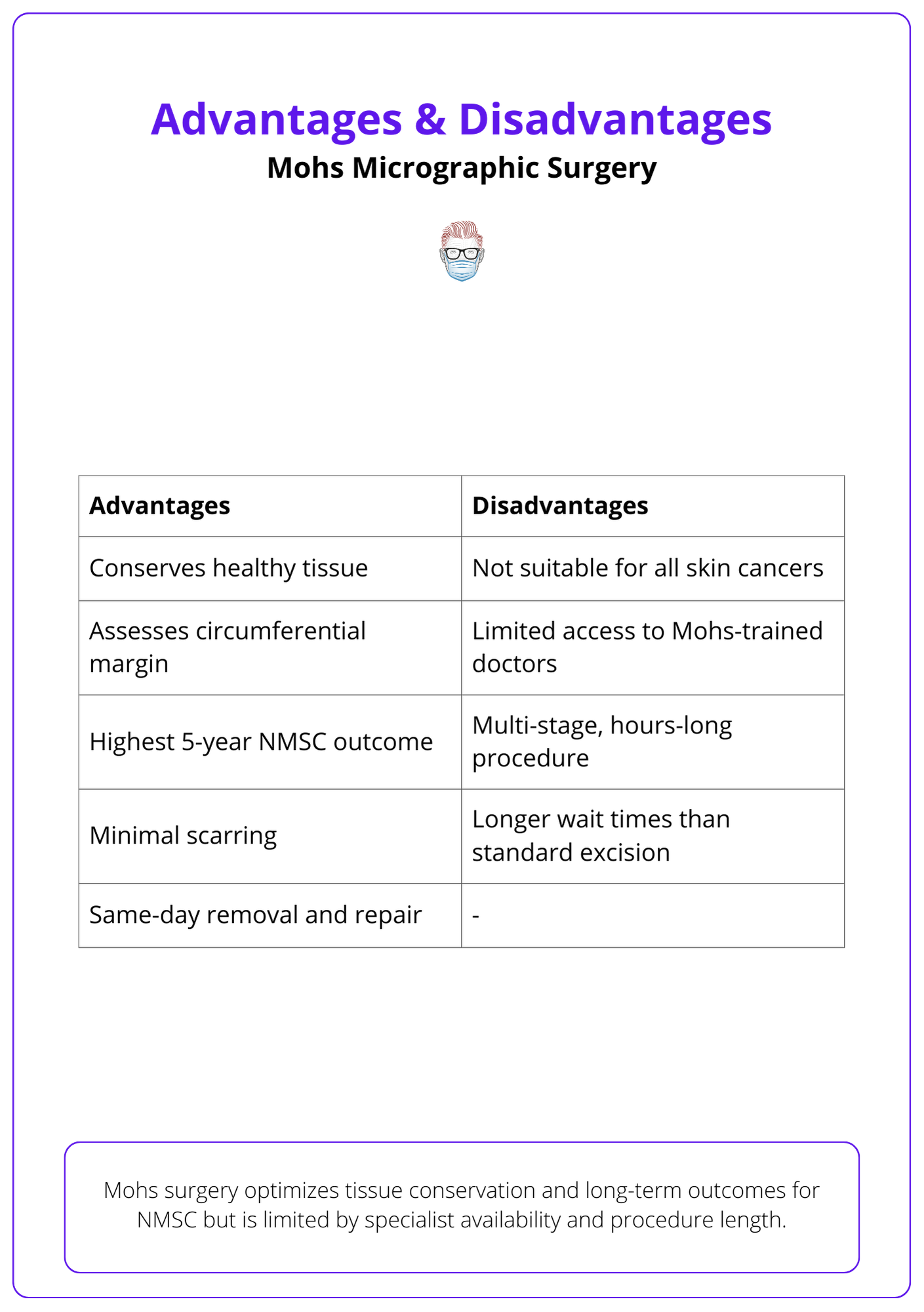 ---
References
1. Fe M. Chemosurgery for the microscopically controlled excision of cutaneous cancer. Head Neck Surg. 1978;1(2). doi:10.1002/hed.2890010209
2. Ho C, Argáez C. Mohs Surgery for the Treatment of Skin Cancer: A Review of Guidelines. Canadian Agency for Drugs and Technologies in Health; 2019. Accessed November 27, 2022. http://www.ncbi.nlm.nih.gov/books/NBK546997/
3. Connolly SM, Baker DR, Coldiron BM, et al. AAD/ACMS/ASDSA/ASMS 2012 appropriate use criteria for Mohs micrographic surgery: A report of the American Academy of Dermatology, American College of Mohs Surgery, American Society for Dermatologic Surgery Association, and the American Society for Mohs Surgery. J Am Acad Dermatol. 2012;67(4):531-550. doi:10.1016/j.jaad.2012.06.009
4. Narayanan K, Hadid OH, Barnes EA. Mohs micrographic surgery versus surgical excision for periocular basal cell carcinoma. Cochrane Database Syst Rev. 2014;2014(12):CD007041. doi:10.1002/14651858.CD007041.pub4
5. Ferry AM, Sarrami SM, Hollier PC, Gerich CF, Thornton JF. Treatment of Non-melanoma Skin Cancers in the Absence of Mohs Micrographic Surgery. Plast Reconstr Surg Glob Open. 2020;8(12):e3300. doi:10.1097/GOX.0000000000003300
6. Surgical Management of Melanoma in Situ on Chronically Sun-Damaged Skin. doi:10.1177/107327480801500304
7. Woodhouse JG, Vidimos AT. Chapter 16 - Mohs micrographic surgery. In: Vidimos AT, Ammirati CT, Poblete-Lopez C, eds. Dermatologic Surgery. The Requisites in Dermatology. W.B. Saunders; 2009:199-206. doi:10.1016/B978-0-7020-3049-9.00016-6
8. Benedetto PX, Poblete-Lopez C. Mohs Micrographic Surgery Technique. Dermatol Clin. 2011;29(2):141-151. doi:10.1016/j.det.2011.02.002