The quadriga phenomenon is a clinical diagnosis characterized by reduced flexion of non-injured fingers most commonly due to an injured FDP. This article explores the pathophysiology, causes and treatment options.
---
Definition of Quadriga
Quadriga phenomenon or syndrome is reduced flexion in non-injured fingers caused by a shortened, stiff, or adherent FDP in an adjacent injured finger.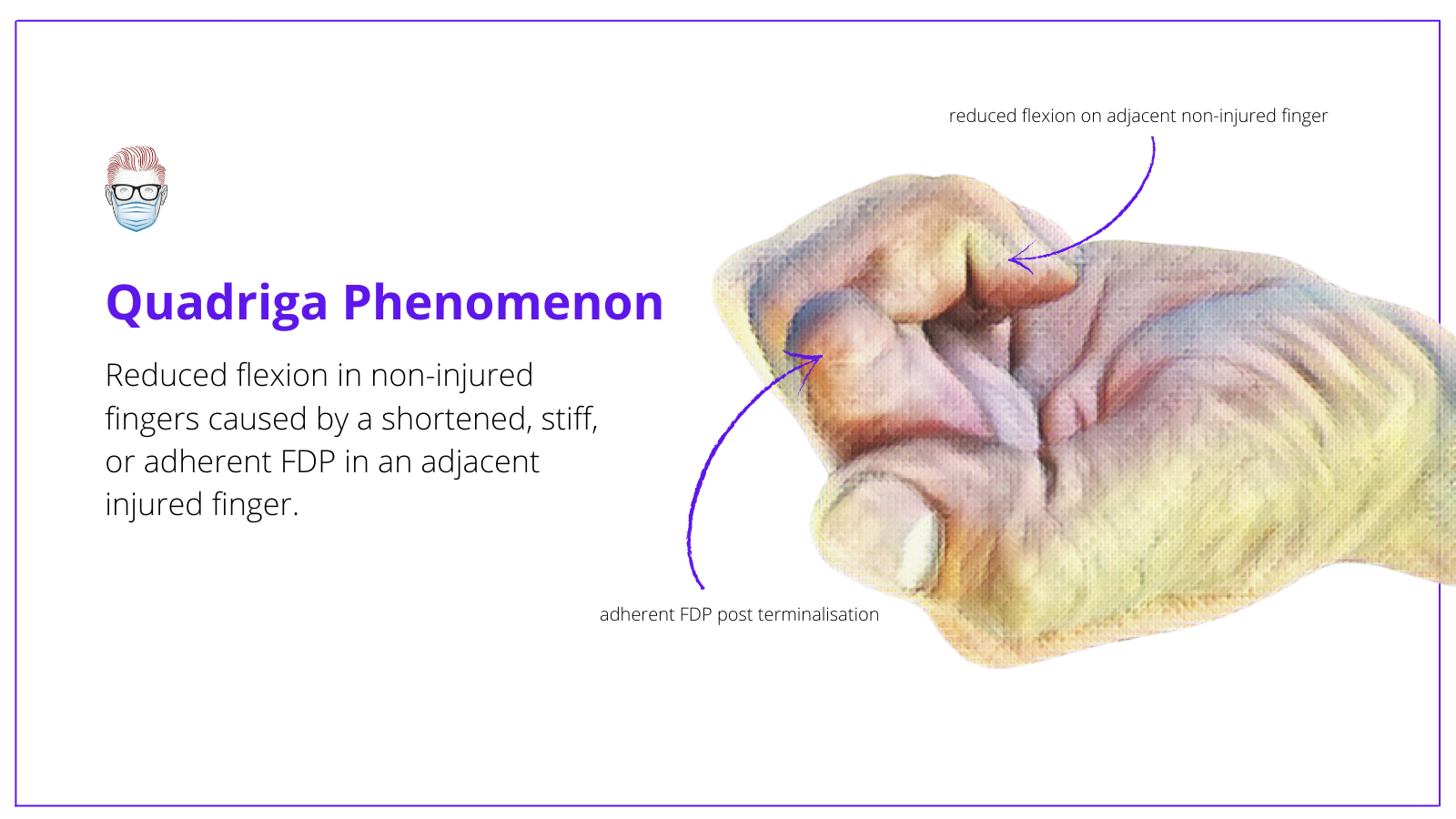 It results in an active flexion lag and "weak grip" that can be diagnosed clinically. It was first described by Bunnell3 and later by Verdan2 after a series of terminalisations and flexor tendon repairs.
---
Pathophysiology of Quadriga
Quadriga refers to the 4-horse Roman chariots controlled by 1 driver through 1 common rein. If that rein becomes shortened to one horse then the other horses will experience a tethering effect.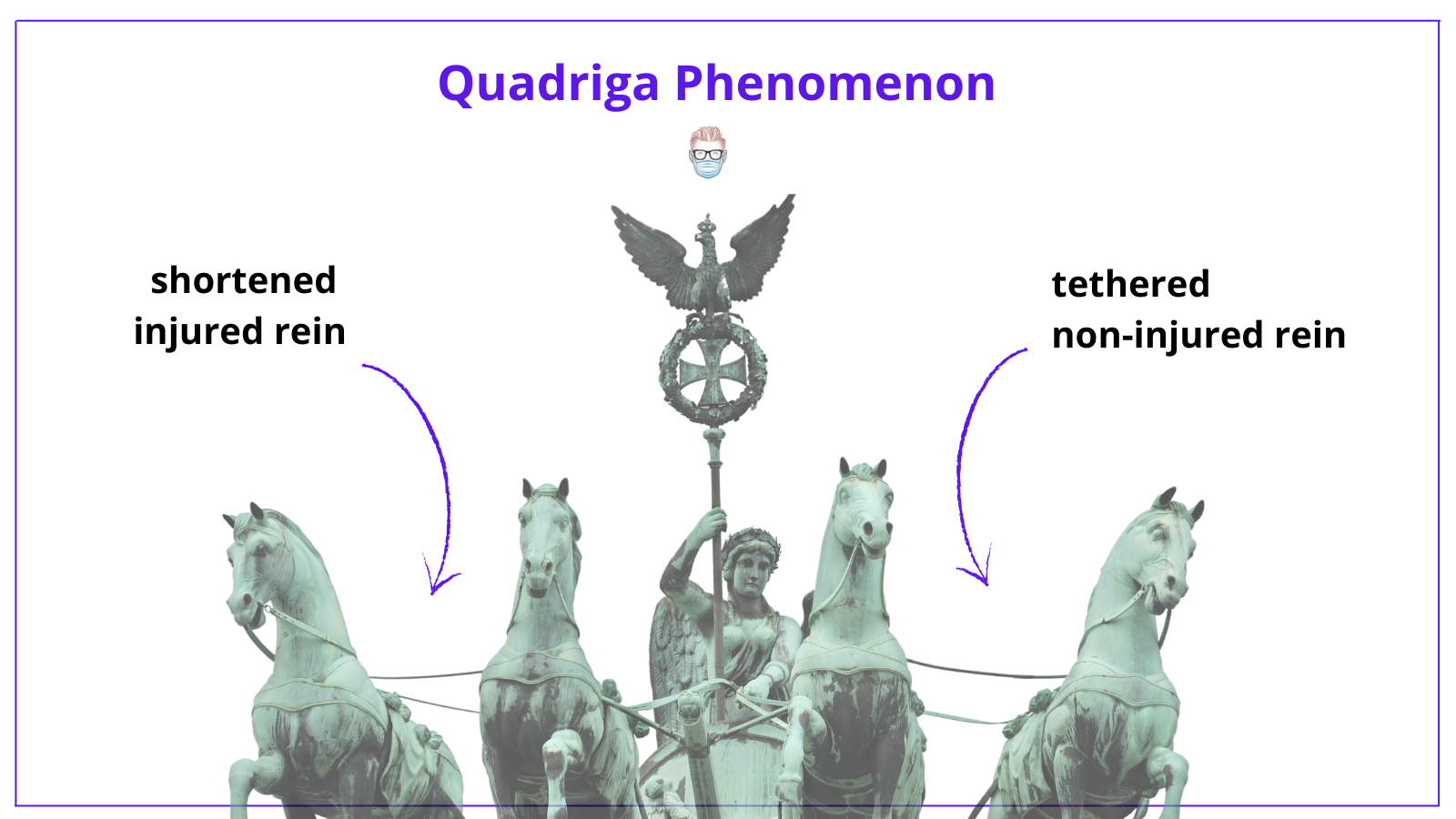 Quadriga Phenomenon is based on the principle that excursion of the combined tendons is equal to the shortest tendon.
It occurs because:
The injured FDP tendon becomes shortened, stiff, or adherent.
Non-injured adjacent FDP tendons are tethered (they share a common origin) and have a reduced excursion.
Non-injured FDP tendons cannot fully flex their respective digits.
The injured finger develops a flexion deformity.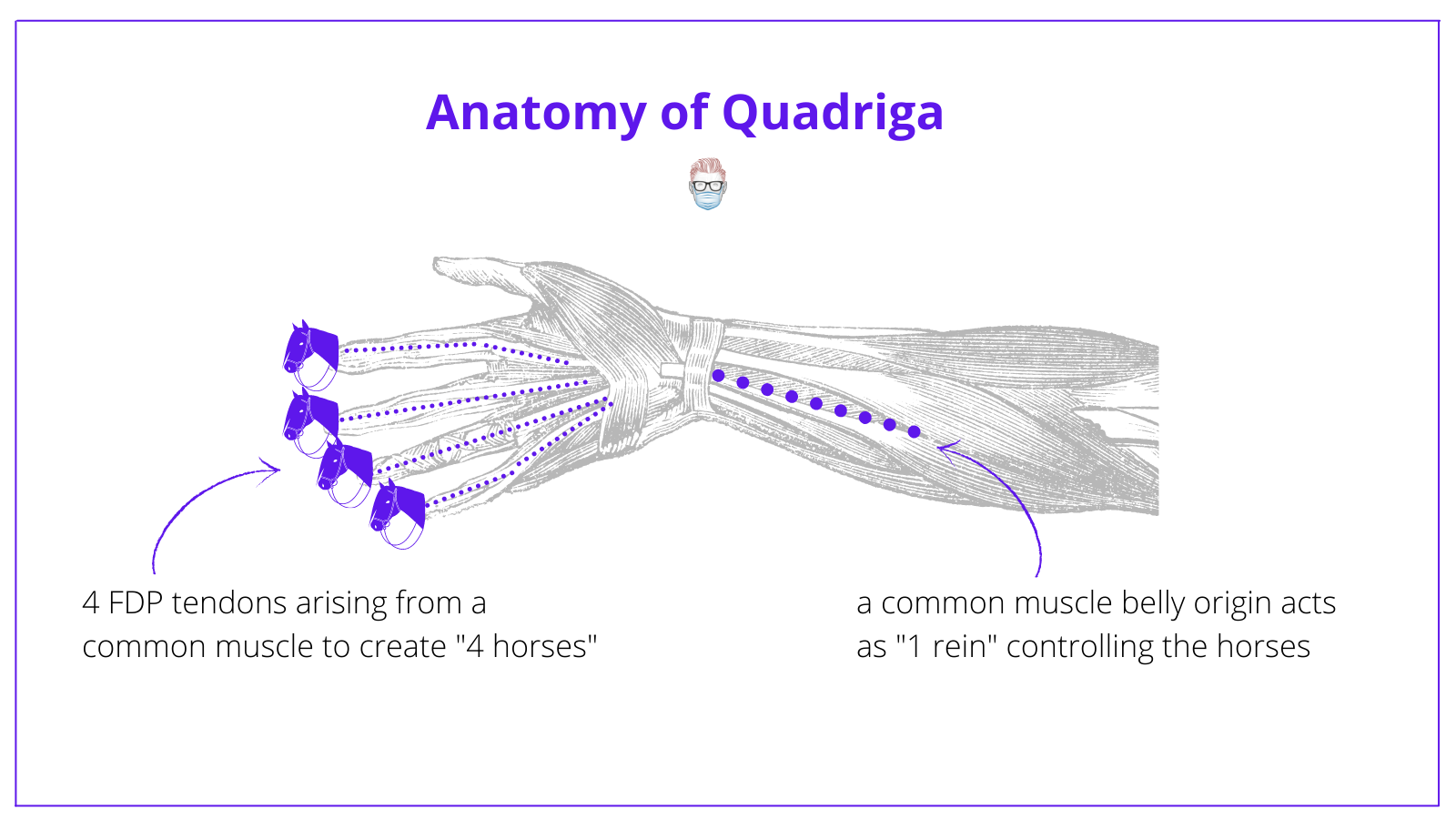 The quadriga phenomenon is frequently attributed to the common muscle belly of the FDP. However other factors, such as the interconnections between the FDP tendons, maybe even more important1.
---
Causes of Quadriga
It is important to be aware that there is most than 1 cause. However, by far the most common cause is related to FDP pathology.
Causes of Quadriga Syndrome or Phenomenon are:
Tendon graft that is too short
A distal finger amputation in which the flexor is sutured over the tip to the extensor tendon.
Amputation in which the FDP tendon adheres or has been repaired to to the proximal phalanx.
💡
Clinical Tip:

Quadriga and Lumbrical Plus Finger are similar but quite different. In quadriga, the FDP is overtightened or scarred resulting in a weak grip. Whilst lumbrical plus finger occurs from a lax FDP tendon and increase tension in the lumbricals causing a finger stick out when attempting to hold an object.
---
Treatment of Quadriga
Treatment is observation if patient is minimally symptomatic. Surgical options do exist.
Surgical Options for Quadriga include:
release of FDP tendon of injured digit
tendon lengthening
tenolysis post-flexor tendon repair
severing of the offending tendon to allow the other normal adjacent fingers to flex fully
---
Flashcards
---
References
Schreuders, T. A. R. (2011). The quadriga phenomenon: a review and clinical relevance. Journal of Hand Surgery (European Volume), 37(6), 513–522.doi:10.1177/1753193411430810
Verdan C: Syndrome of the quadriga. Surg Clin North Am 1960; 40: pp. 425-426
Bunnell S: Reconstructive surgery of the hand. Surg Gynecol Obstet 1924; 34: pp. 259-274