Curated evidence-based Plastic Surgery, direct to your inbox. It's hard to keep up-to-date. thePlasticsPaper sends you 1 email per week - just the highlights!
In this week's edition


Fun Fact: thePlasticsFella community collectively studied for 206,000 minutes in 2022.

---
A Letter
from P'Fella: How thePlasticsFella will use AI to teach you in 2023.
The advent of artificial intelligence has resulted in a shift towards more efficient and effective ways of learning and practising medicine. One major change that has already begun to take hold is the end of traditional teaching methods, which often rely on memorization and repetition of vast amounts of information.

One AI project that garnered significant attention in the healthcare industry is Google DeepMind, which uses machine learning algorithms to analyze and interpret medical images, predict patient outcomes, and even assist with diagnosis and treatment planning.

Here are some examples of images created by myself with some AI prompts.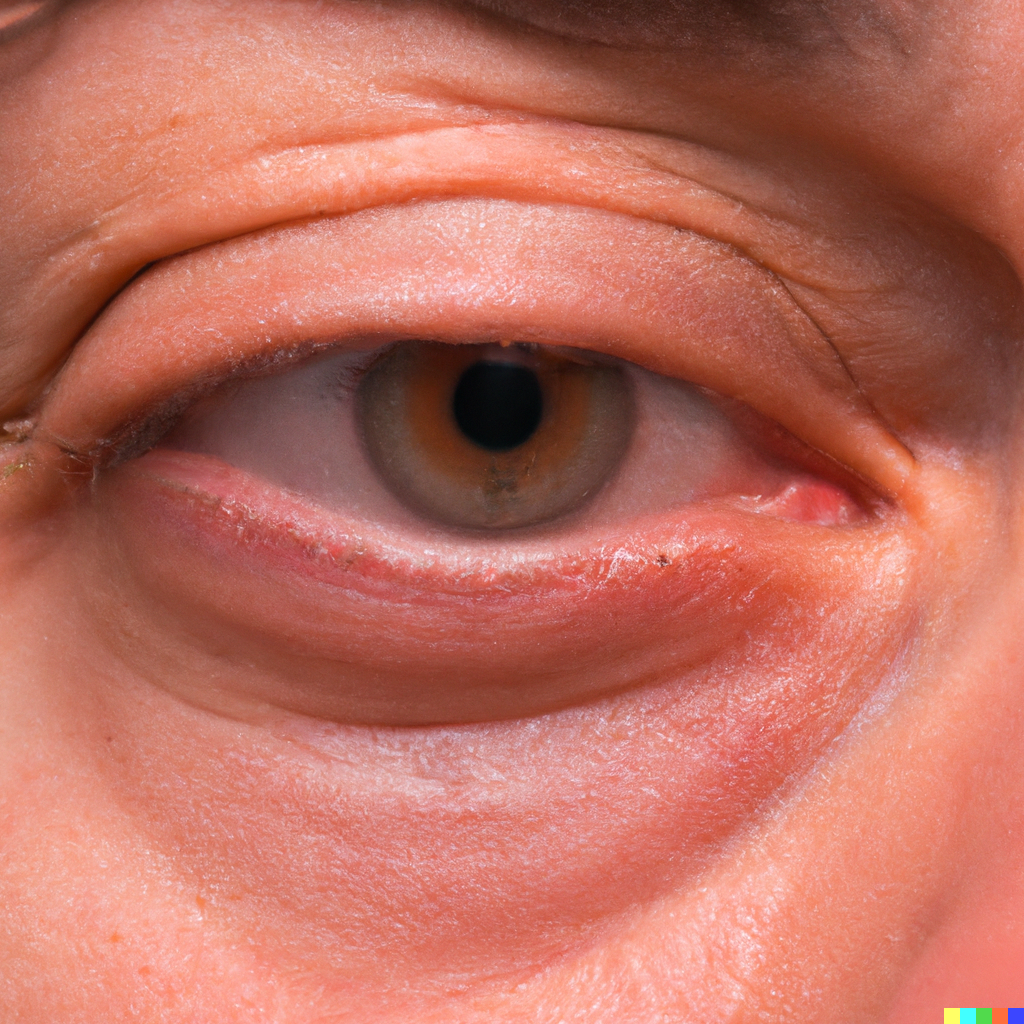 However, it's important to note that the
current examination systems
, such as the FRCS and boards, may be slow to react to this technological shift. While we must embrace this new teaching and learning phase, it is also important to remember that traditional teaching and knowledge consumption will still be a necessary part of our education for the foreseeable future. However, the quicker we embrace this new teaching phase, the quicker our exams will truly reflect current clinical practice.
Here is an example of a Google Deepmind project
answering USMLE questions
. You can read the full article
here
on this new project.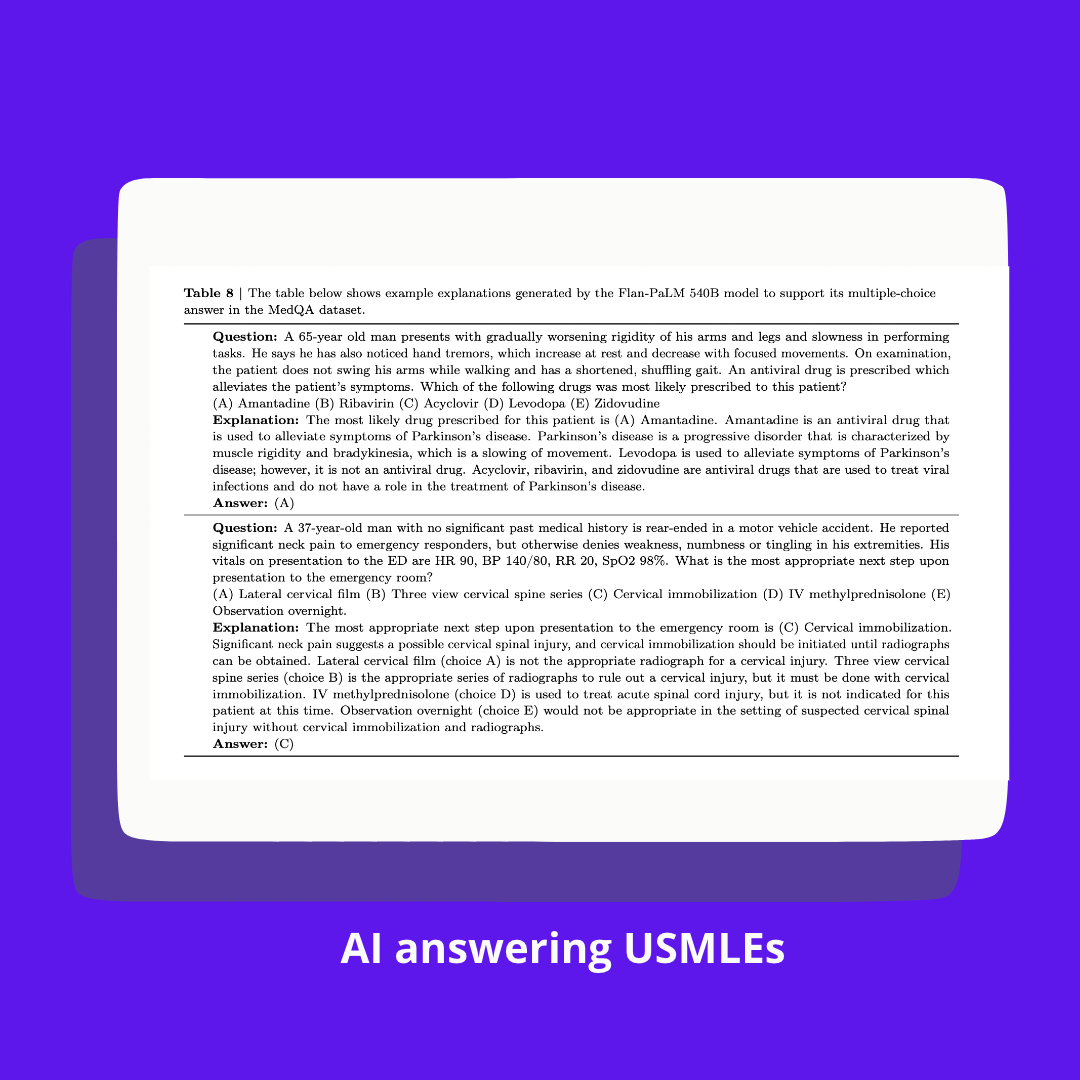 Of course, it's important to remember that AI does not replace human expertise and experience. It is simply a tool that can enhance and supplement our learning and practice. As plastic surgery trainees and residents, we must embrace this technology and use it to our advantage as we continue to grow and develop as professionals.

So, while the end of traditional teaching may seem daunting at first, it is ultimately an exciting opportunity for us to adapt and evolve as practitioners in a rapidly changing field. Let's embrace the power of AI and use it to our advantage as we continue on our journey as plastic surgery trainees and residents.

P'Fella x

p.s I'll be testing out AI to tailor study plans and create clinical cases in the near future.
---
Study on Sunday
P'Fella studied your behaviour!
It's been an exciting year for thePlasticsFella! We've seen tremendous growth over the last 12 months, and we have all of you to thank for your support of our mission. It's been amazing to see which parts of the world have shown the most growth and to discover which articles have been the most popular.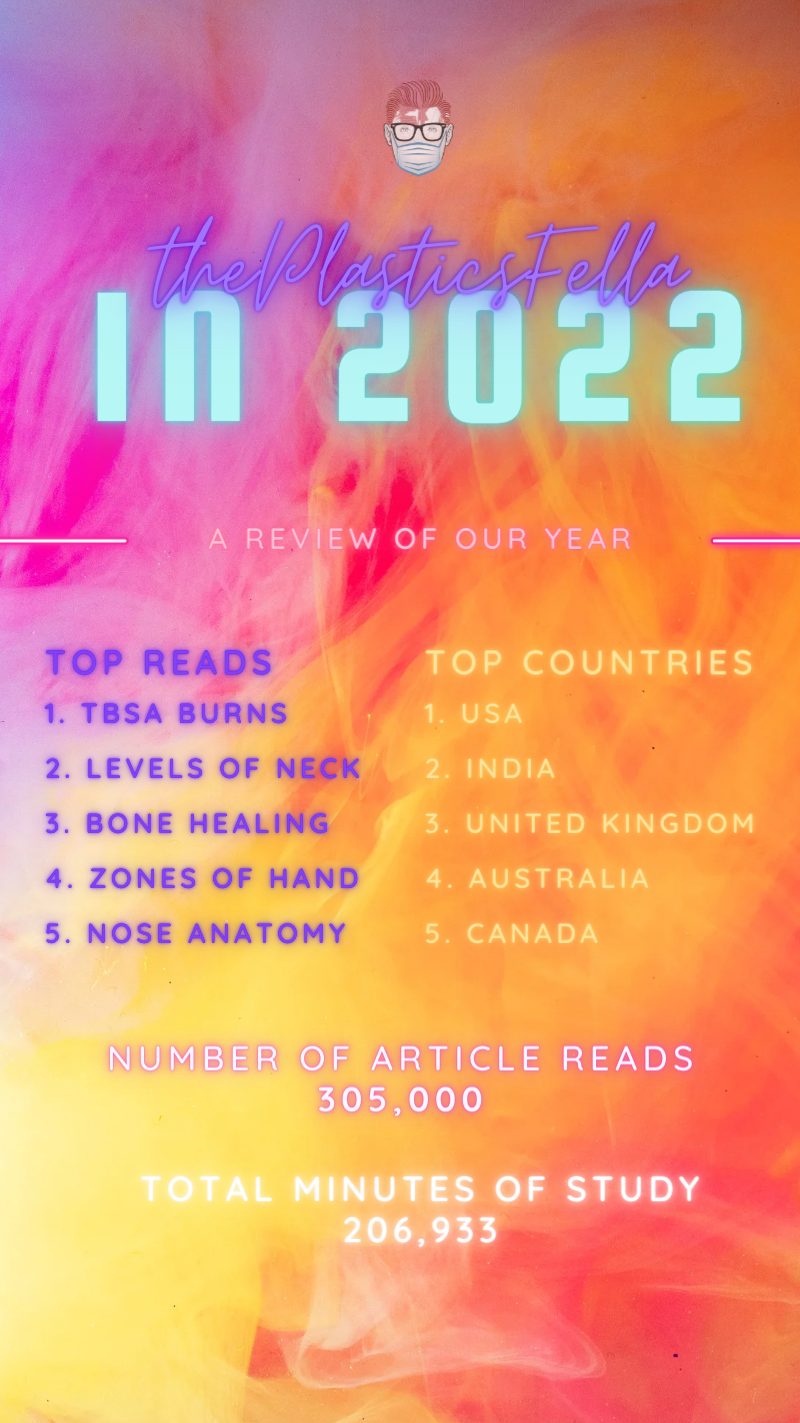 To give you a better idea of the data, we've compiled a comprehensive overview of our members' locations, their preferred devices for accessing the platform, and the growth in unique visitors over time. Thanks again for your support and for helping to make thePlasticsFella such a success. Here's to even more growth in the future!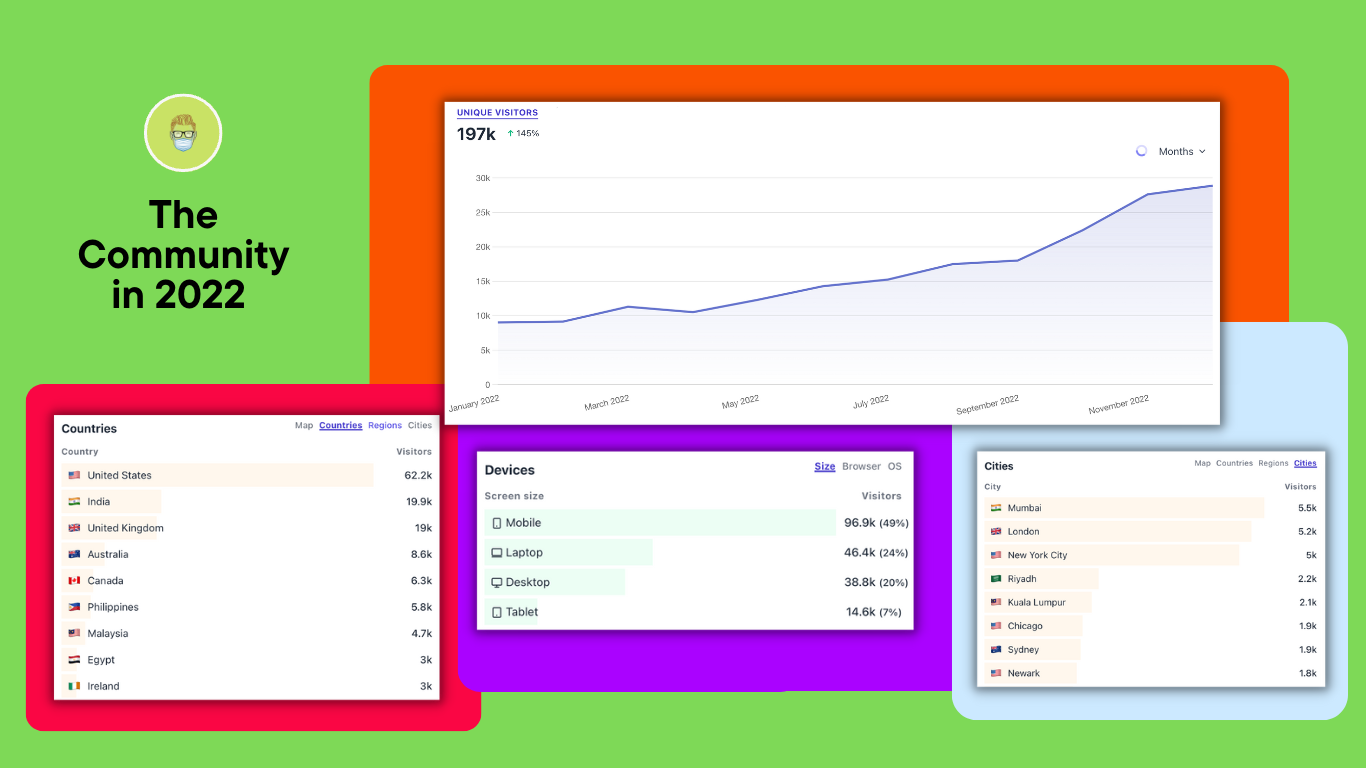 ---
Upcoming Events
in 2023
This list will be updated weekly to showcase some of the major events happening this year. Please note that there are many more events than listed here; these are just some major events. In future updates, we will also include information about webinars and weekly events.
Tweets
of the year! A shortlist!
---
New Features
Most popular tools launched in 2022! 🔥
Wow, P'Fella has had an amazing year at ThePlasticsFella! A ton of new features to the platform, focusing on providing a comprehensive educational suite of tools for plastic surgery trainees. Hopefully, you have enjoyed these new features as much as P'Fella has had to create them. Keep an eye on us because we're one to watch in the coming years (thanks to your support!)


Most popular new features
+200 new evidence-based topics.
+2000 new verified plastic surgery flashcards
Summary cards at the beginning of each article
A library that allows you to browse by "chapters."
Live video for interview practice
Progress bars as you scroll down an article
Bookmarks to save your favourite articles
"Student Support" for discounts to thePlasticsPro
Carbon Removal contribution for every member.
"Ask the Expert" every Sunday
Oh, and by the way, this updated interface for the flashcard database will be rolling out soon. This will allow auto-grading and the Feynman technique to improve your active recall. Check it out below.
---
Articles of the Year
P'Fella's shortlist! 📚
P'Fella keeps track of the articles he reads. In 2022, that totalled over 200. A mixture of new publications, seminal papers and historical landmark papers changed plastic surgery. Here's the best article (in P'Fella's opinion) and the top 10 shortlist.
Article of the Year
This is P'Fella's personal opinion.

I recently discovered this interesting article by JPRAS about zone 1 flexor tendon techniques. It was published in 2013, but I only stumbled upon it this year. It's become one of my favourites and has impacted my clinical practice.
Read the Artice
Top 10 Shortlist
Bi-ALCL Guidelines
UK Guidelines on the Diagnosis and Treatment of Breast Implant-Associated Anaplastic Large Cell Lymphoma (BIA-ALCL) Turton et al. Volume 74, Issue 1, P13-29, January 2021
The First GLOBAL Plastic Trainee Survey
Lindqvist et al. Plastic and Reconstructive Surgery - Global Open: October 2022 - Volume 10 - Issue 10 - p e4520
The non-operative treatment of mallet finger
Lin JS et al. Nonsurgical Management of Mallet Finger: A Systematic Review. J Hand Surg Am. 2018 Feb;43(2):146-163.e2. doi: 10.1016/j.jhsa.2017.10.004.
Finger Replants don't need a vein
Crowe et al Management of Artery-Only Digit Replantation: A Systematic Review of the Literature, Plastic and Reconstructive Surgery: July 2022 - Volume 150 - Issue 1 - p 105-116
Creating International Microsurgery Club Series
Sung et al. Knowledge Revolution during COVID-19 Pandemic: International Microsurgery Club Webinar Series. Plastic and Reconstructive Surgery: August 2022 - Volume 150.
Sustainability in Theatre
Belliveau S, Gold MS. The Surgical Suite—A Field Laboratory for Sustainability. JAMA Surg. Published online August 17, 2022. doi:10.1001/jamasurg.2022.2346
How to ACTUALLY use the p-value
Stunt et al. Statistics in publishing: the (mis)use of the p-value (Part 2). Journal of Hand Surgery (European Volume). August 2022.
A review of the plastic surgery interview
Phillips et al The Plastic Surgery Residency Interview Revisited: Virtual Interviews and Beyond. Plastic and Reconstructive Surgery: November 2020
How to Run a Meeting, Colwell et al. Plastic and Reconstructive Surgery: June 2022 - Volume 149 - Issue 6 - p 1283-1285
Outcome measurement in adult flexor tendon injury: A systematic review. Shaw et al. JPRAS, Sept 2021. doi.org/10.1016/j.bjps.2021.08.033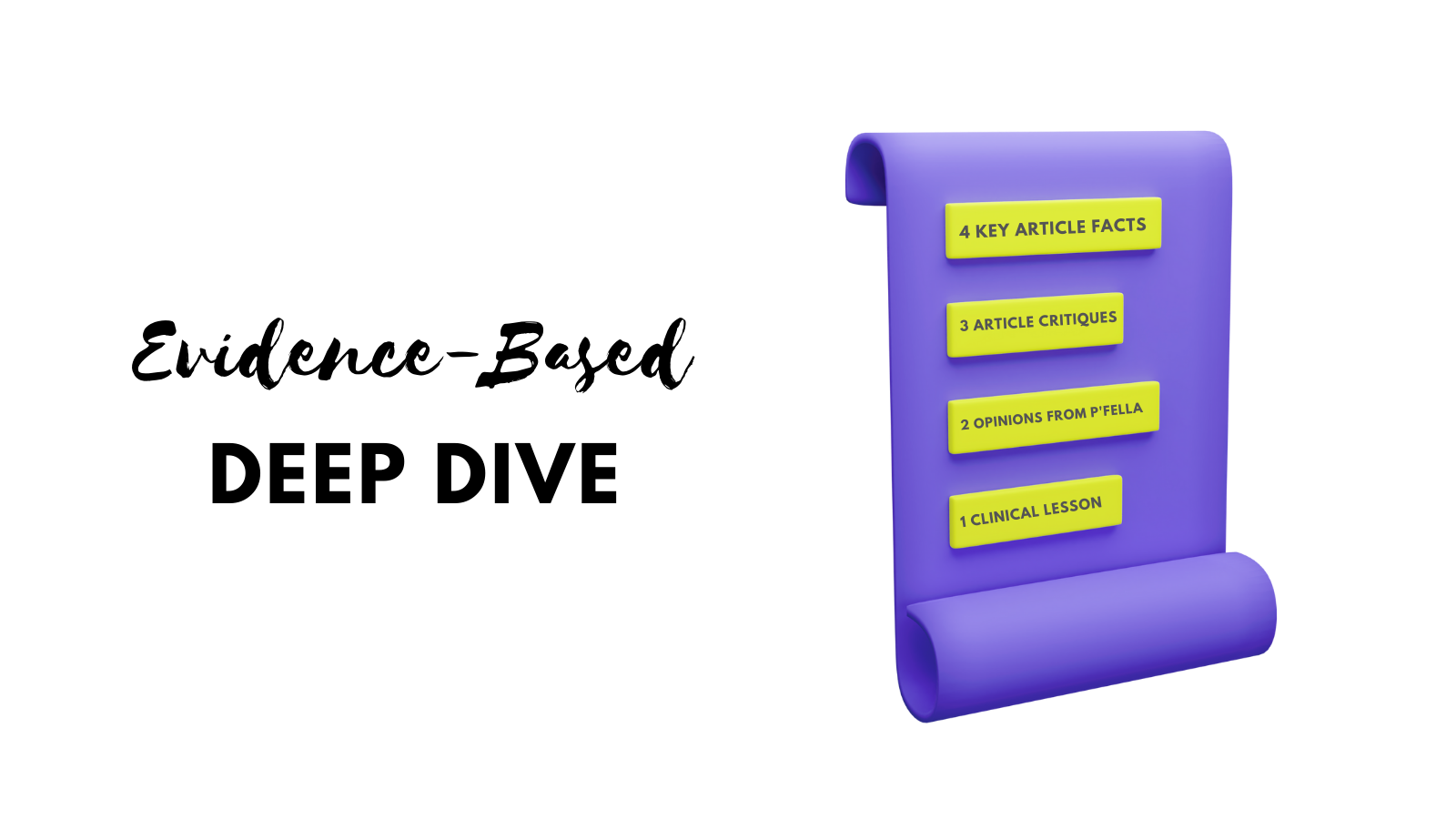 The Most Popular in 2022
Menick's original publication was the most-viewed journal club in 2022! It's not a surprise, really, as it's a commonly examined topic that genuinely impacts clinical practice and decision-making.
Nasal Subunits Journal Club
---
Feedback
P'Fella is always looking to make this weekly newsletter as good as can be!

Let me know your thoughts below :)
---